when were planning our trip to seattle, we were googling and emailing our friends for recommendations on what to do, where to stay and what to eat. thought i would share the wealth.
hotel / location: we chose to stay at the renaissance hotel in downtown seattle since it was less than a mile away from the stadium. anything closer was a lot more expensive around game day. it ended up being a great location because it was approx. 15-20 minutes walking distance from everywhere we wanted to go (pikes place, stadium, happy hour, space needle, etc). the only downside was that the hotel was on 6th and madison…up on a hill. so every night (after long, long days), we had to walk uphill. we didn't mind this too much since we were trying to get a lot of steps in with our new fitbits! the hotel looks older on the the outside but relatively renovated on the inside. great lobby. one thing to note is that the concierge lounge has very different hours and is not open on certain days. overall, really liked this hotel and would definitely recommend this. on the tail leg of our trip (after we got back from vancouver), we stayed at the courtyard marriott because it was less than a mile away from the train station. we ended up walking from the train station with our luggage since the cab line was horrendous. this hotel is older… a lot older and undergoing renovations. rooms were on the smaller side. no concierge lounge.
things to do:
centurylink field – go see a seahawks game! we loved it.
gasworks park – beautiful view of lake union and all of downtown from the top of the hill (grassy hills reminded us of lord of the rings. but the old gas plant reminded the guys of a map in call of duty). it was suggested that we go to paseo, get a sandwich and walk to this park to enjoy it on the hill. better idea is take a cab/uber/lyft to paseo ($12-15), eat it there or close by and then walk to gasworks park since it is a good 17-20 min walk from the sandwich shop. you will run into the troll under the bridge!
troll – under bridge in fremont. ask any taxi, uber, or lyft driver. fyi – on our way from paseo to gasworks park, we passed the troll! since we didnt know this, we got to see it 2x.
pike place market – where we got chowder and a piroshky. fish market where they throw the fish.
seattle center/space needle – we went to see this but when we saw the lines… we opted not to go up. instead, we just took photos of it.
chihuly exhibit – $18 admission. glass art (featured in the lobby of bellagio) small exhibit.
r.e.i. flagship store – it was a little bit of a trek but worth it!
seattle art museum (SAM) – we wanted to go here but did not make it.
ballard farmer's market (on sundays only) – if you like donuts, find the vendor who makes fresh mini donuts at the north end of the market
olympic sculpture garden
discovery park – if the weather is nice, take a long walk on the loop trail and see awesome views of puget sound
tons of beautiful hikes as close as 45 minutes outside of the city. since we did not have a car, we couldn't do this easily. next time!
gaswords park:
space needle. there is a $2 monorail that takes you from westlake center (where the malls are) to space needle!
rei flagship store! beautiful and rugged. we ended up buying some rain jackets for the game.
here are recommendations on what/where to eat (combination of our list with our friend, ezra's list!). we were only here for 5 days and knocked out 26 places (only 16 photographed and blogged)… pretty good, we think. can't wait to go back to seattle and polish this list off!
places to eat for brunch:
top pot doughnuts: famous
dahlia bakery: donuts! get them here!
skillet diner: modernized take on american diner food …started out as a food truck, known for their bacon jam
café presse: french… this was ezra's fav breakfast place. the croquet madam in very good
barrio: mexican, big portions
tilth: local, organic food (kinda pricey for brunch but good…)
monsoon: vietnamese brunch (only on sundays)
tilicum place café: american brunch
places to eat for lunch:
paseo (cuban/carribbean sandwiches): one of the most popular places in seattle…there are 2 locations in ballard and fremont and it's cash only. there's always a line so be prepared to wait… agreed that this was our favorite place in downtown seattle (ezra's favorite place in all of seattle).
pike place market: mac & cheese at beecher's, clam chowder at pike place chowder, pastries at le panier, piroshky at piroshky piroshky
tat's deli: delicious sandwiches! kyle and i loved the pastrami sandwich. amazing sauce.
salumi: famous italian cured sandwiches… long line… you must get here before they open… hole in the wall… thought this was just ok although very popular.
honeyhole: hot sandwiches
rain shadow meats: sandwiches in pioneer square
woody's: wide selection of burgers… ezra's fav burger place in seattle
marination ma kai: korean-hawaiian food with a nice view in west seattle
international district: this area has a lot of amazing hole in the wall asian places… thai food, vietnamese food, chinese dumplings, chinese bbq (bbq pork is amazing…. kau kau bbq)
places to eat for dinner (casual):
serious pie: good pizza! if you can, go to the one in south lake union (on westlake) since the downtown one is small.
skillet diner: same place mentioned above…good for dinner too
ezell's fried chicken: really good fried chicken, take-out only.
maneki: 100 year old sushi place…really good and affordable. you have to make reservations though. always packed
tsukushinbo: small japanese place in international district… ezra's favorite japanese place in seattle
samurai noodle: good japanese ramen. the one in capitol hill (on broadway) is much more spacious than the others.
not-so-casual (but not super-fancy)
dahlia lounge: delicious dinner! one of our favorites.
walrus and the carpenter: great local oysters and small plates. located in ballard. doesn't take reservations and there is usually a wait.
the whale wins: same owner as walrus .. good food
revel: korean fusion.. not bad
lark: small plates for sharing. lots of local, organic ingredients.
momiji: good sushi in capitol hill.
how to cook a wolf: italian located in queen anne…same owner/chef as tavolata and staple and fancy, which are also good.
tavolata: one of ezra's favorite italian places. they have a good happy hour every day until 7pm…
sitka and spruce: small plates in capitol hill
ice cream :
molly moons: multiple locations
drinks/happy hour
rob roy: spicy mango drink is amazing!
elliot's oyster house: go early!
tavern law
zig zag café
canon
artusi
hardrock café: roof top bar
yardhouse: the only place we could find who had thursday night football on! relatively new location! awesome tvs!
coffee
starbucks – find one with a clover!
espresso vivace
caffe vita
stumptown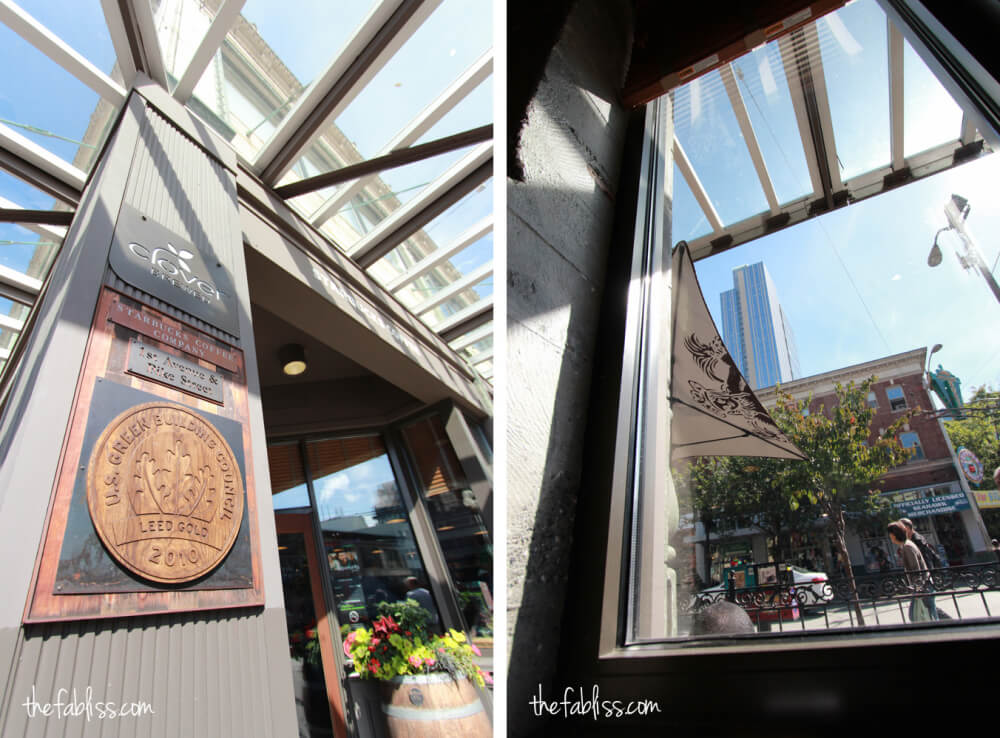 late night
hot dog stands in capitol hill: these hot dogs were amazing!! they had cream cheese in it! i repeat. uh-mazing!
dick's (multiple locations): old fashioned drive-in burger stand
bakeries
dahlia bakery: good bakery in belltown. good coconut cream pie, donuts, and éclair.
honore: if you're in ballard, you should definitely go…best macarons in seattle.
fresh flours bakery: nice place to sit and take a tea/pastry break if you're at the ballard farmer's market.
honestly, i know this is a huge list and you probably will not be able to do everything on this list. but still a good guide if you are spending some time in this beautiful city. my main suggestion is just to walk everywhere you can. this city is so charming!
thanks seattle, for being awesome!