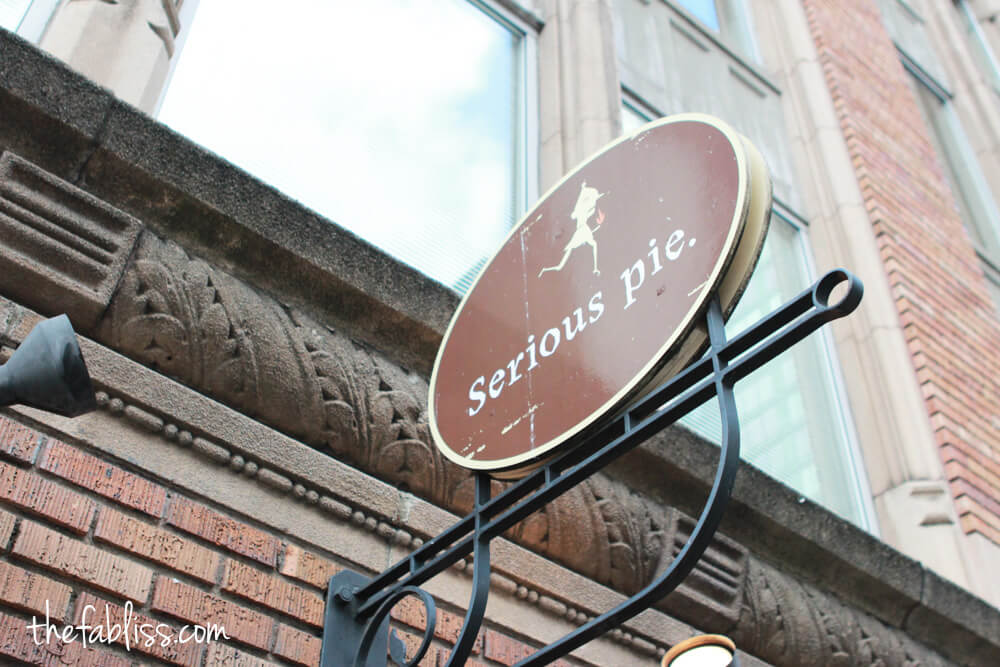 serious pie. restaurant #2 by tom douglas that we had to visit! reasons:
we love pizza.
it is open relatively late (until 11pm).
everyone (thousands of people) rave about this place.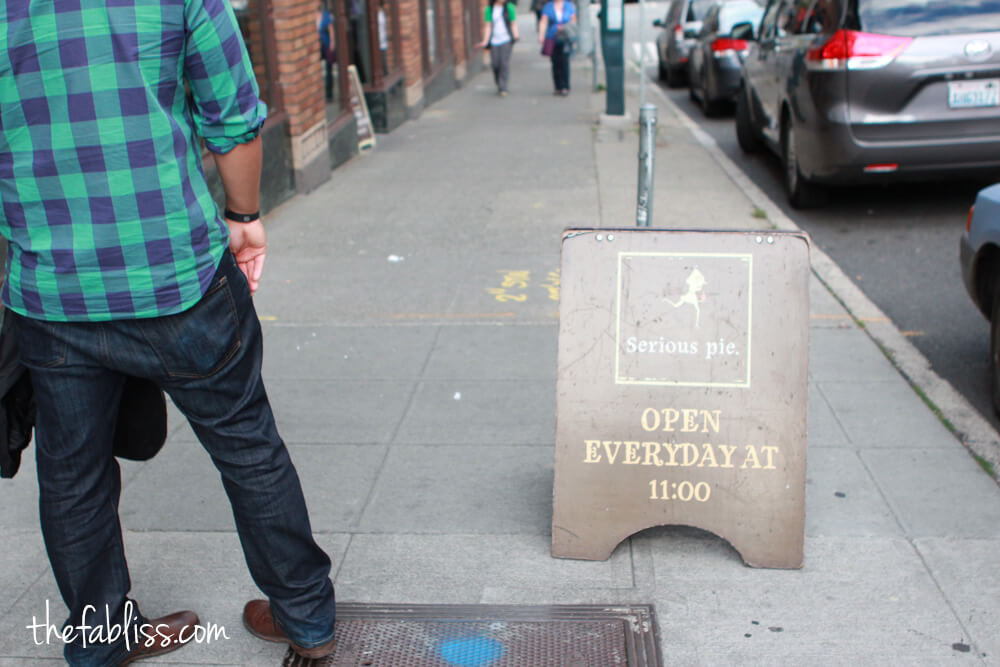 we actually ended up coming here twice. this was the first place we went to after getting off the plane. since we loved it, we had to make b and stella try it. here are the pizzas we got, why and our thoughts:
sweet fennel sausage, roasted peppers, provolone
yukon gold potato, rosemary, pecorino romano
roasted golden chanterelle mushrooms, truffle cheese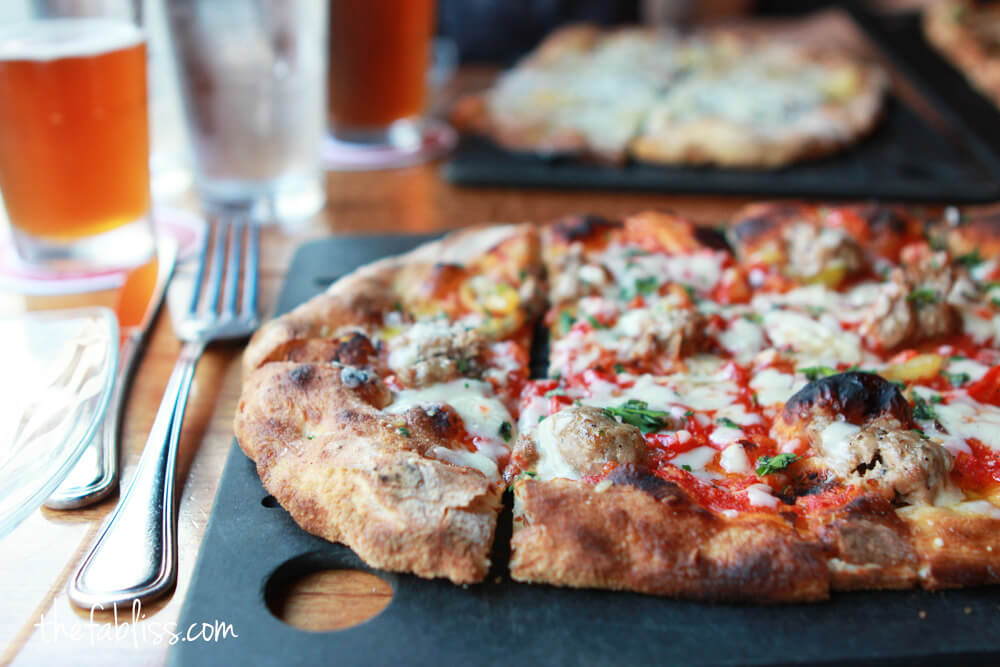 pizzas here range from $15 to 17 and are meant to be shared. thin, crispy crust. a hungry guy (aka kyle) could put one pizza down by himself easy peasy. two pizzas between the two off us would have been too excessive. one pizza meant that we needed to get dessert (enter coconut cream pie).
the sausage w/ roasted pepper pizza (pictured above)! great pizza. awesome flavor. crunchy crust. we got this since our waitress recommended we get a "red sauce" pizza with our potato pizza (oil based? sounds disgusting. i don't know how else to describe it. pretty much the opposite of red sauce). btw, that was such a good recommendation! i think this was an overall favorite.
we had to get the potato pizza because we've never had one before! plus, it was recommended by the waitress. it was pretty good but we wished it was better. it's more on the mild side with no punch of flavor that we were looking for. still, it is good.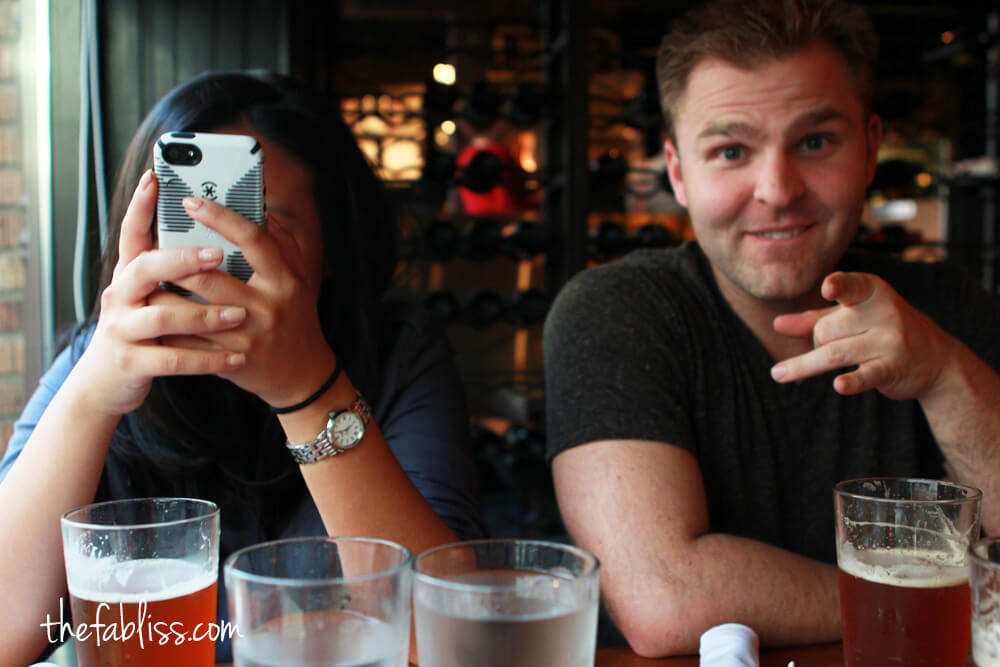 yeah, my friends hate me for doing this to them.
truffle mushroom pizza was my favorite (and kyle too)! mushrooms (check). truffle oil (check). bold truffle flavor. generous amount of mushrooms. so good. so so good.
food: kyle is a pizza-kinda-guy. sometimes i feel bad that i am so picky about the crust. i love crispy thin crusts but i am not a fan of burnt oven tasting pizza (my most hated is soggy, wilting pizza). obviously this limits me. anyway, the crust here is indeed crispy and some parts are burnt but surprisingly… i didnt mind! i think it's because the pizzas themselves have a lot of flavor and go nicely with the crisp. go, serious pies! nothing better than a cozy pizzeria on a cold, cold night! i would recommend the truffle mushroom and the roasted pepper sausage pizza! pizzas are moderately priced…but still not bad.
service/ambience: waiting times are long here. especially since this is not the largest establishment. good thing, dahlia bakery is around the corner in case you want a pre-dinner bite. service is great! spot on with recommendations.
overall: i think when people see a restaurant with thousands of reviews…they come here expecting to be ridiculously blown away by the best pizza in the world. so i will answer the question i always ask people: is it the best? no. but it is definitely still a great spot in seattle that is worth trying. fresh ingredients and comes out hot. worth it.
Serious Pie
316 Virginia St
Seattle, WA 98121