on the last day of our seattle trip, it poured. a torrential pour, which posed a dilemma. tat's deli had been on kyle's list of places he had to try in seattle. and, it just happened to be a block and a half from where we were staying. …but nobody wants to get soaked #1 before going to the airport and #2 after feeling clean after a hot shower. plus, it just seemed ridiculous to get a cab for a block (trust us, we were only contemplating this because we didn't have umbrellas and our rain jackets were only going to keep the top half of our bodies dry).
we went anyway. best decision ever. (since it was pouring, i decided only to take my iphone instead of my dslr. apologies for the mediocre photos)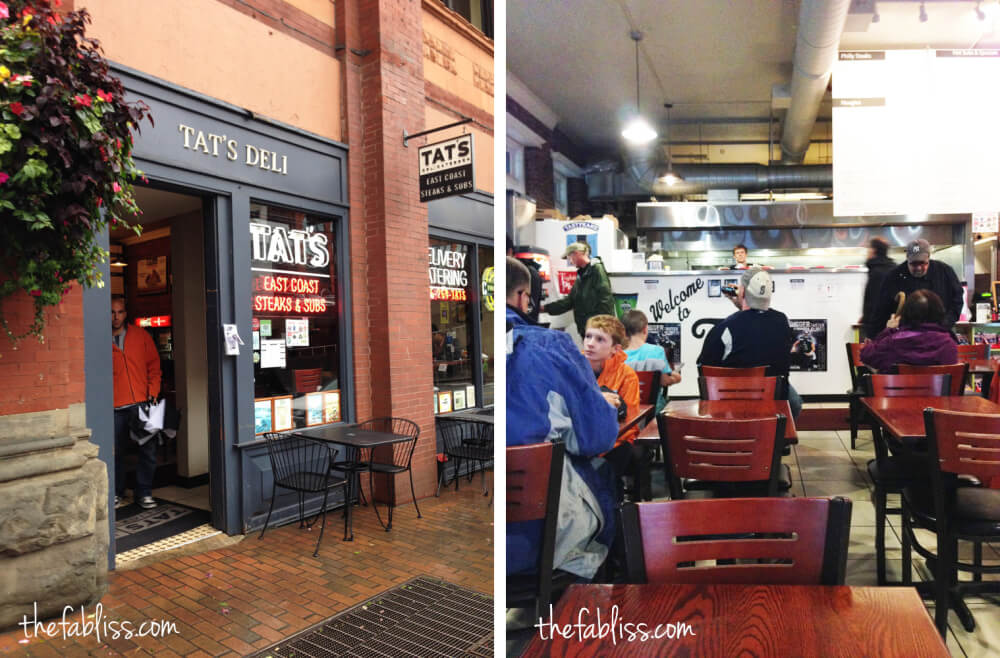 get ready to be overwhelmed by the giant menu as you walk in. if you were a first-timer like us, all you really need to know is the tat'strami. we ordered one sandwich and split it between the two of us (one sandwich $8.50). um, yeah. next time, i would order one sandwich per person. i can probably put down one by myself. easy.
this sandwich is amazing. pastrami, great. coleslaw, delicious. bread, perfect. even better: tat's steak sauce! make sure you get some of this stuff! (i could eat it all day)
ambience: very casual. lots of football posters. quite a number of tables. if you role in deeper than 4, you may just need to pull some tables together. people come in here, eat and leave so i don't think finding tables is a problem.
service: at tat's, you order at the counter (which is fast if you know what you want) and then you pick up your sandwich and take it to your table when it's ready. sandwich came out fast.
food: amazing sandwich with a side of hot fries? i would do that any day. any day (even a rainy day). you will not be disappointed by this place!
Tat's Delicatessen
159 Yesler Way
(between S Occidental Ave & James St)
Seattle, WA 98104
Neighborhood: Pioneer Square