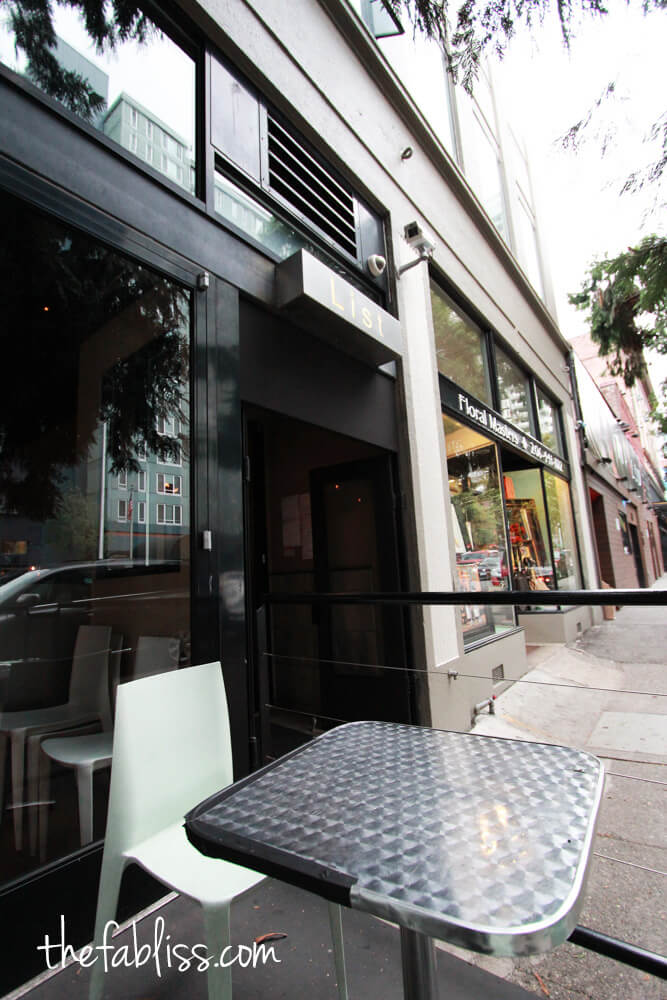 after hard rock café, we decided to mosey to another happy hour spot. we ended up at list. we heard/read that they had decent happy hour.
despite the weather being less than perfect (pretty chilly and about to rain), we decided to sit outside in the patio area for the natural light. the dining/bar area is extremely dark. lit mostly by candle light. pretty romantic. too bad none of us were feeling romantic at 5pm.
so here is the deal with happy hour at list: all items under their food list at 50%. bottle of wine – $14. pretty darn good. happy hour for fridays are 4pm – 6:30pm.
we ordered a bottle of the red wine…because it was named "stella" it was obviously meant to be. for small bites, we went with the calamari ($5) and the broccoli ($4) (oh you know, we light to keep a relatively balance diet. ha. ha.).
happy hour food: both calamari and broccoli dishes were ok. nothing crazy gourmet about these two items. the happy hour size is on the smaller side. still, tastes pretty good when you're drinking. we enjoyed our wine… and for $14 a bottle? we enjoyed it even more.
ambience: this place was pretty packed when we got there. good thing we were the only crazy people who wanted to sit outside in the drizzle and freezing cold.
service: friendly staff. attentive despite the crowds, which is always a plus.
overall: i'd come back here for happy hour for sure. to enjoy a bottle of wine. we actually didn't stay here very long since we were icicles after 45 minutes. we asked our awesome waitress for other happy hour recommendations. she guided us to a speakeasy close by (the speakeasy is called bathtub gin & co. it's in a pretty tight space. drinks were just ok and expensive. we thought it was eh). i would recommend list as one many bars you should bar hop during happy hour in downtown seattle. $14 bottles of wine? i would do that any day. fo sho.
List
2226 1st Ave
(between Bell St & Blanchard St)
Seattle, WA 98121
Neighborhood: Belltown