it has been beautiful weather lately so we decided to go to manhattan beach for our first beach day of the summer! since we don't hang out in south bay too often…that just means another food adventure for us!
we went to fishbar in manhattan beach for brunch/lunch looking for a light meal (light…yeah right). what we ordered:
seared ahi tuna tacos – recommended by our waitress. this was good. keep in mind that the sauce is a sweet chili kind of sauce…so it is an asian inspired taco. get this if you are looking for something light and tasty.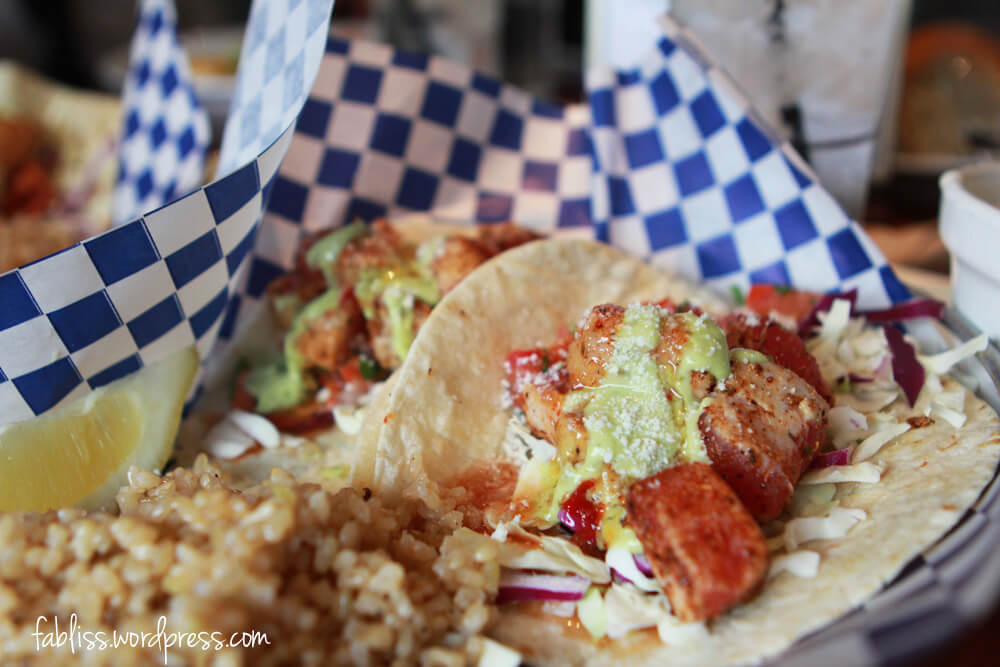 new england clam chowder – this one i really enjoyed. one of the best clam chowders I have had (no, really. It rocks and everyone a our table agreed). one of the perks of being married to kyle is that he loves to get clam chowder every where he goes…just like how i like to get the lobster roll everywhere I go. anyway, I have had my fair share of clam chowder… and this is definitely great. tastes great. temperature was great. nothing in it was overpowering (ahem, like bacon). not too thick but not watery (nasty) and there was a decent amount of clams in it. my favorite thing that we got.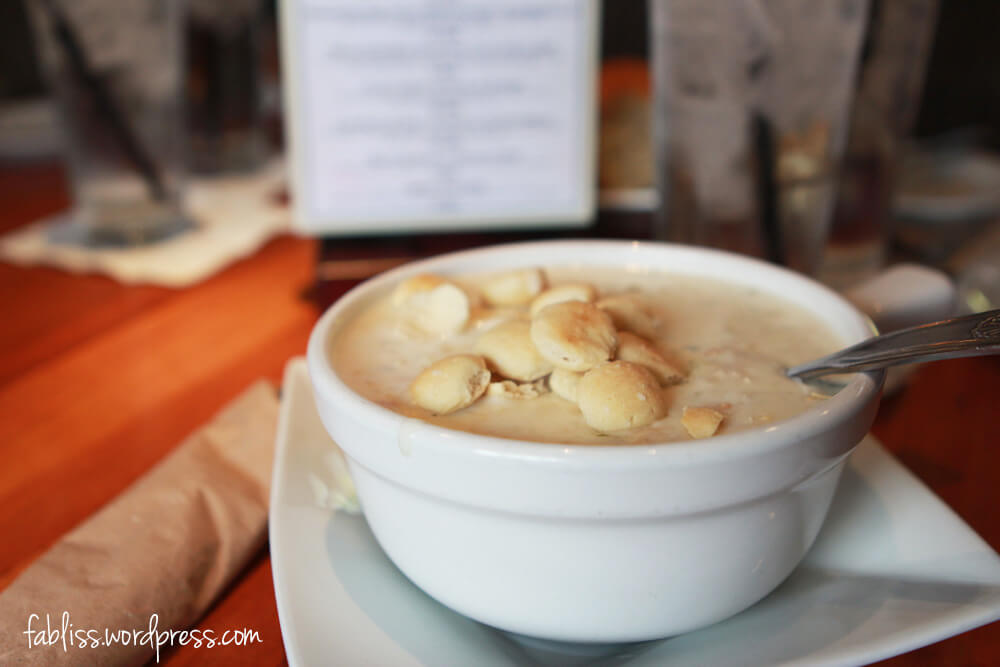 baja fish taco – our friend really enjoyed this. fish was fresh and did not have a ton of batter on it. ja feel? ja definitely feel?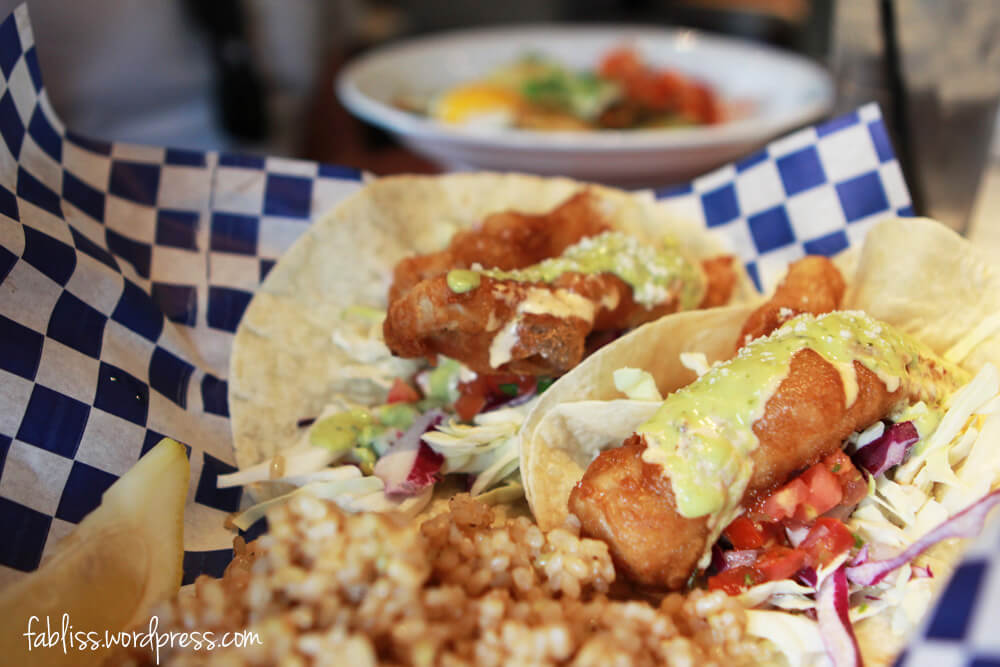 lobster hash – i didn't really taste this one since i am not a fan of eggs… but our friend said it was one of his favorite meals. this is one of the heavier items you can order here.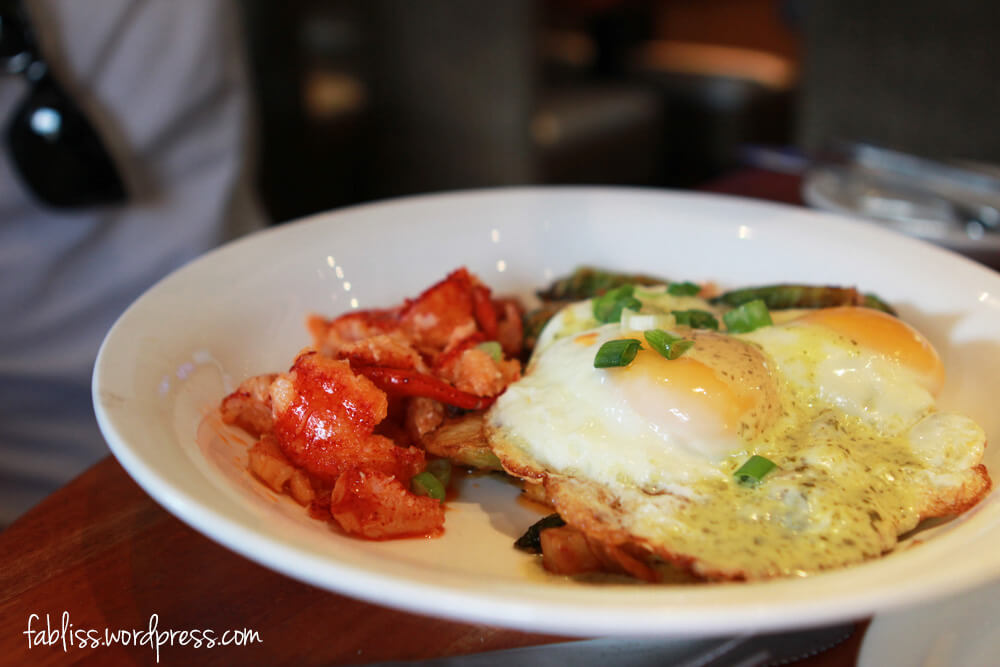 bloody mary – this was fishbar's big thing. an award winning bloody mary. yep da bomb. the presentation itself is pretty impressive. It comes with a piece of bacon in it… you know you've scored a solid drink if there is bacon in it! you must get this. oh, for happy hour…I know they have a great deal on this. (oh, and that's goldman)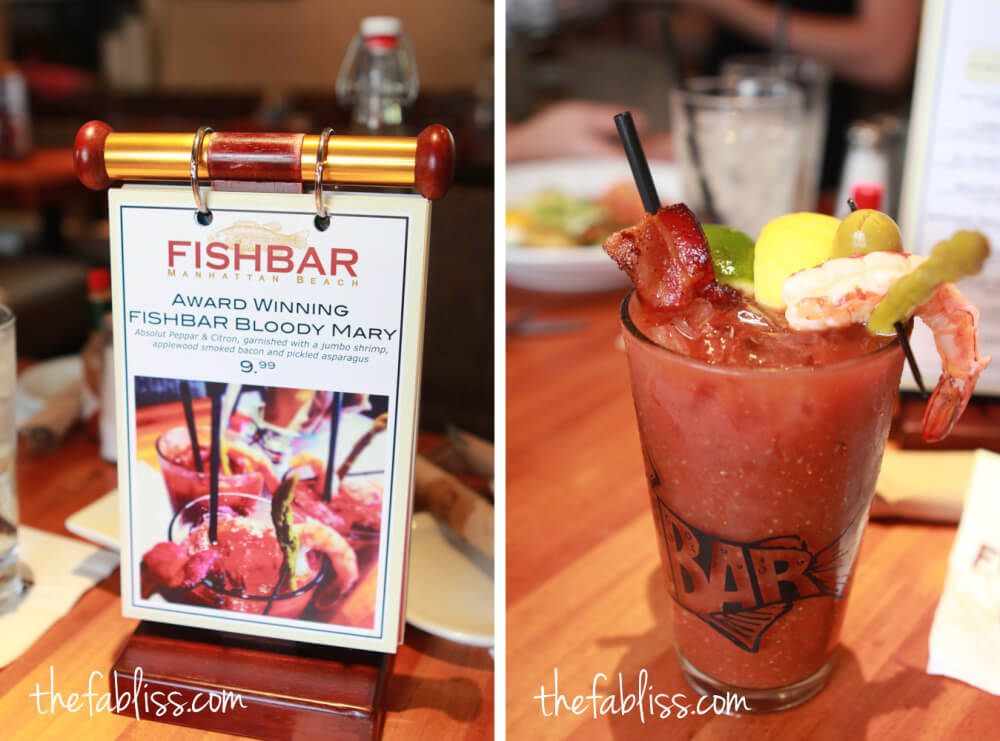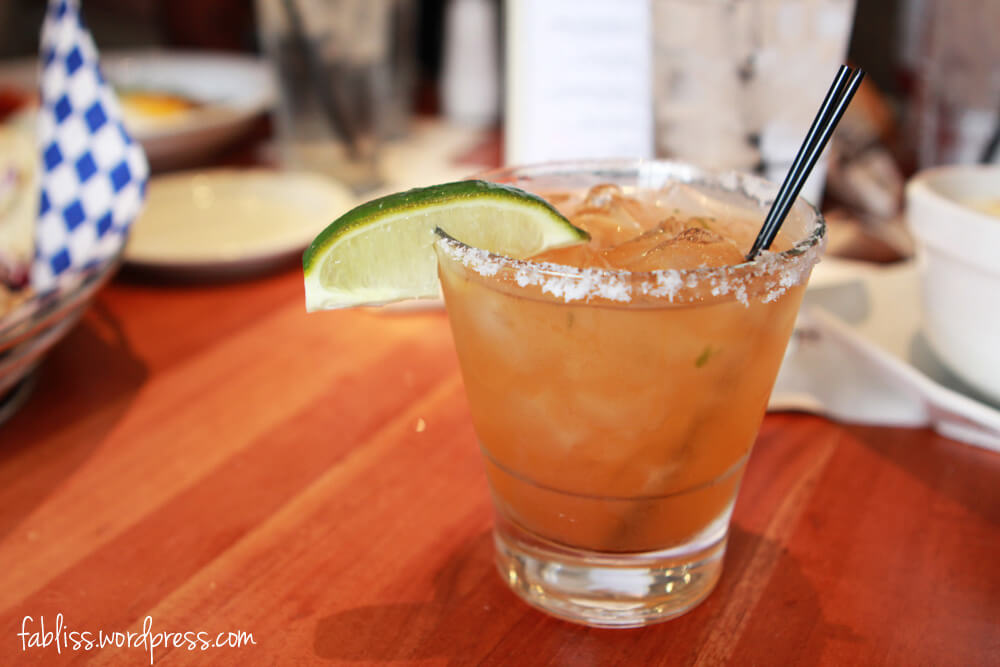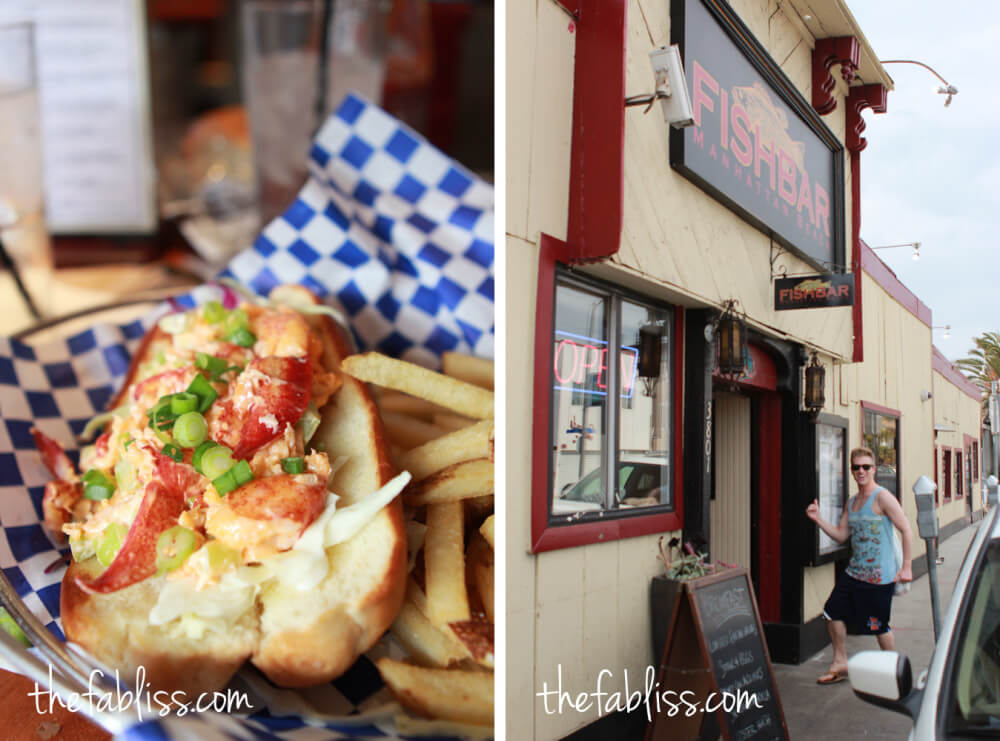 lobster roll – (yep) this was good. i thought it was outshined a little bit by the other dishes but kyle actually really liked the lobster roll here.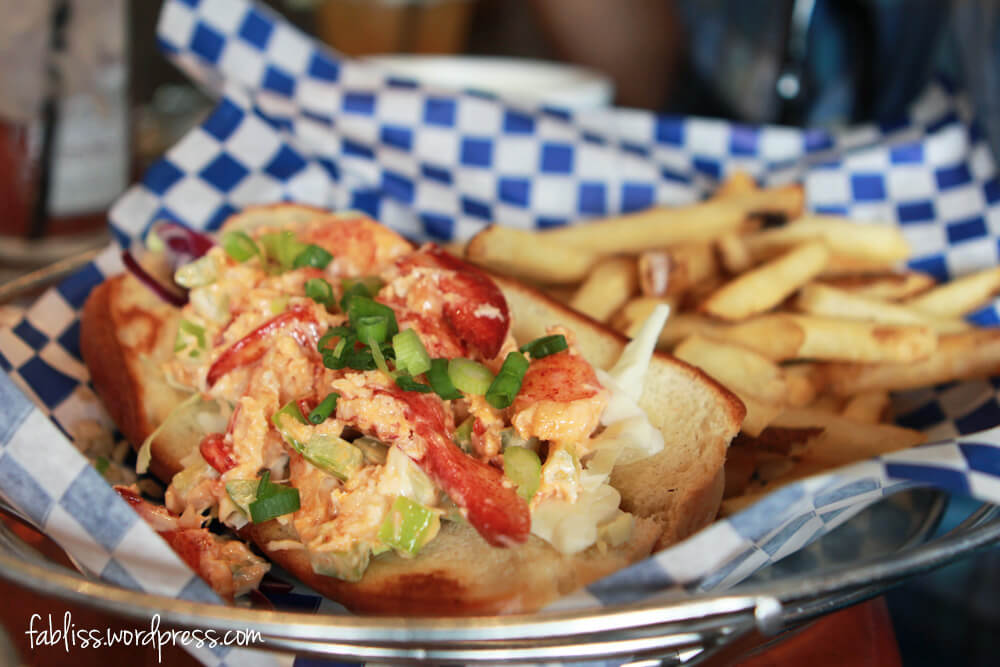 french toast bread pudding – to be honest, i don't know why we got this since we were all stuffed and we had to stay sexy for the beach (that was a joke. there is no sexiness going on up in here). i do enjoy a good bread pudding. was it good? yes. was it the best? no, but it is still good. i'm used to enjoying bread pudding as one hot, solid piece (mushed together?). mushed together is probably not the right word…but this is more like monkey bread where there are distinct pieces of the bread held together by probably butter? this was also on the drier side compared to other bread puddings out there. topped with berries and a sweet sauce, this was a nice dessert to share. note that this is not the best thing for you if you are working on that physic.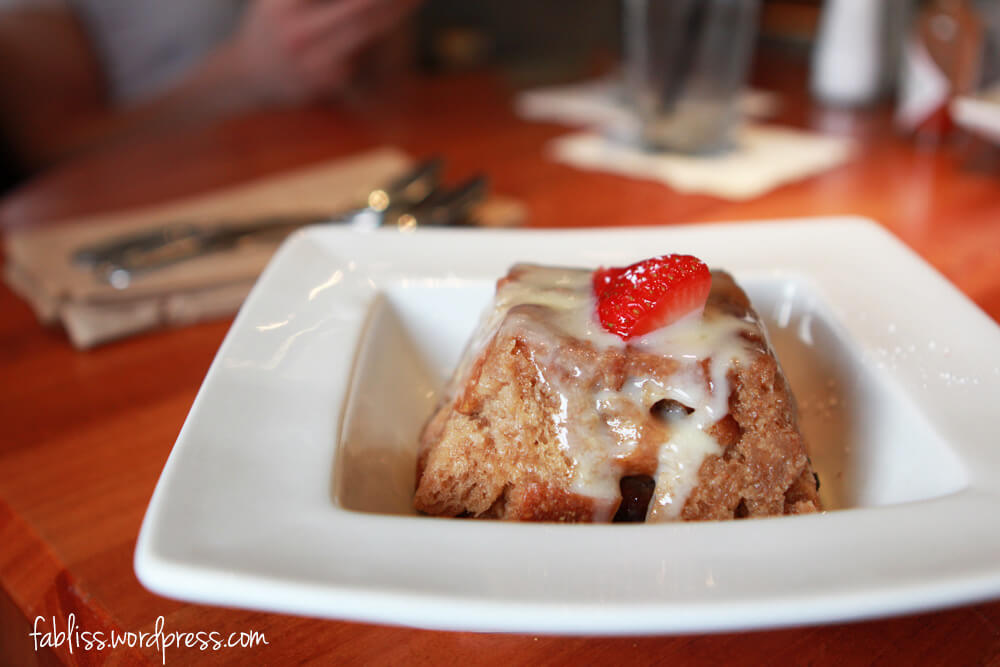 atmosphere: fishbar is laid back…like much of the rest of manhattan beach. pretty good amount of tvs at the bar…so I could definitely see myself watching a football game here if I were a local. decent size restaurant. I think you can easily roll in with 6-8…however, since it has a lot of booths, I can see rolling in with more than that…would be somewhat difficult unless you wanted to split up. just pointing it out.
parking: a mess. parking in manhattan beach is just always an ordeal. we were on the prowl for a 40 minutes before we found something pretty far away.
service: our waitress was pretty amazing. attentive. fast…and funny. spot on with the recommendations. we appreciate it.
overall: we had a great time at fishbar. this is a great, laid back seafood restaurant near the beach. perfect for the sunday we went here. good seafood and great service. we will be coming back here.
FishBar
3801 Highland Ave
Manhattan Beach, CA 90266
Neighborhood: Manhattan Beach
Cuisine: Seafood