a must visit seattle eatery is pike place chowder. it is reviewed by a million people and loved by even more. so naturally this was top on our list. i mean, how good can it be?
this small shop is tucked away in post alley. what is post alley? an insanely cute little alley near pike's market place with small shops and restaurants. pike place chowder will be the shop with a huge line out in front. and by huge i mean wraps around the building. good thing we came here on a thursday morning to get our chow on because the line wasn't too bad (less than 30 minute wait).
this place opens up every day at 11am and apparently they are seattle's original dungeness crab roll sandwich! we obviously had to see what the rave and this big sign was all about. oh, and they have a wall of all the awards they have won (looks like they have won first place… a lot). we ordered:
combo #2: 8 oz. chowder of your choice with a half sandwich of the original dungeness crab roll and drink for $12.95. i chose the seafood bisque!
medium new england clam chowder
this is the huge menu that you need to study well in advance of order or else you will get lost. oh, and this place is serious about their chowder. they all have chowder shirts.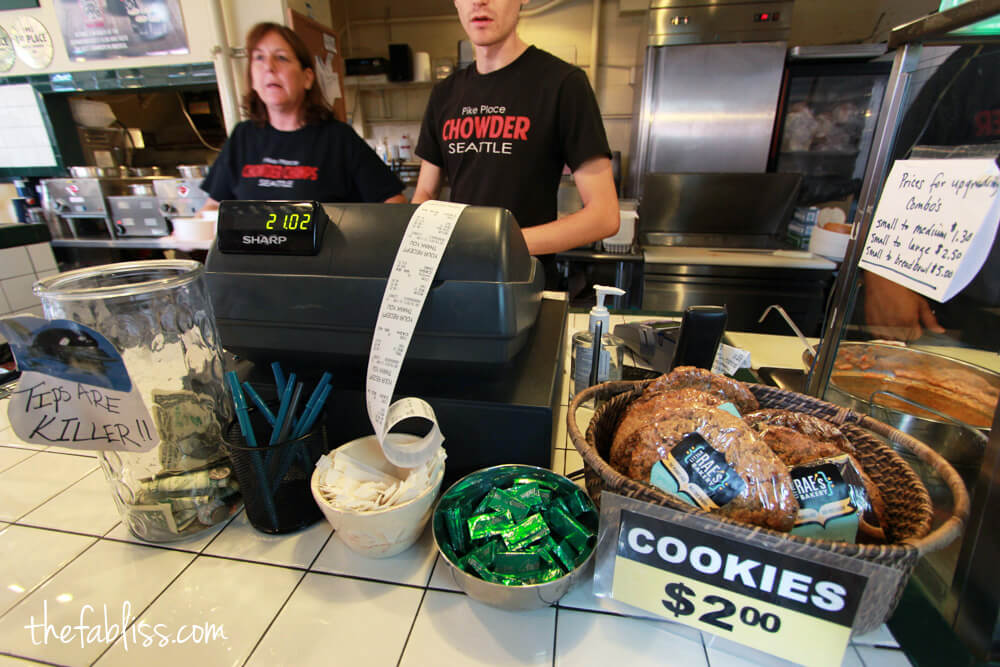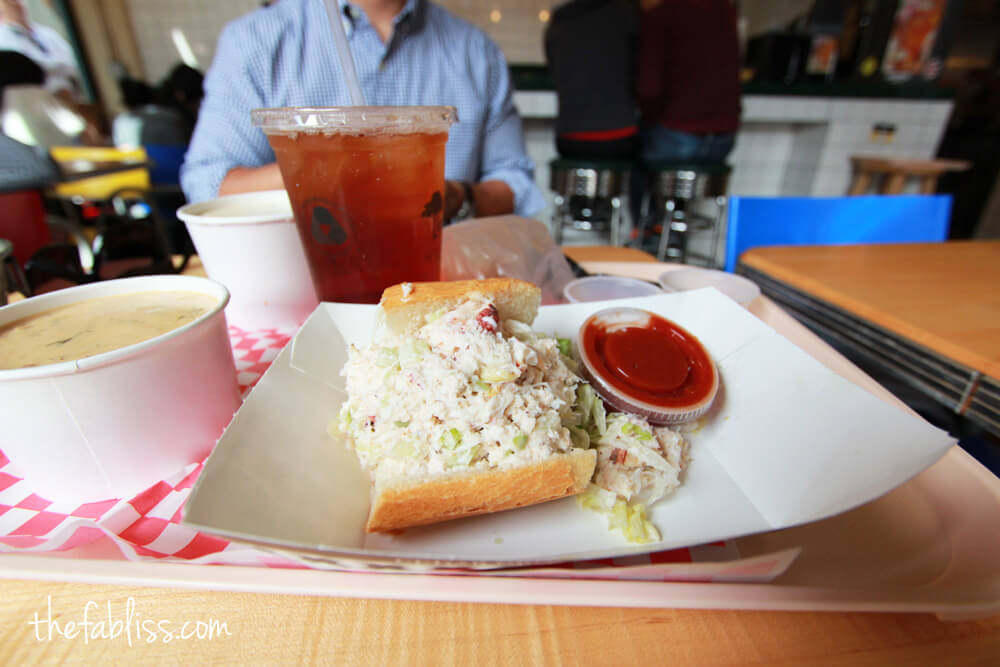 the dungeness crab roll was good. the roll that it was on was a little hard (i like my seafood rolls to be soft so that it can melt in my mouth). the crab itself was very fresh but i wish it had a little more of a kick. it was nice to have half a sandwich with my seafood bisque. i definitely think the combo is the way to go.
i almost didn't order the seafood bisque since it sounds extremely heavy and i didn't want to start my day off feeling heavy. good thing kyle made me sample it along with the southwestern chicken and corn chowder. i loved the seafood bisque way more than the southwestern chowder. not too heavy (it was actually a lot more watery than you would think by just looking at it). lots of flavor. i really liked it.
the new england chowder was good. kyle actually didnt let me have too much of it since he inhaled it. his thoughts: good chowder. hits the spot on a nice cold day. the best chowder he has ever had? no (he loves the chowder at lure and stands by his choice). but this one is pretty dang good and worth a try.
Pike Place Chowder
1530 Post Alley
(between Pike Pl & Pine St)
Seattle, WA 98101
Neighborhood: Downtown