we are back from vacation (seattle and then vancouver) and it is food posting time! as some of you may know, in the past couple of years, we have based our travels on food (italy and thailand) and more recently football venues (candlestick park and now seattle centurylink field)! we were only away for 10 days (5 days in seattle and 5 days in vancouver)…but we ate. a lot.
one of our first stops: top pot doughnuts in belltown since a ton of people have been raving about it! quick tip – we loved staying at the renaissance in downtown (a little less than a mile away from centurylink field) since everything was a max 15 minute walk away. (a review of seattle to come later) anywho. top pot doughnuts.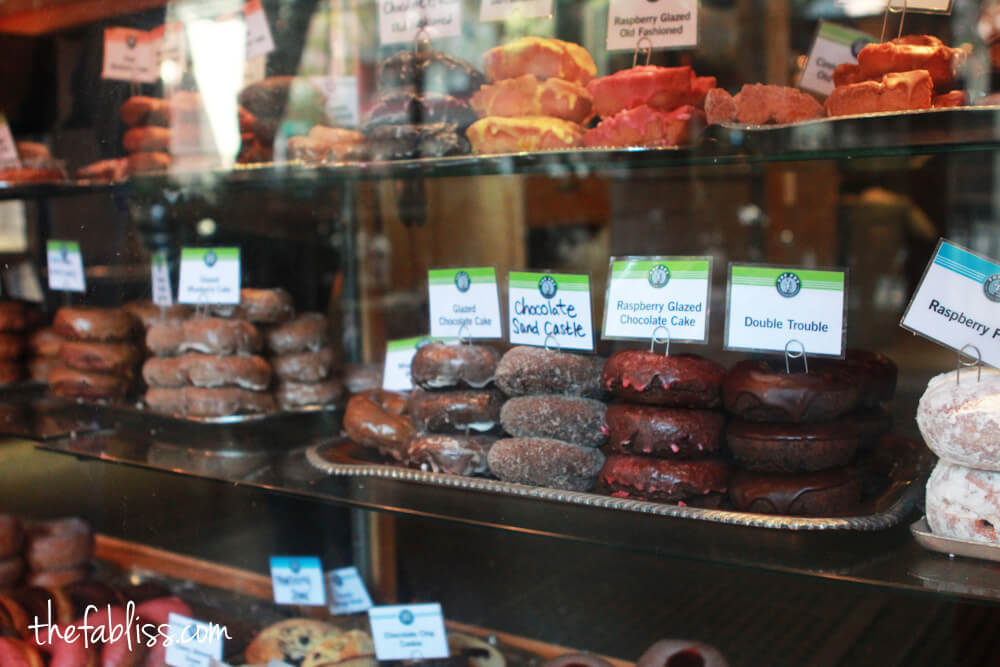 we ordered a raspberry glazed cake doughnut, a double trouble doughnut (chocolate cake w/ chocolate glaze) and a cup of black coffee.
doughnuts were moist! i really enjoyed my pink doughnut…only thing is that we wished the doughnuts were warm. we wanted it to melt in our mouths. coffee was good. nothing too amazing but still a good complement to the doughnut.
kyle tried to dip it in his coffee. nope bad idea. too soggy.
atmosphere: this is an extremely cute joint…that reminds you of the library in beauty and the beast. (yup)
service: very friendly. we loved our cashier. small line when we got there around 9 am on a saturday but it cleared pretty quickly.
overall: good doughnuts. some may find the cake donuts on the dense side. i didnt really mind this. good breakfast joint. we read that this was the best doughnut in the nation… we didnt think so but it is still pretty good. dont expect anything earth shattering.
Top Pot Doughnuts
2124 5th Ave
(between Lenora St & Blanchard St)
Seattle, WA 98121
Neighborhood: Belltown