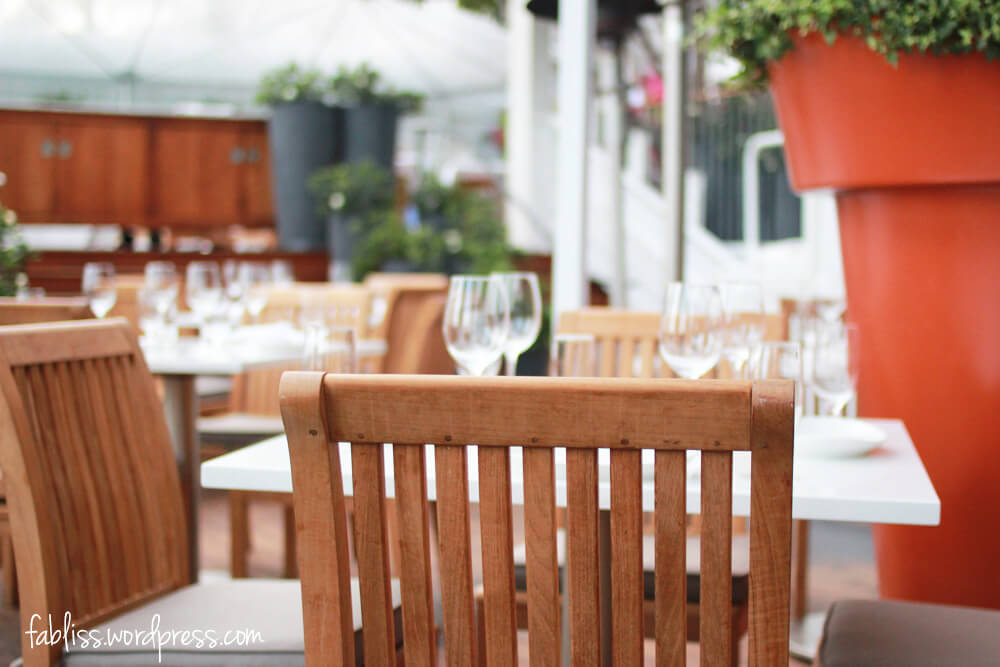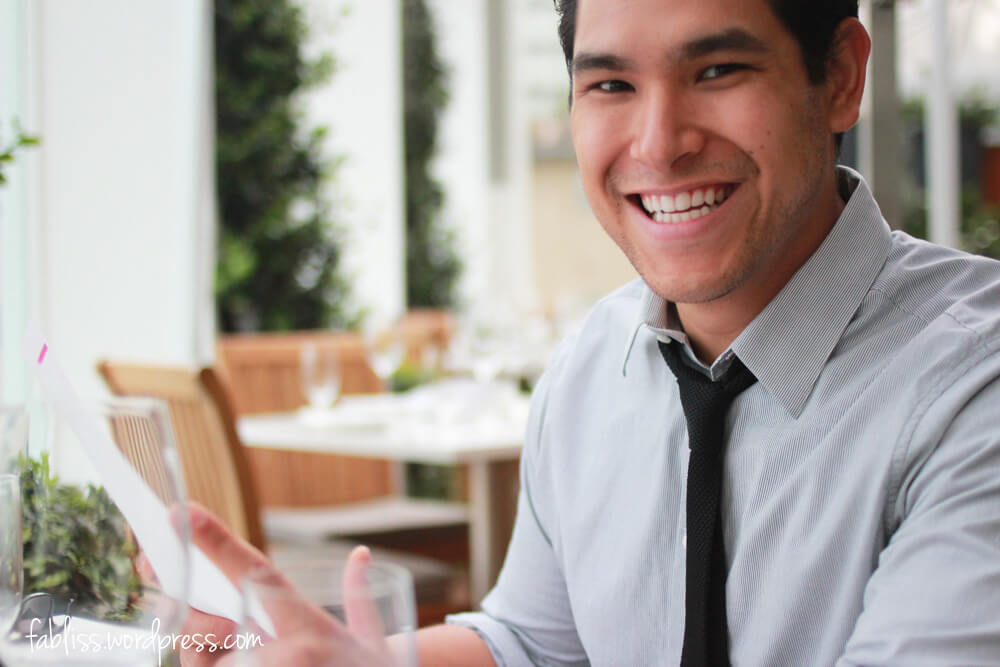 asia de cuba is our favorite restaurant in la right now. we went here for our anniversary last year and fell in love. when a deal on gilt came up for a pre-fix dinner for two at this wonderful place, we obviously had to get it. so, asia de cuba (in the mondrian hotel) sits on top of a hill in west hollywood, overlooking la. excellent location.
the night we came, it was cloudy out but still warm enough to sit outside. love it.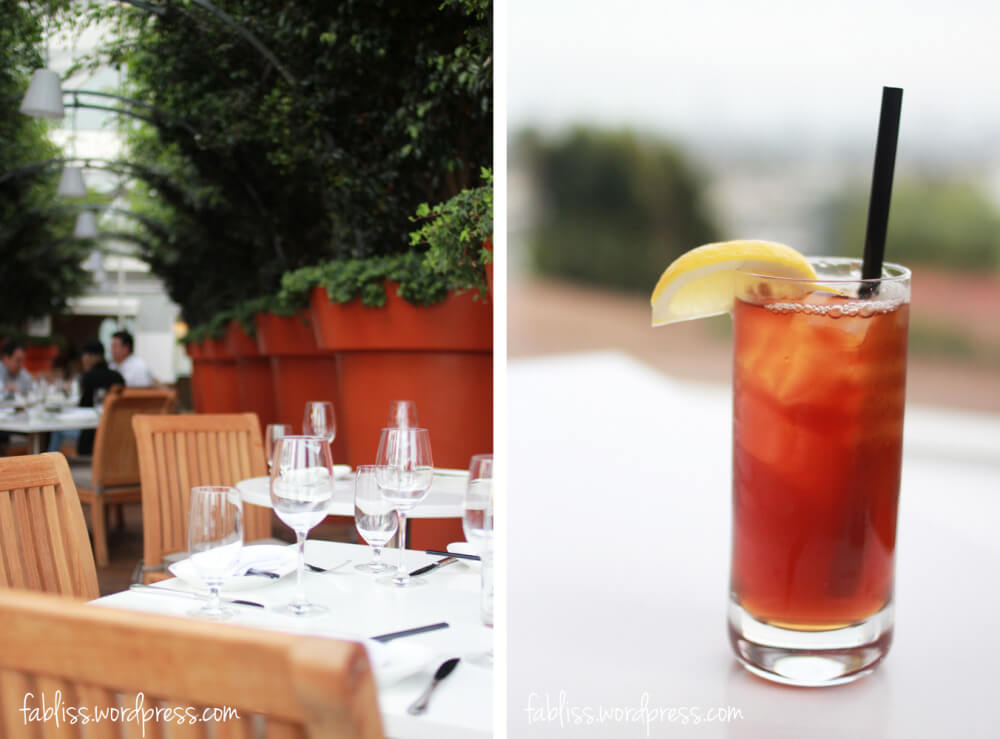 our deal ($110) was a four-course dinner for two. for our starters, we chose (i) ropa vieja of duck and (ii) crispy octopus ajillo. the ropa vieja of duck was topped with hoisin sauce served in lettuce cups. note to self, must get this again. the duck was moist, sweet with a little spicy kick. this is a little wrap so its not heavy…however, it is a messy.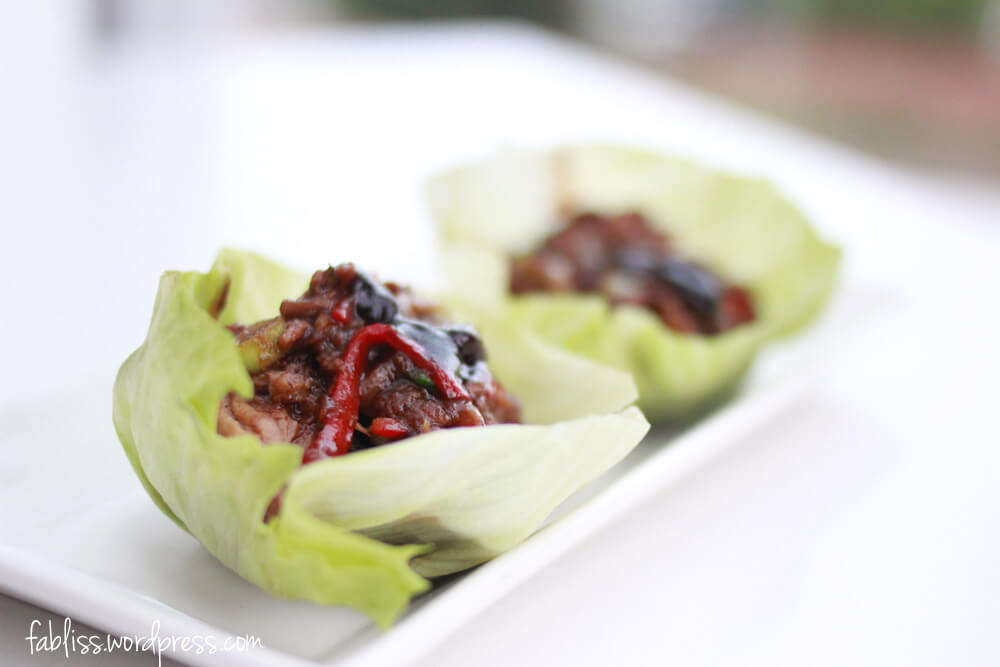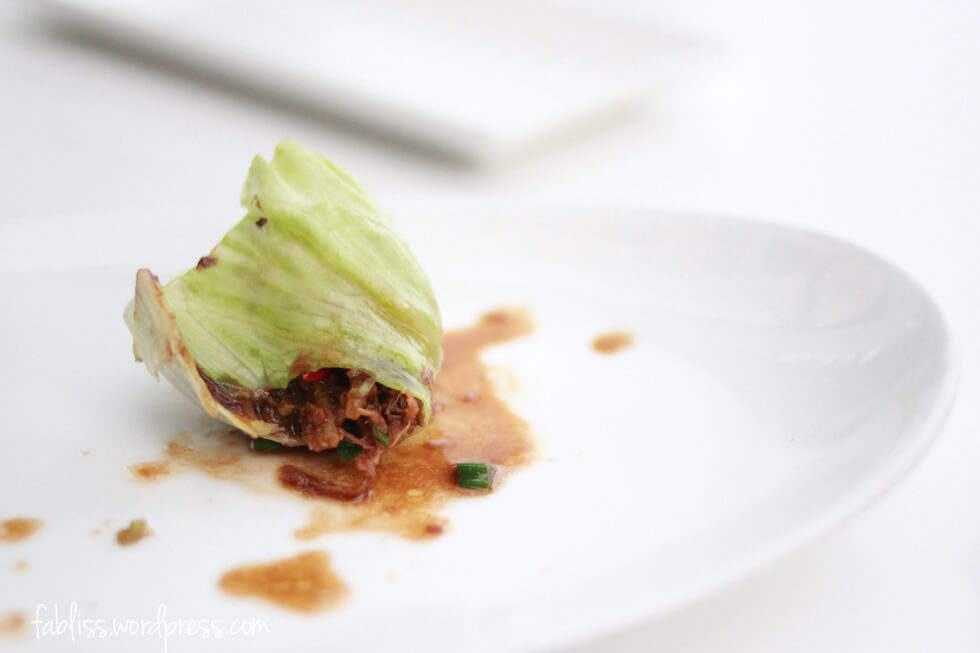 the amazing view. too bad it was cloudy out.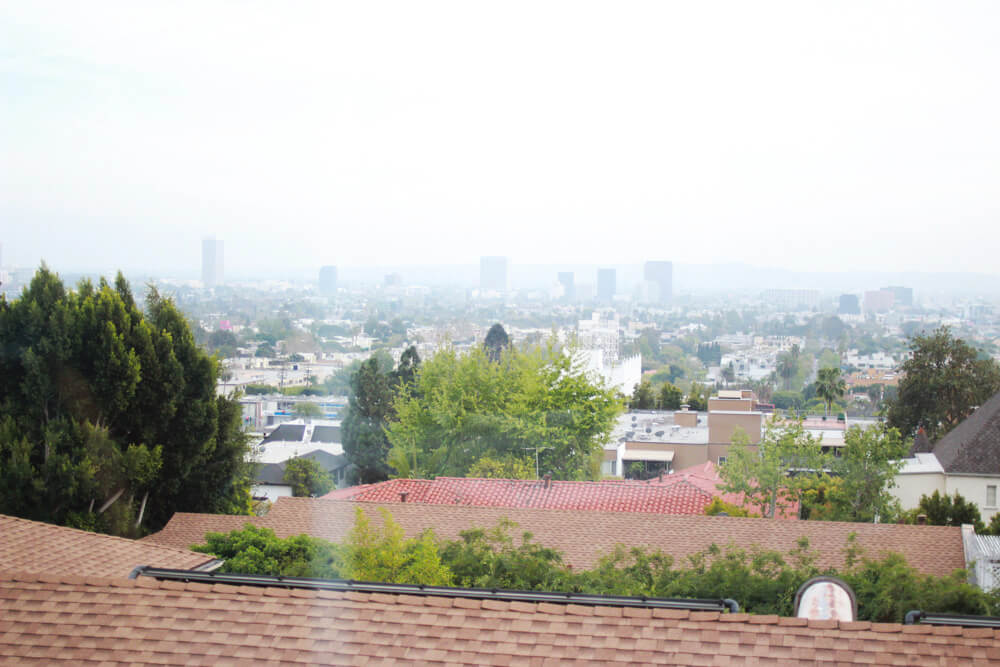 the crispy octopus ajillo w/ caramelized onions and sake pickled lychee was highly recommended by our waitress. this is something we never have ordered but we are absolutely glad we did. they werent lying when they named this crispy. it really is! not dry crispy. moist on the inside, crispy on the outside. how do they do it?! for someone who loves crispy texture…this was awesome.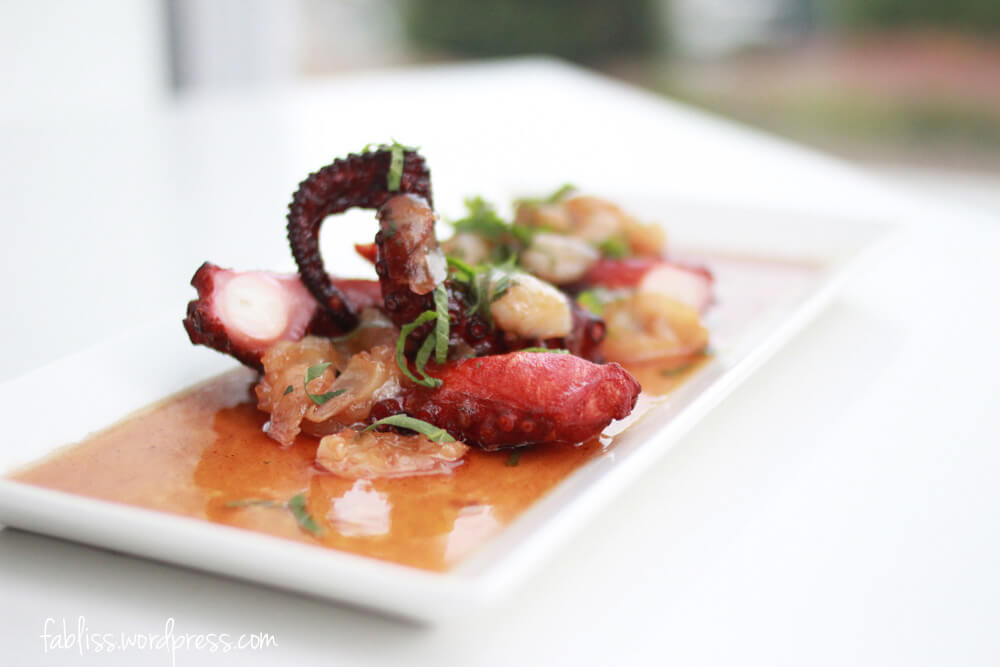 note that the plating here is amazing! so we took a gazillion photos! (yep, i'm one of those)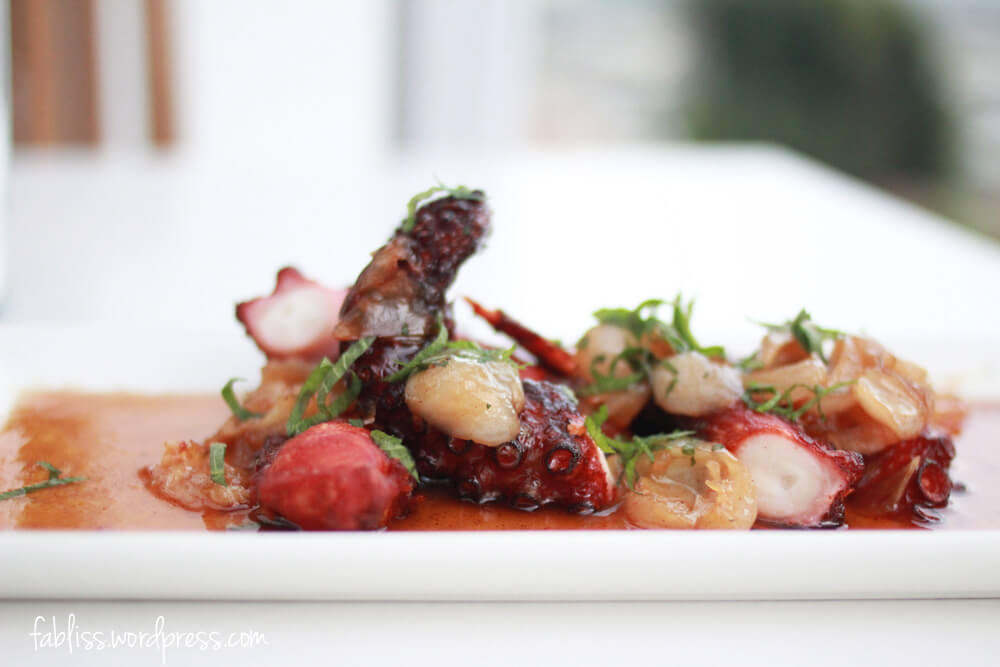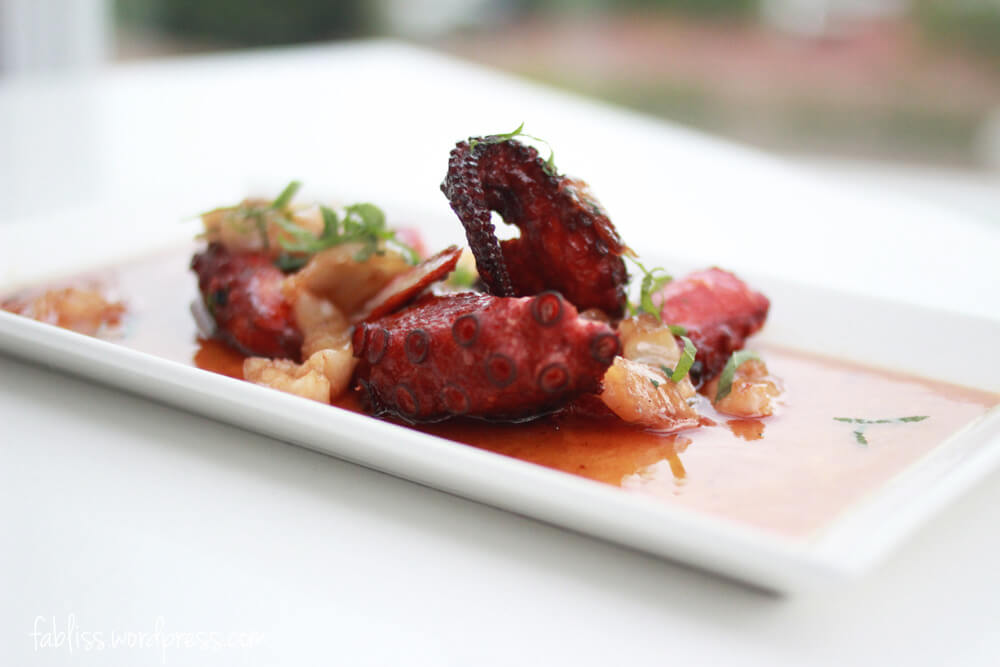 calamari salad "asia de cuba". this is their signature salad. calamari, hearts of palm, bananas (yeah first time for us too), cashews and sesame orange dressing. refreshing. calamari and cashews give it a nice crunch.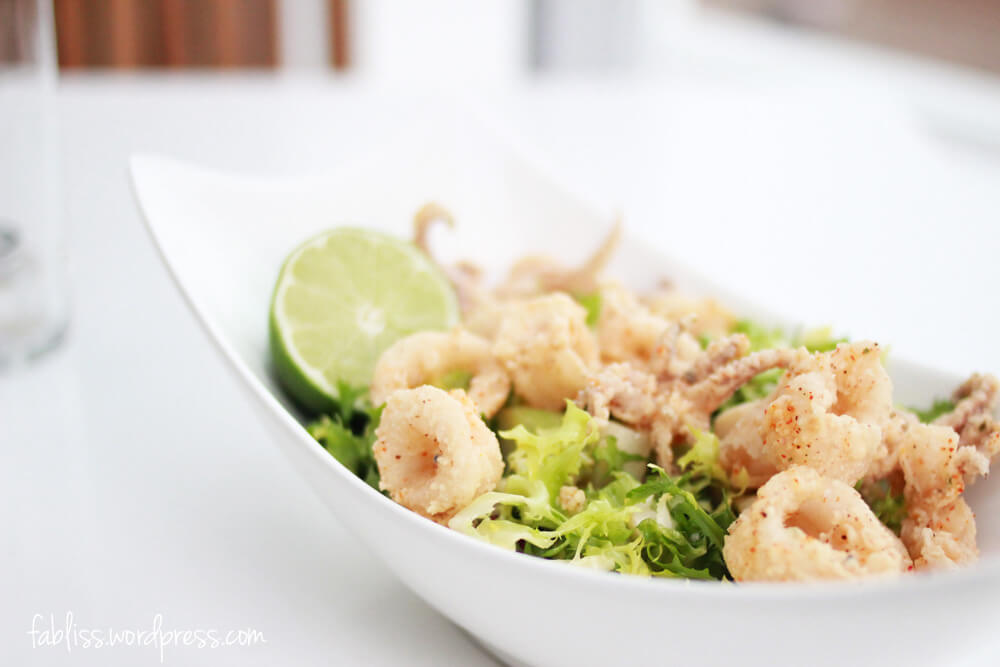 we were weirded out by the bananas at first but the tastes blend so well.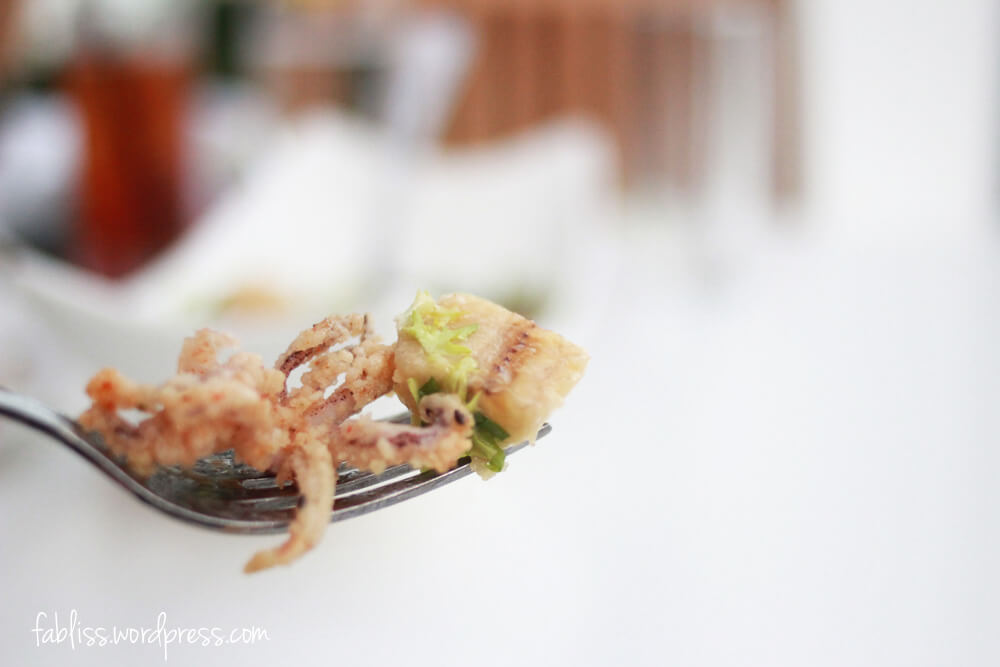 after appetizers, we were given a great palette cleanser: coconut sorbet! delicious!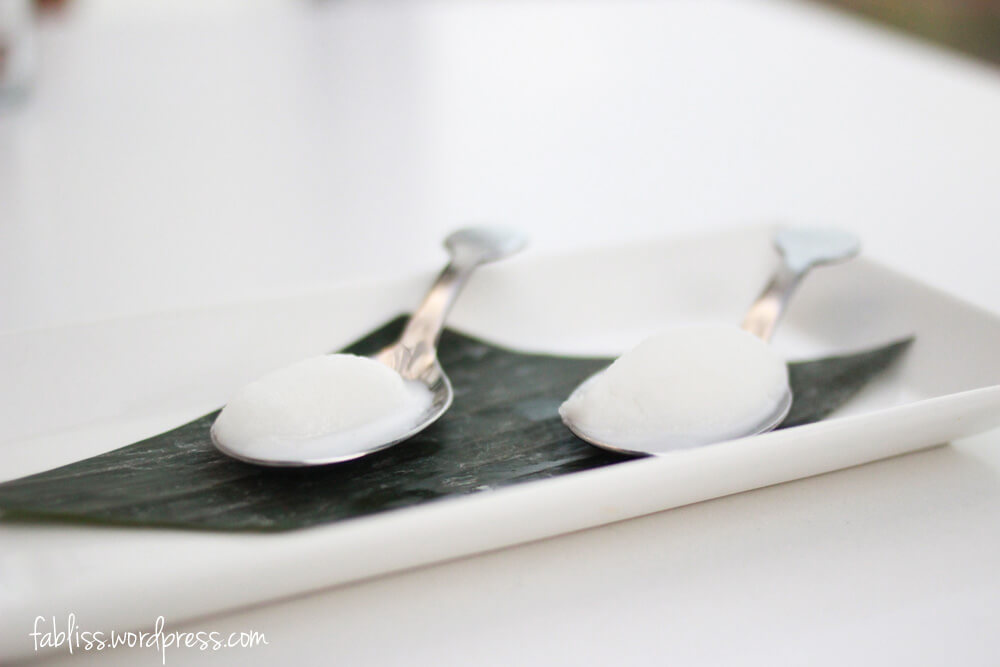 the view is so amazing. here's another shot.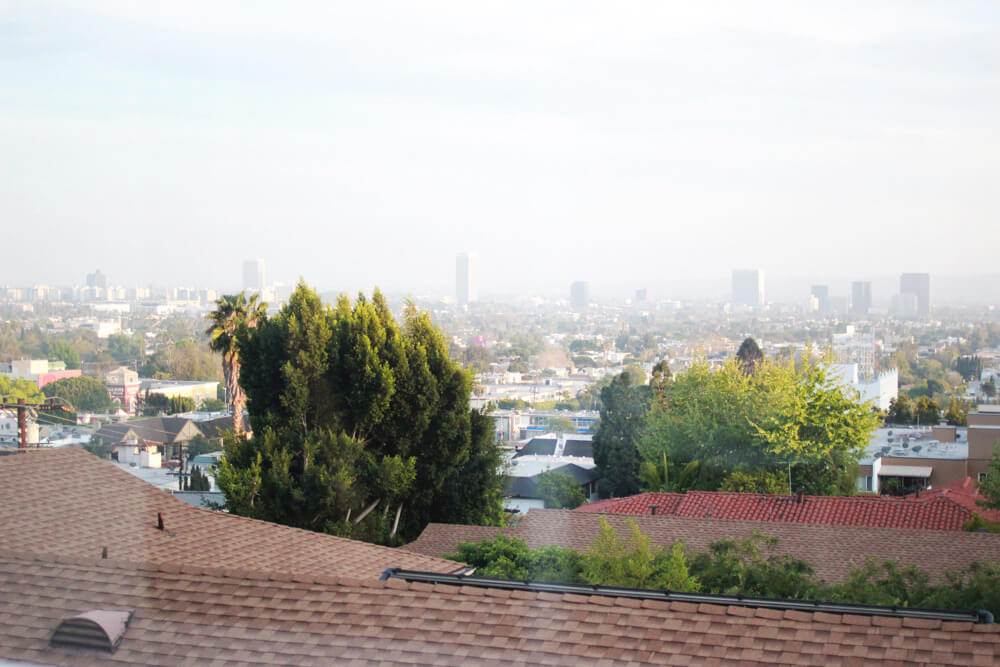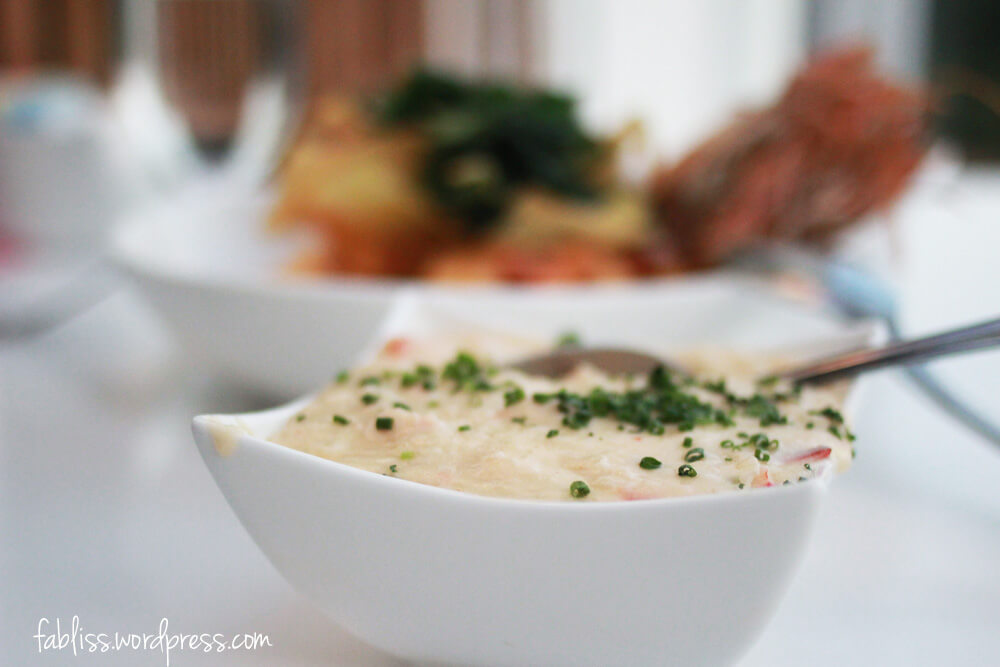 lobster mash was great (mastros, you still win my heart for best lobster mash). we got this because we thought it would go well with the gambas gigante mai tai a.k.a. giant prawns in red thai curry, rum, and coconut cream. the curry was good. we wished it was hotter (temperature and spiciness). side note: its hard for us now that we have been to thailand…curry was so good there. now every time we have curry, we compare it to our thailand adventure!
anyway, curry was good. prawns were gigantic.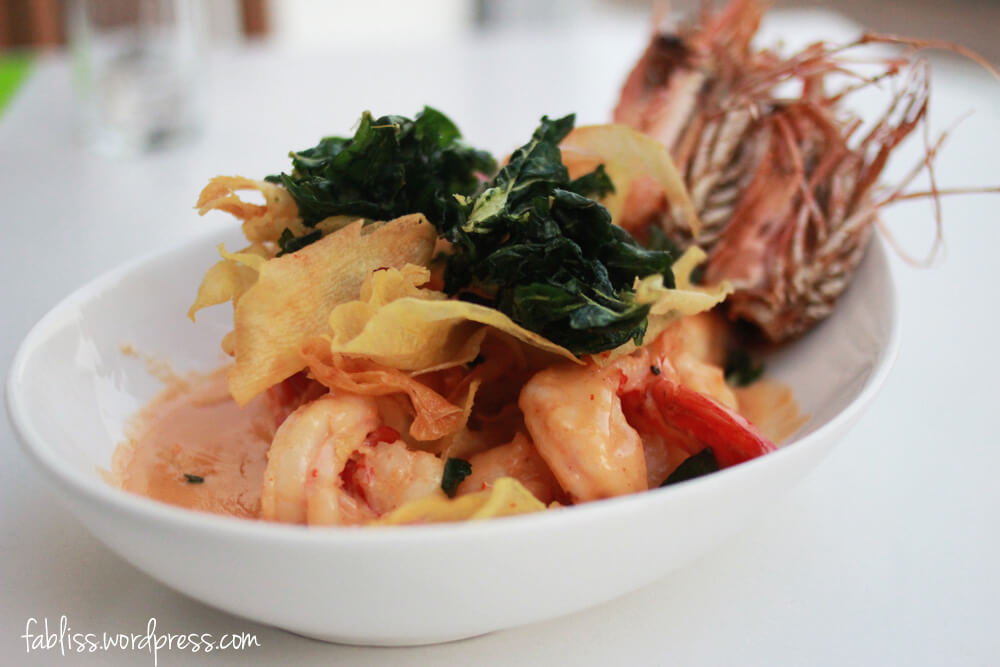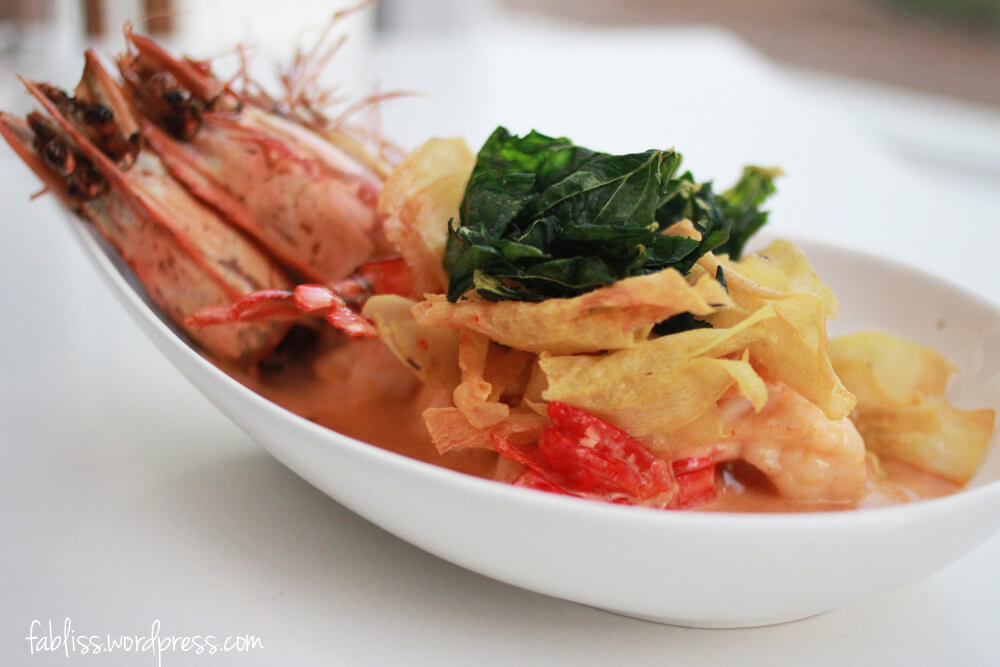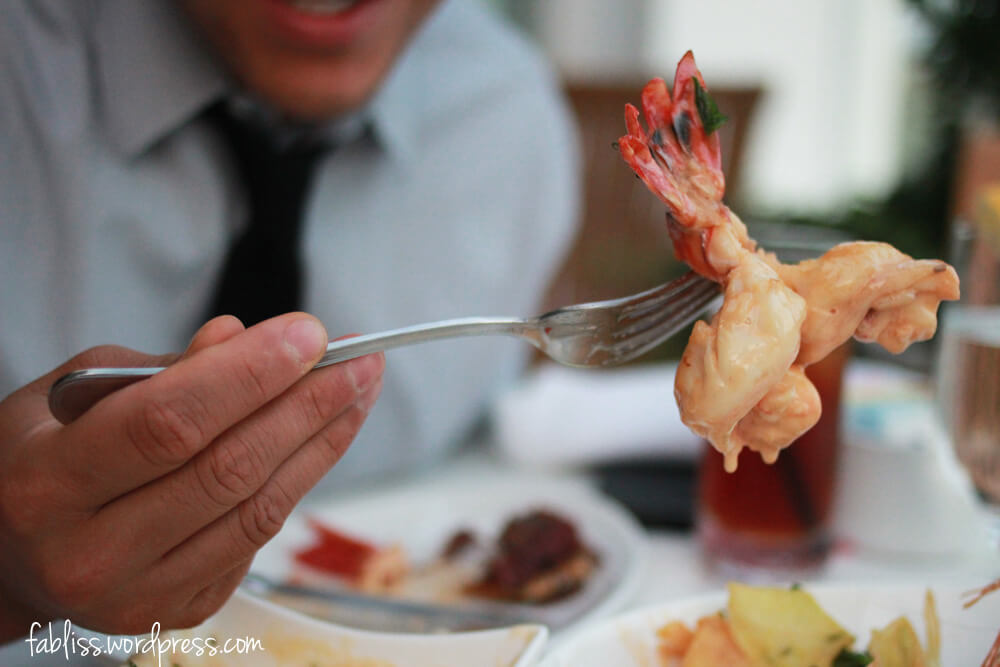 our second main and one of our favorites: char siu beef short ribs w/ chili orange salsa! this is absolutely amazing (and it's amazing every single time we have it). this is definitely another must get dish! taste – think explosion of flavor. presentation – impressive, clean and very colorful.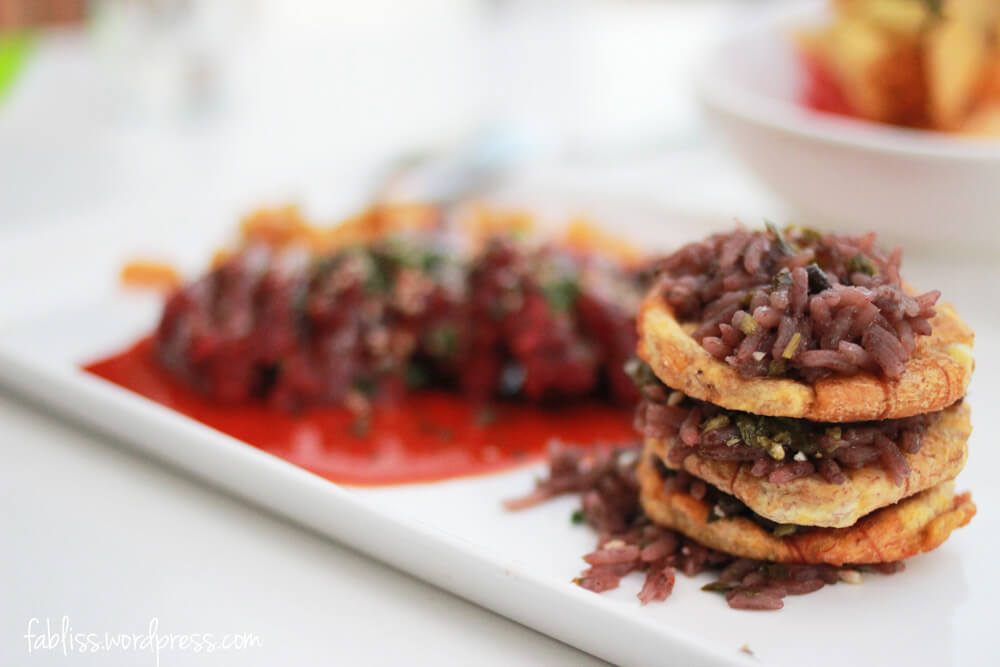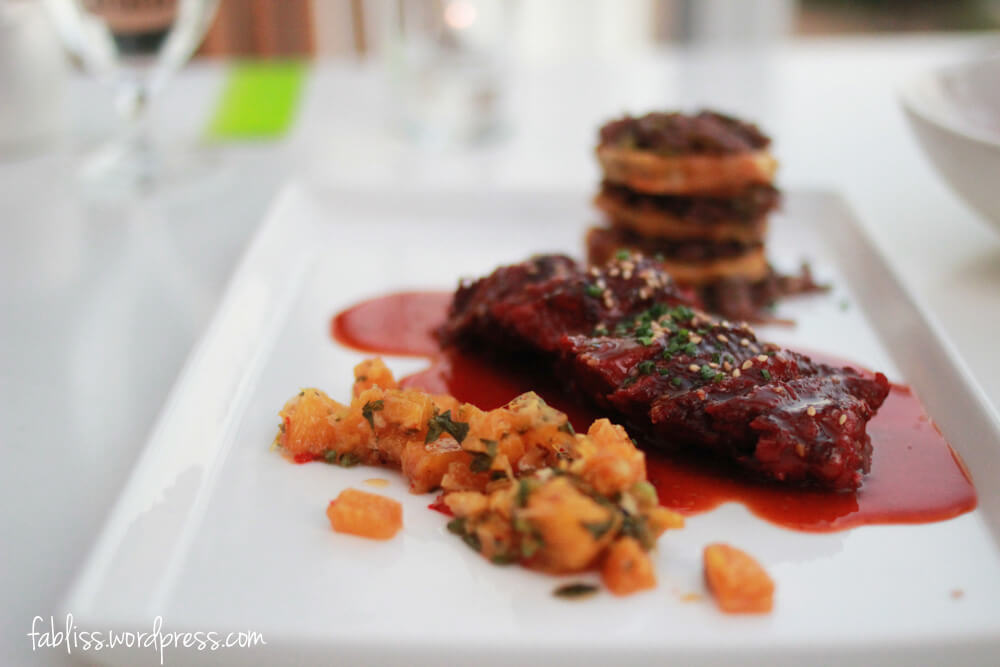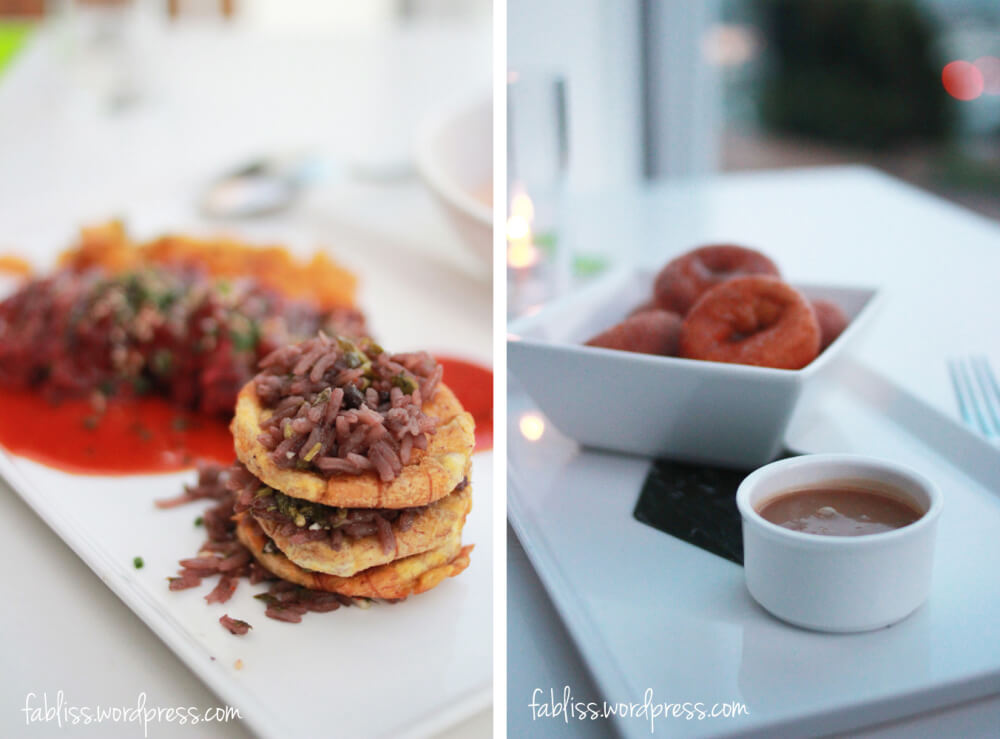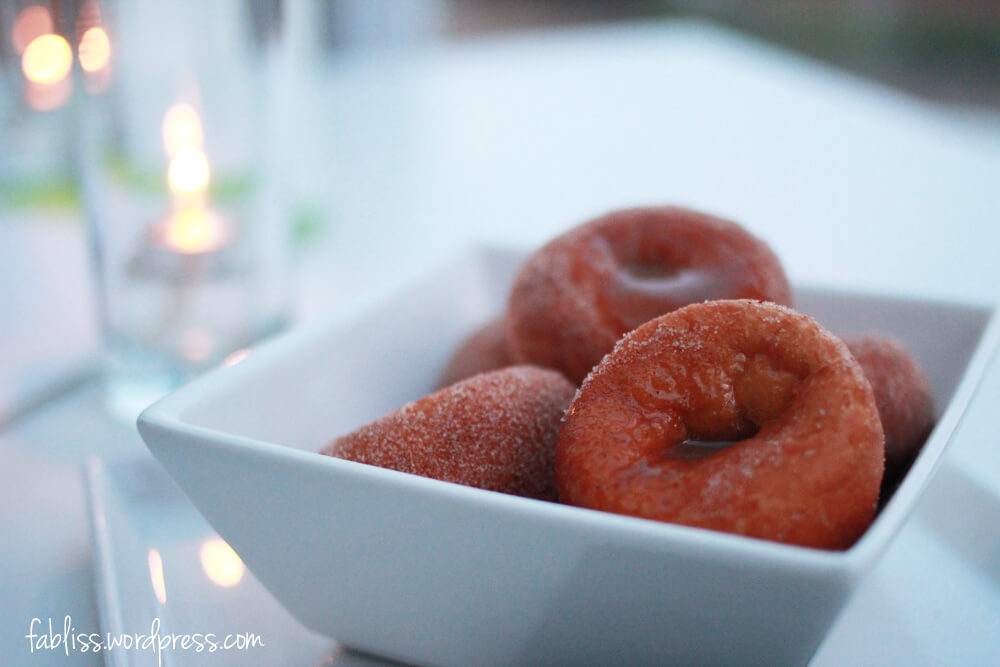 dessert – mexican donuts.
tip: other things that we love here that we couldnt order because it wasnt part of the tasting menu – miso cured alaskan black cod (fish was perfectly prepared) w/ grilled shishito peppers and plantain fried rice topped with avocado salad aka guacamole (asian cuban fusion…get it?!)
overall: obviously we are big fans of this place. we recommend this to anyone looking for a nice view of la and great food. price point is on the high side so this is definitely a special occasion kinda night.
ambience: dining room inside is all white. large windows overlooking la.
service: great service every time. we have never gone there when it's ridiculously

packed so you get a lot of undivided attention.

parking: valet only.
Asia De Cuba
8440 W Sunset Blvd
West Hollywood, CA 90069
Neighborhood: West Hollywood