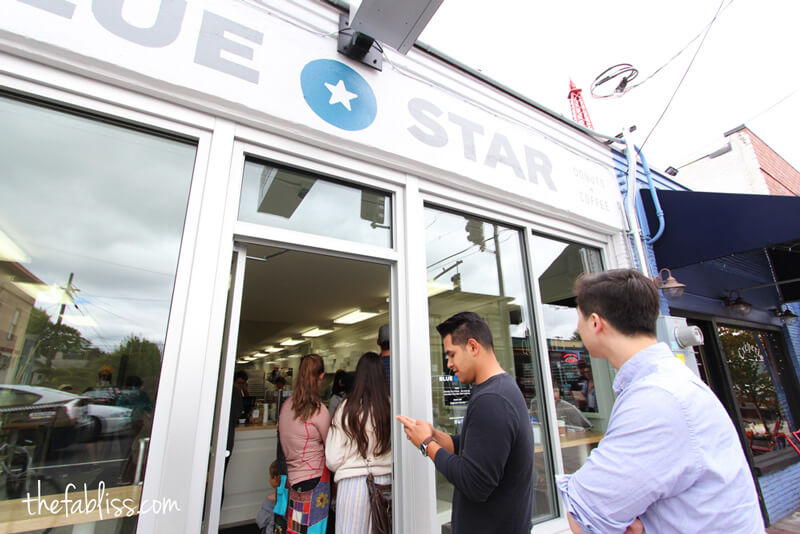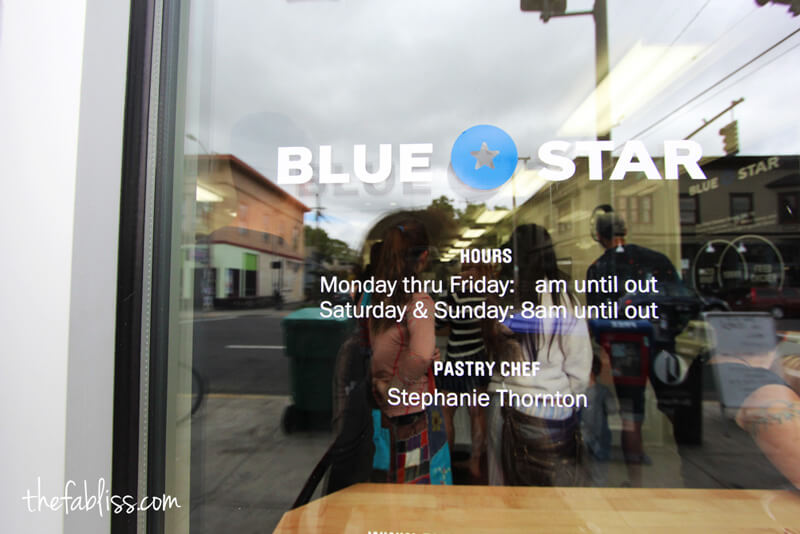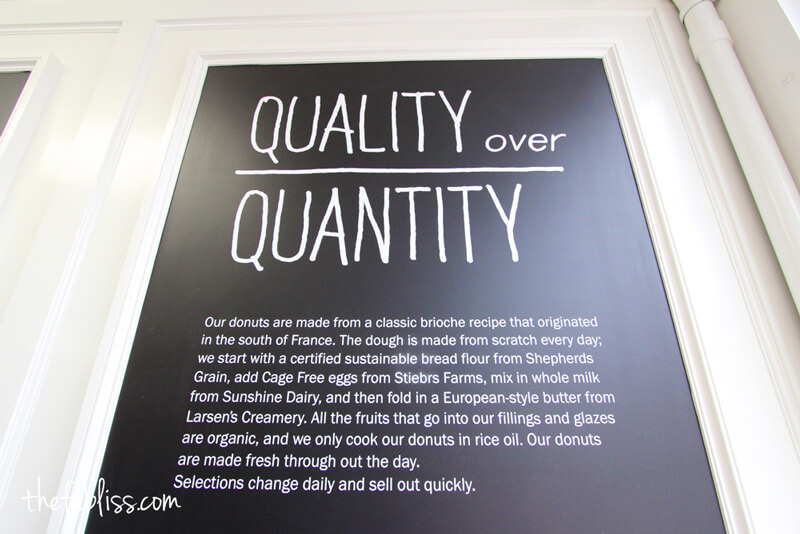 we put blue star donuts on our list since we wanted to try their blueberry donut! we tried going here three times. first time was on national donut day… nope. they sold out and shut their doors by noon. second time, we couldn't get into downtown since there was a parade. thank god our final attempt was a success since we stumbled upon their location in hawthorne!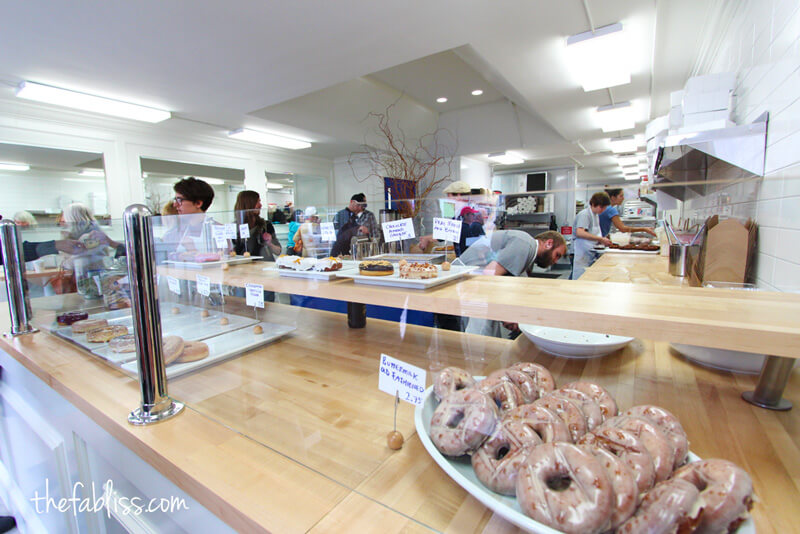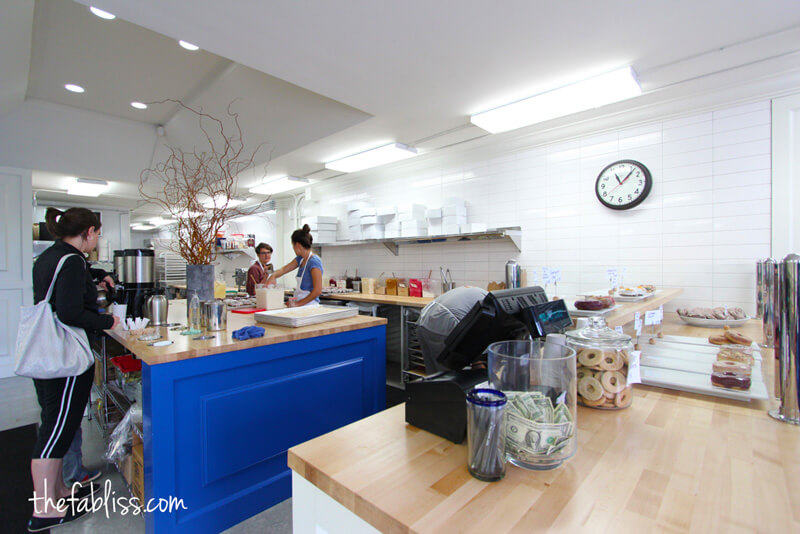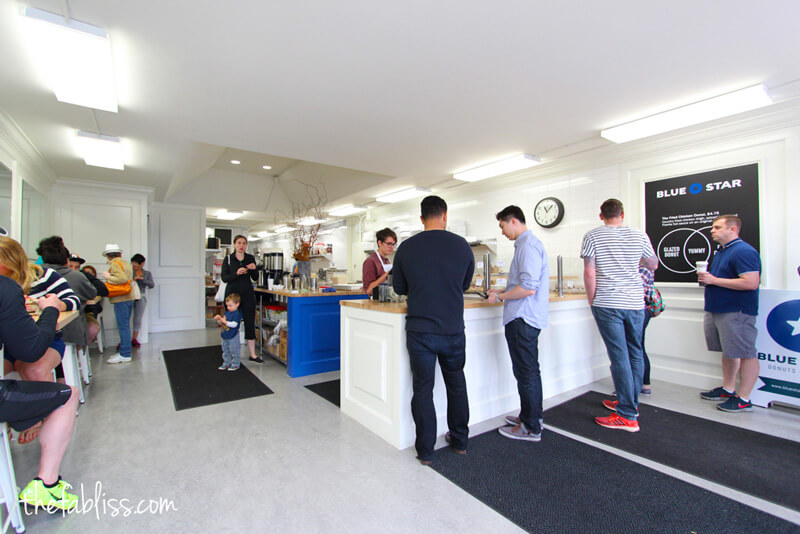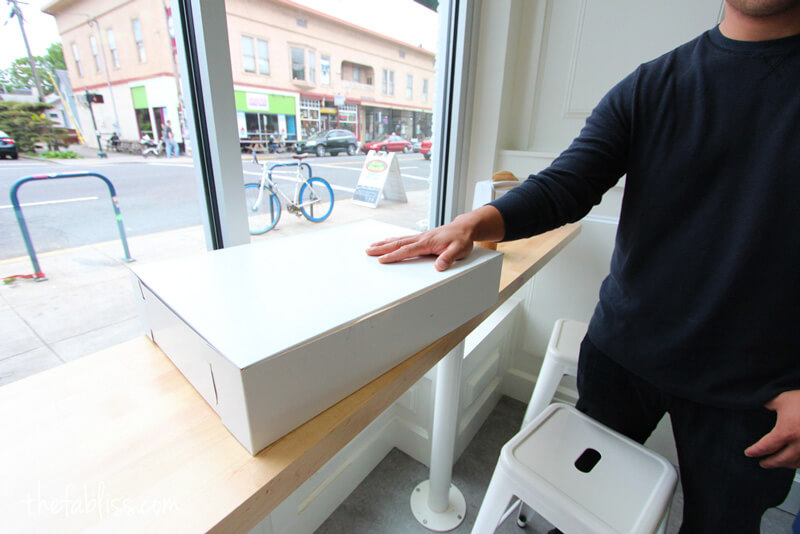 since it was such an ordeal trying to go here, we decided to order a dozen donuts for 3 of us! boom.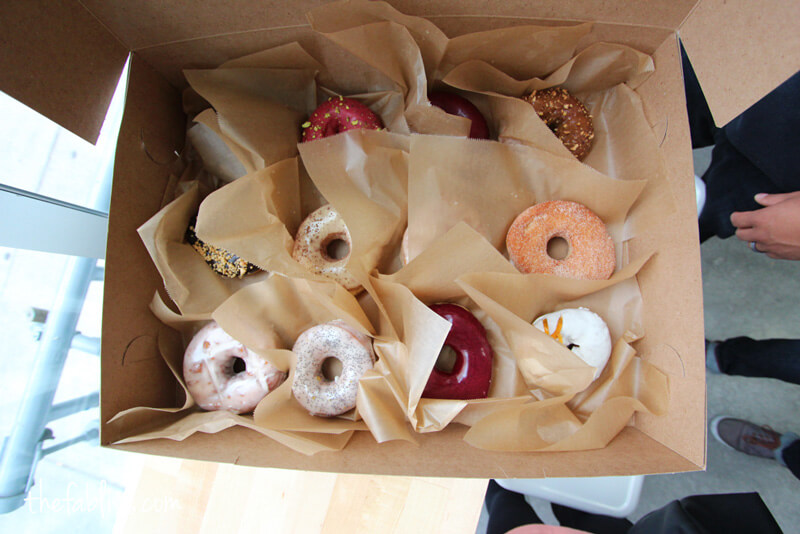 good thing you get a little discount when you order a dozen. flavors available that day:
blueberry cake
dulce de leche hazelnut
raspberry cake
original glazed
blueberry bourbon basil
passionfruit with cocoa nib
apple fritter
lemon poppy
cinnamon vanilla sugar
widmer hefe citrus cake
chocolate almond ganache
real maple and bacon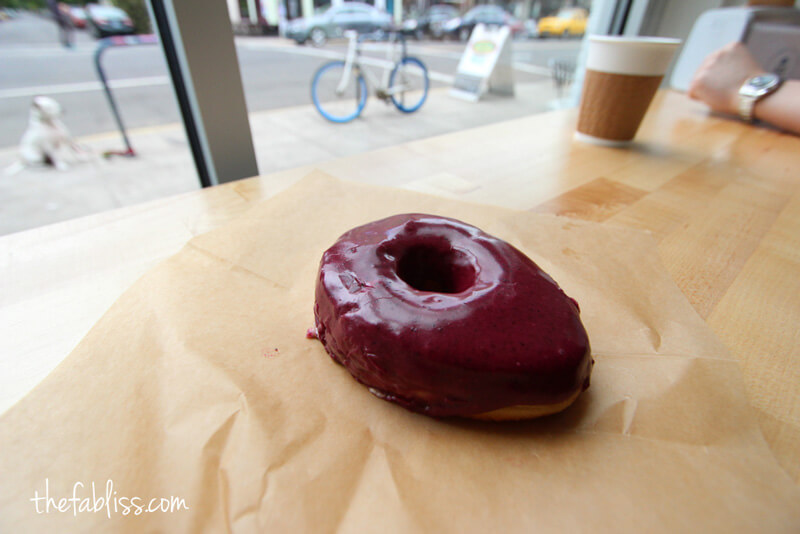 blueberry basil… mmm. get ready for this to melt in your mouth, folks!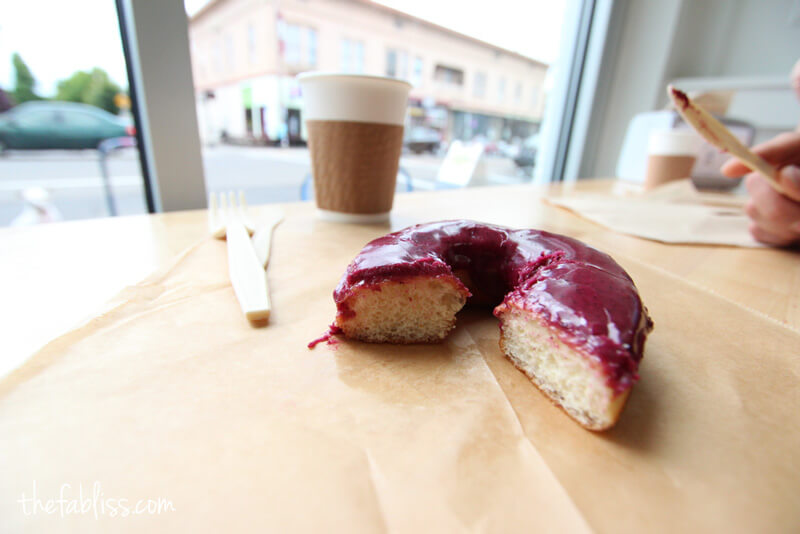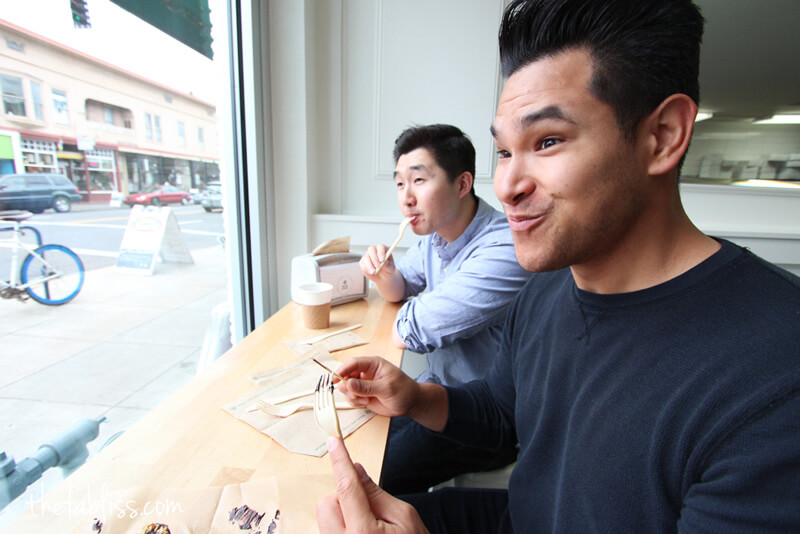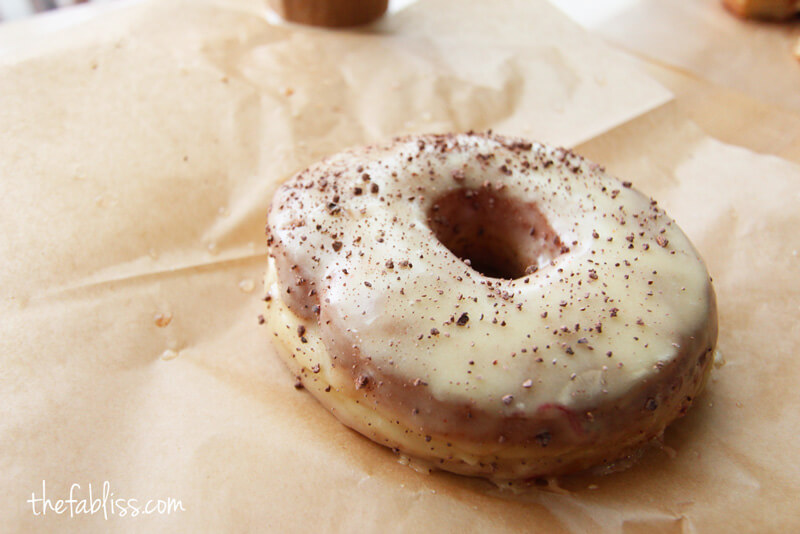 passionfruit with cocoa nib (above) was a lot more subtle than we expected. they liked it (i didn't really eat this one since it was chocolate. i just licked some of the passionfruit glaze).
the polar opposite of the passionfruit one is the chocolate almond ganache since it is on the heavier side.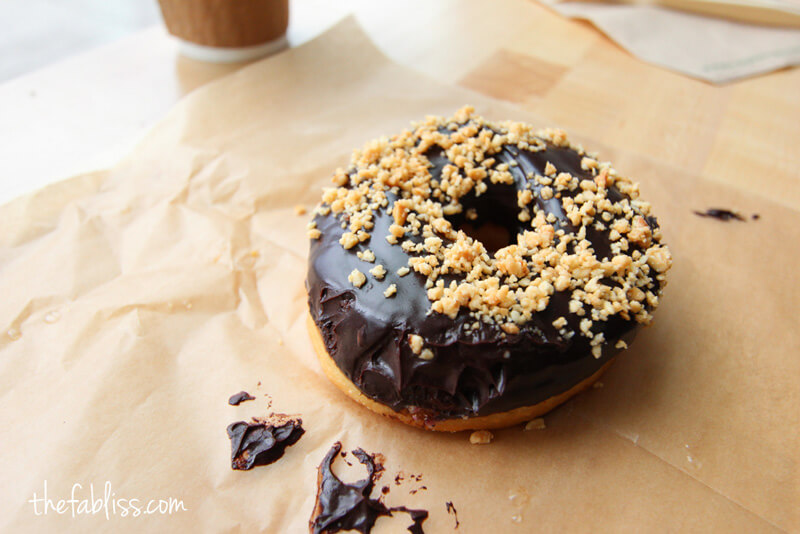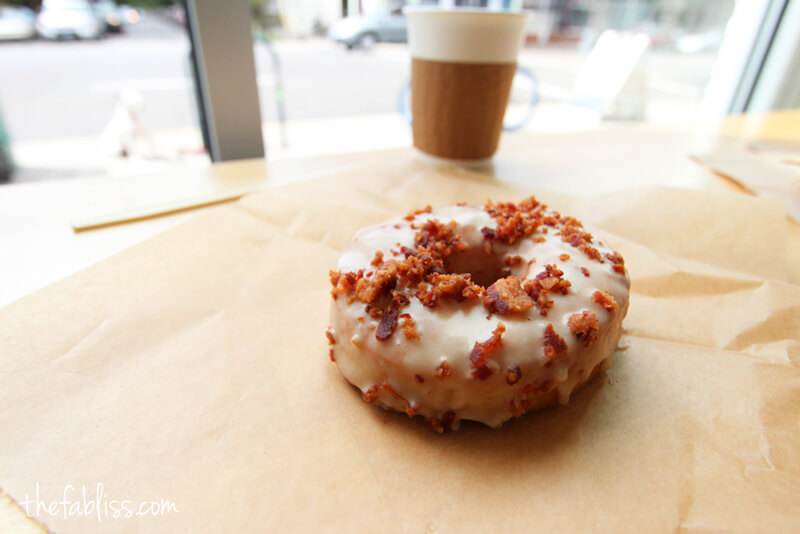 maple and bacon. this isn't anything we haven't had before but we did appreciate bacon bits instead of strips of bacon on our donut. well done.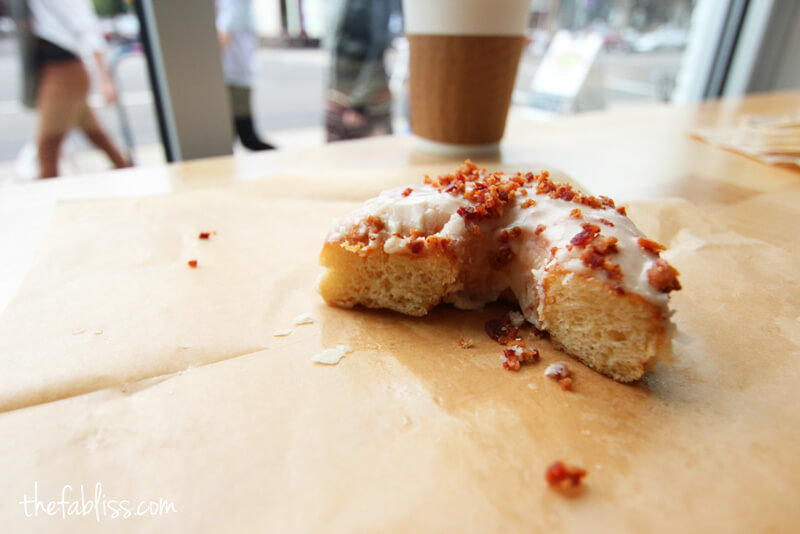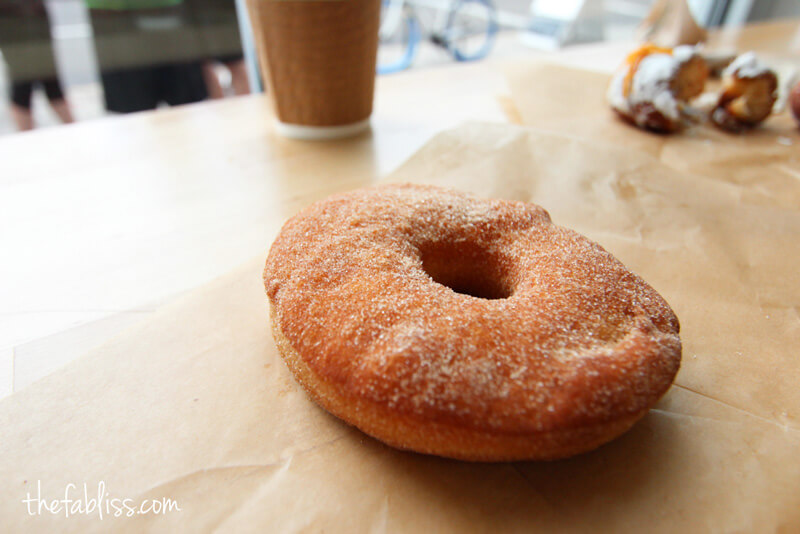 cinnamon vanilla sugar donut (above) was very fluffy! compared to the rest, it is pretty plain but still a great donut. the blueberry cake is one of the favs. i want one now.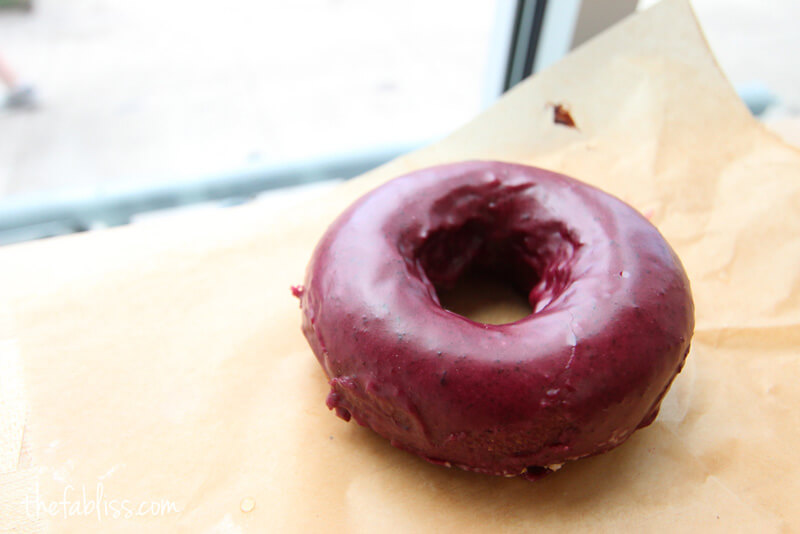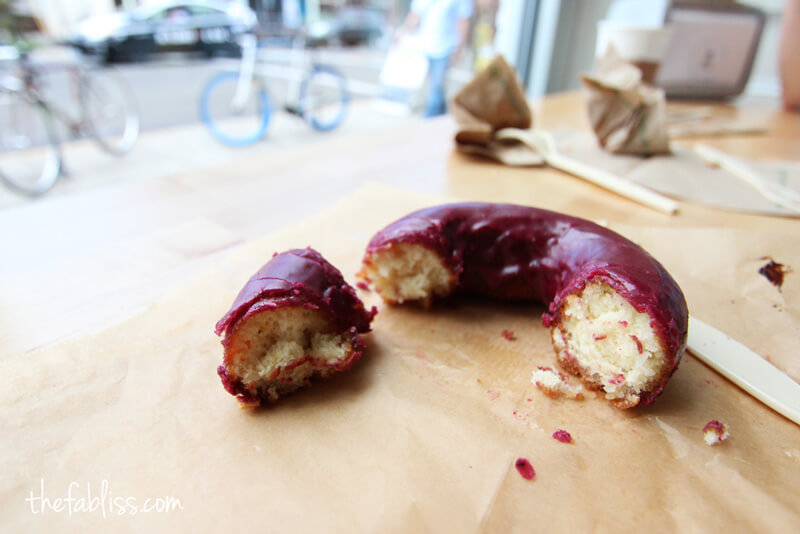 our absolute favorites:
blueberry cake / blueberry basil
raspberry cake
probably my favorite donuts. ever.
our least favorite:
dulce de leche too way too sweet.
widmer hefe citrus cake was meh.
apple fritter. we just weren't fans. this was extremely heavy and sweet.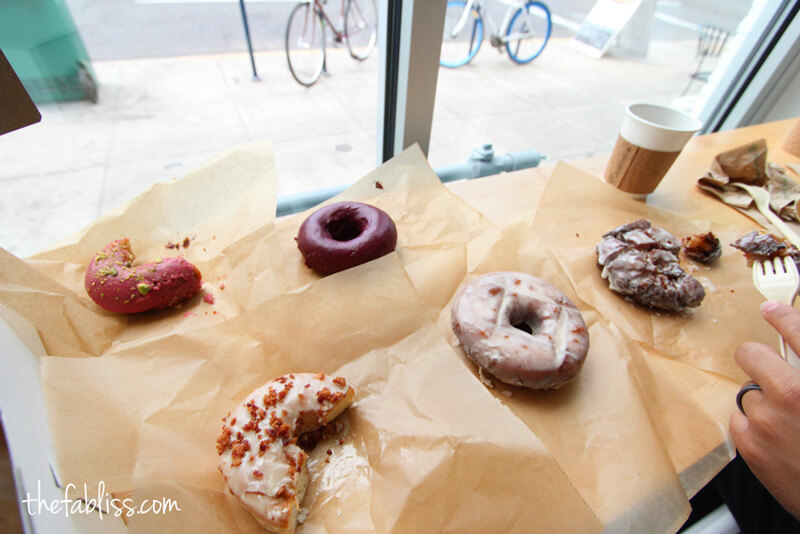 raspberry cake is awesome! so awesome.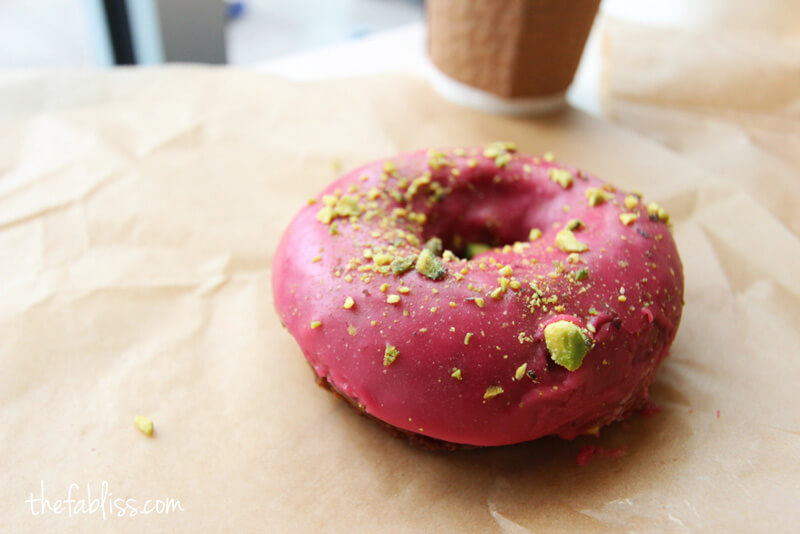 notable: i've had a number of maple and bacon donuts just out of curiosity. this is my favorite. it is just very well done. love bacon bits (over strips of bacon), the donut itself is just great. with that said, it is not something i order on the regs but it is a must try if you haven't had it already.
food: the donuts in general were awesome. glazed donuts were fluffy and melted in your mouth. the cake donuts were light. just quality donuts.
service: line moves quickly. can't say any more than that since there was minimal interaction.
ambience: the location in hawthorne is not as cute as the one in downtown. both locations are very bright. clean white walls with a lot of natural light.
parking: pay and park on the street.
overall: we ended up getting donuts from here twice because we had to have the blueberry and raspberry donuts again. make sure you get a cup of coffee.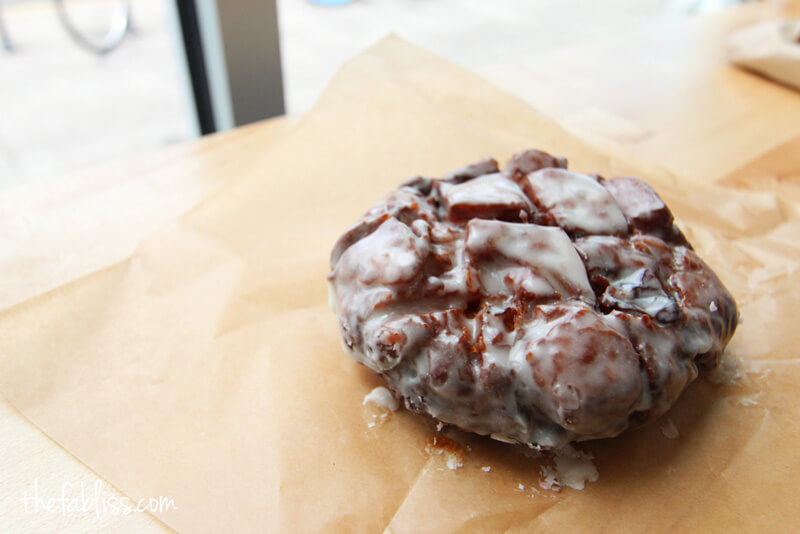 apple fritter (above) was heavy. lemon poppy (below) was not mind blowing.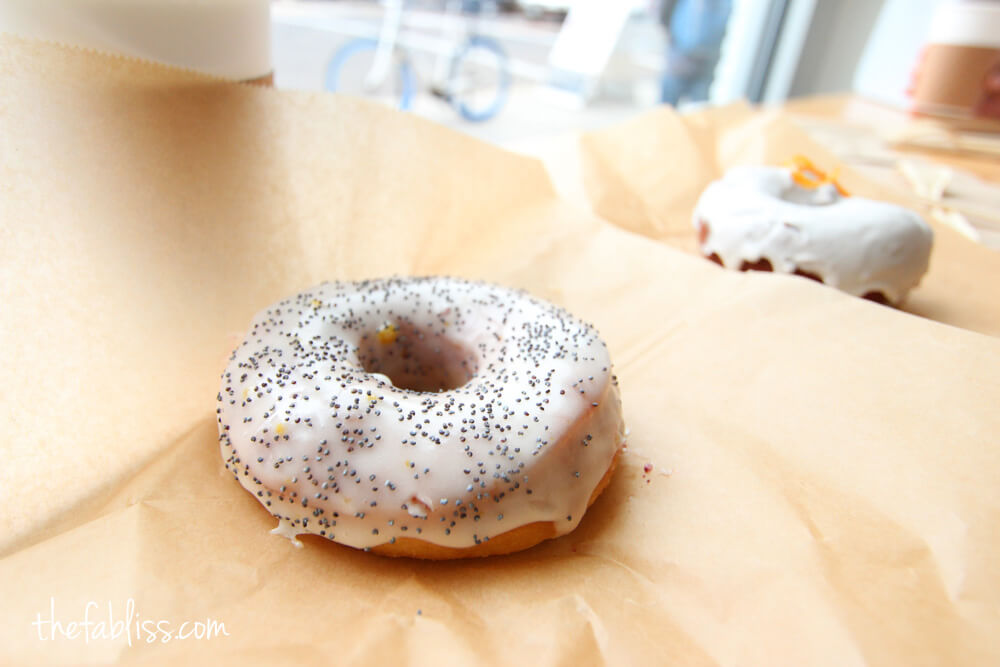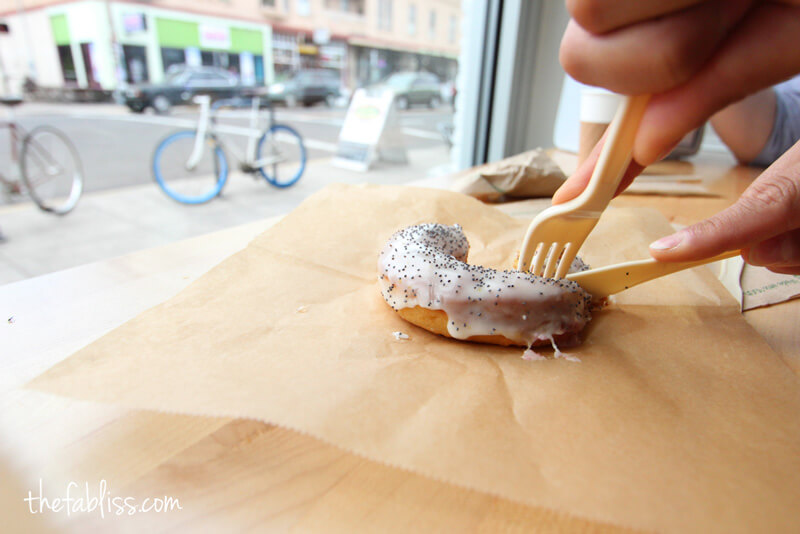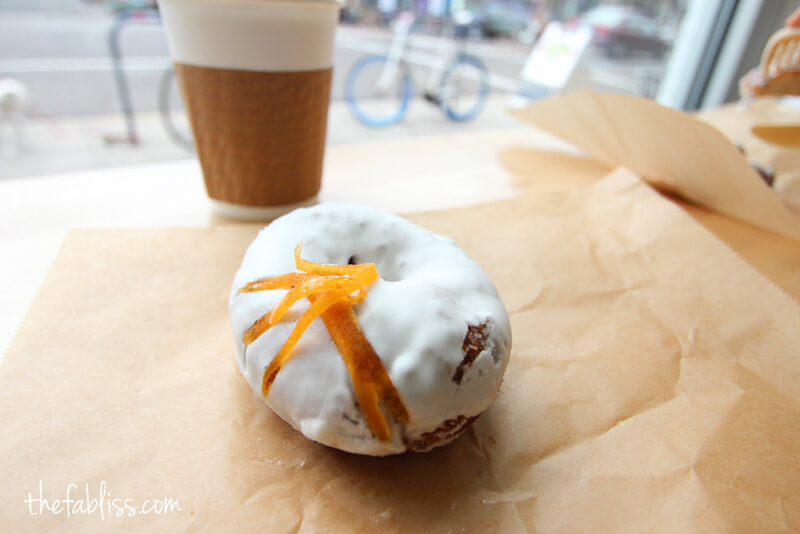 i had high hopes for the citrus cake. unfortunately, i wasn't a fan. dulce leche (below) was way too sweet.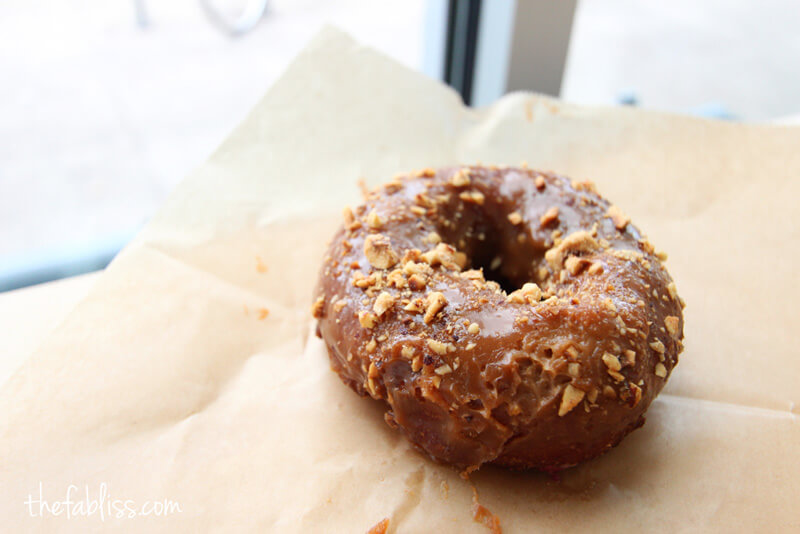 last but not least, the original glazed (below). great donut.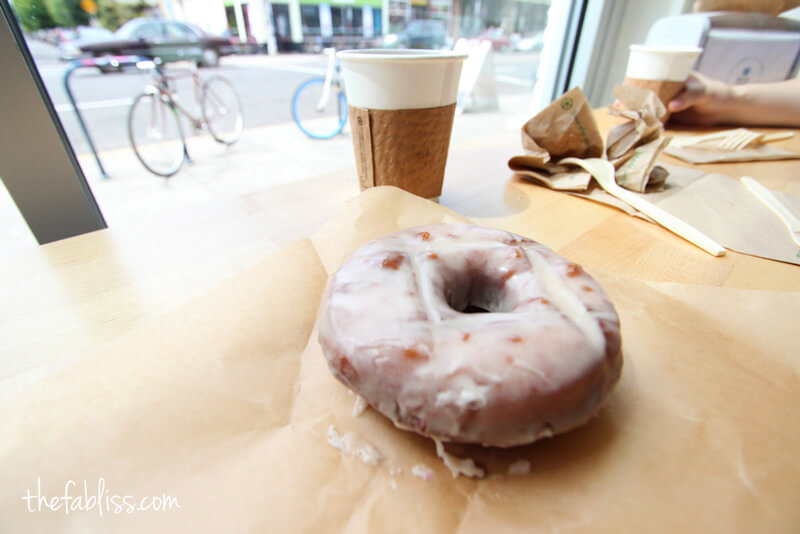 side note. i know voodoo donuts is the famous donut establishment in portland because it has been featured on a number of food network shows etc. however, after looking at some of the donuts (captain crunch on a donut and oddly shaped donuts) and reading some reviews, it seemed like more of a tourist trap than a quality donut shop. so we decided to give blue star a try. if we had more time, we probably would've ended up trying voodoo. just wanted to throw that out there.
Blue Star Donuts
3549 SE Hawthorne
Portland, OR 97214