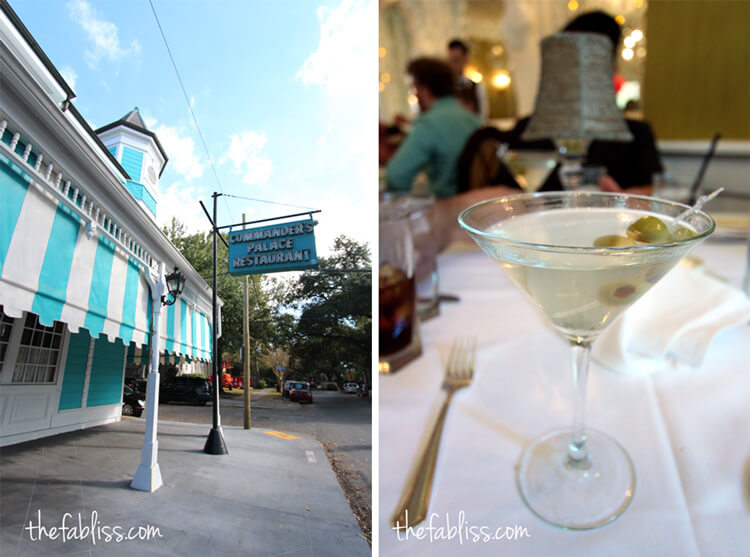 commander's palace was one place that we needed to make a reservation a week before our arrival. it's a pretty popular tourist destination winning the masses over with its southern charm.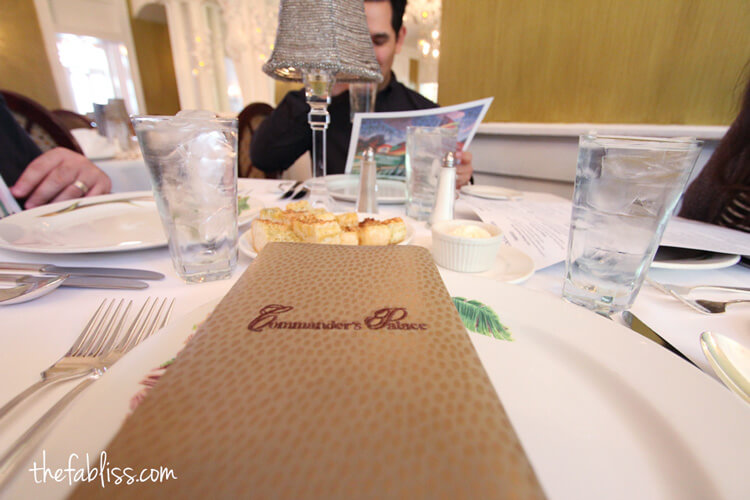 their menu has a lot going on. there is an a la carte lunch menu, a 3-course lunch menu, and a 2-course lunch menu.
we went with:
a 3-course lunch menu ($34) that comes with creole gumbo, chicory coffee lacquered quail, and the bread pudding souffle
a 2-course lunch menu ($22) that comes with the cochon de lait cassoulet and a soup or salad. darci went with a soup – the gumbo. the cochon cassoulet is a bourbon glazed pork shoulder with boudin, white bean purée and crispy onion rings over a grilled ciabatta.
turtle soup ($8.50) – this is their famous soup that takes 3 days to make.
croque madame ($19)
pork prime rib ($25) – slow roasted rack of pork, crispy root chips, braised red cabbage and granny smith apples with buffalo honey green peppercorn jus
cheesecake ($3) – on the denser side.
apple crisp ($9.50) – my favorite of the desserts.
sazerac ($12.25)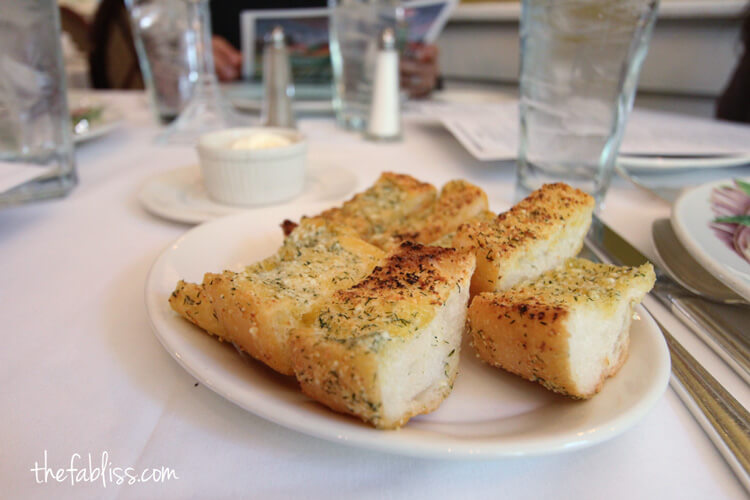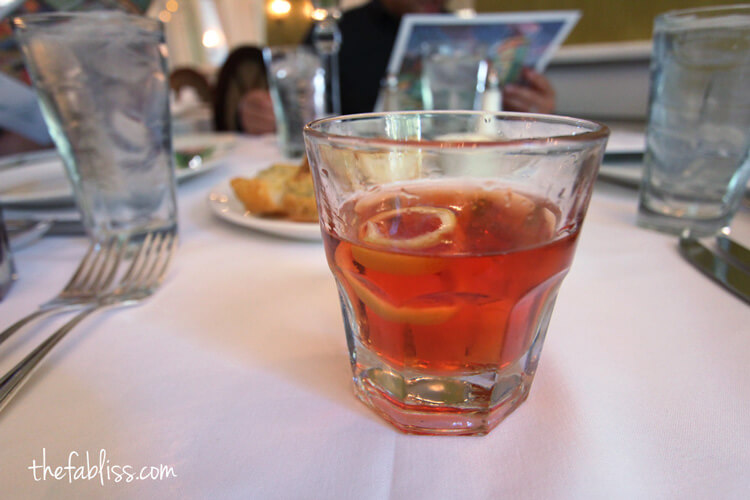 this was kyle's favorite sazerac out of the gazillion he tried over the course of our trip. very well made.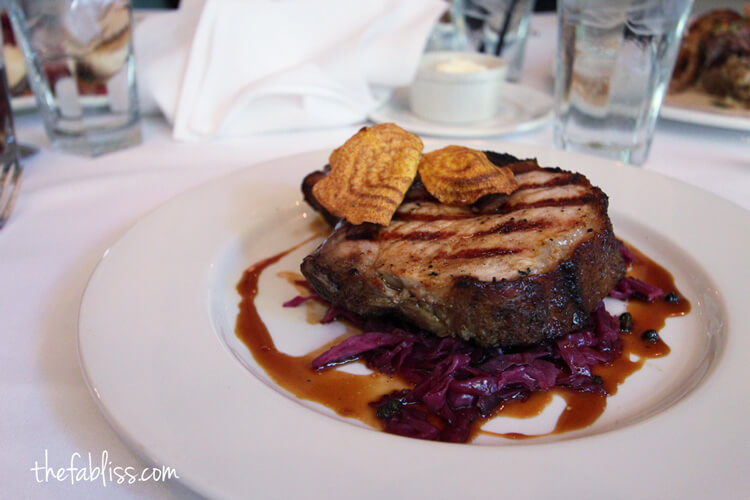 the pork prime rib was massive and actually pretty moist despite how dry it looks. the cabbage with the peppercorn jus was tasty. good flavor.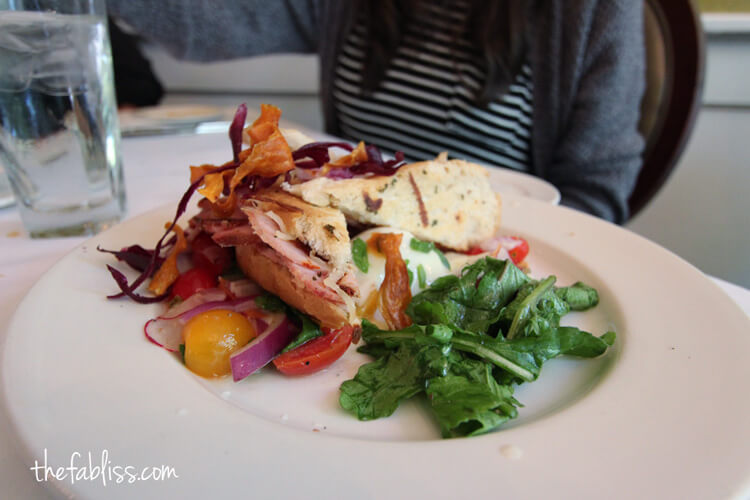 andrew ordered the croque madame. he thought it was good.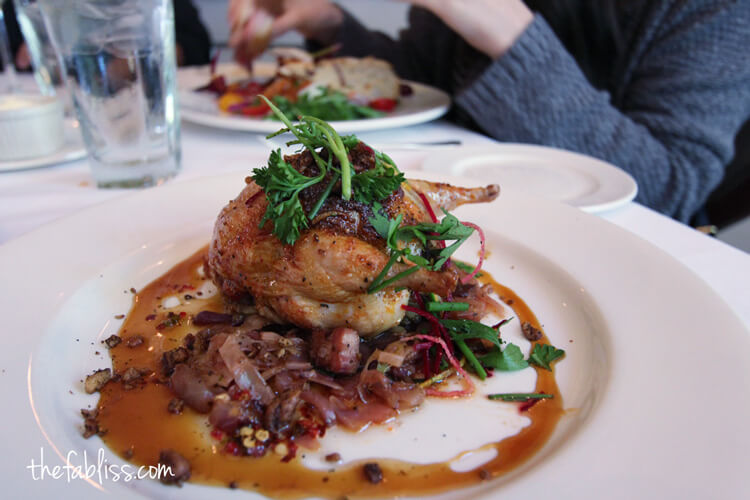 the quail was excellent! uh-mazing flavor. the quail was perfectly cooked. this dish killed it.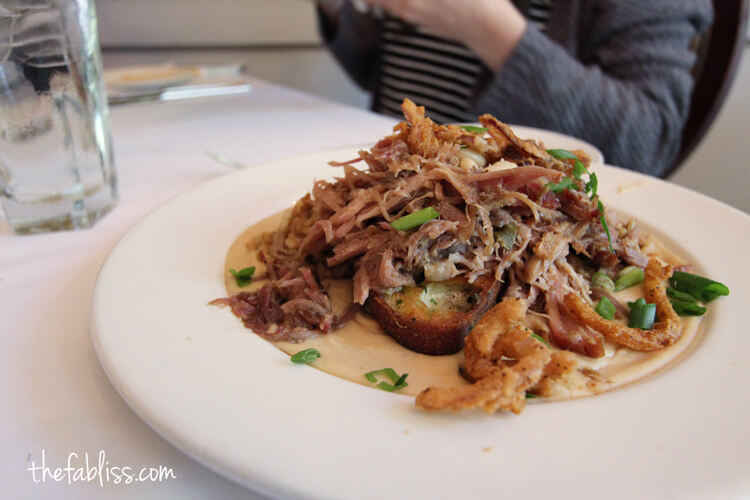 the cochon de lait cassoulet looks like a pork hash. this was actually my favorite. bold. great texture. i was a fan.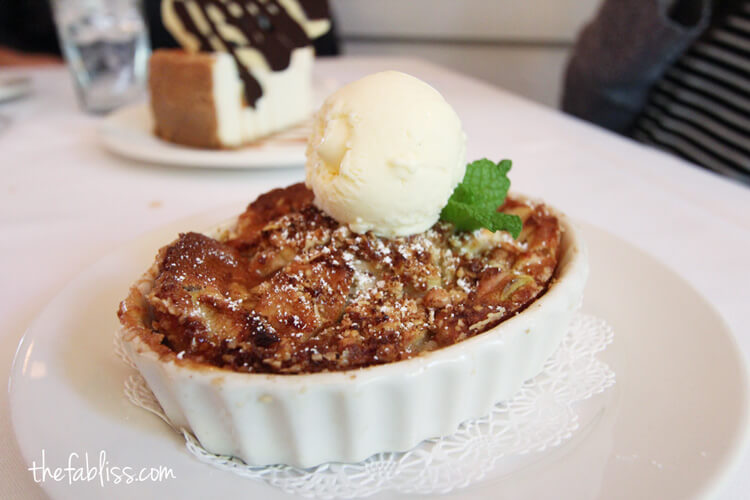 onto the dessert: the apple crisp was my favorite dessert. the souffle was on the eggy side. it just didn't hit the spot for us. the cheesecake was pretty dense and didn't blow our minds.
food: overall, food was good. the turtle soup and gumbo were okay. the quail and pork hash were our favorite main dishes. these were the ones that came with the pre-set menu. so my advice is to go with the 3-course or the 2-course lunch menus fo sho. oh, and don't forget to order a 25 cent martini! we aren't normally fans of martinis but for 25 cents, we would be fans of anything. if you are into sazeracs, order one here.
ambience: this place has been around since 1880. despite being pretty old, the building is extremely charming. there is a strict dress code. no jeans, no sandals. they explain this when you call to make a reservation. this is a really nice place for special occasions!
service: excellent service. excellent.
location: this was a little trek from the french quarter. it was a $20 cab ride. not bad. the good thing is that it is located across the street from the lafayette cemetery, which was a landmark we wanted to visit.
overall: this place stands out for it's service, which is what most people say about this place. the food was good with decently sized portions. yes, it is on the pricier side but an experience i would say is worth it.
Commander's Palace
1403 Washington Ave
New Orleans, LA 70130