for those of you who don't know, there is a little section of the oc called little saigon (pretty much garden grove and westminster). there is a huge vietnamese-american population here. obviously that means that most (90%) of my family lives here… so i came/still come to this area quite often.
one of my favorite places to eat in this area is quan hy restaurant. so when this restaurant and brodard chateau and brodard (non-fancy) opened up…everyone's mind was blown. (yes i speak for everyone in the community. hah!) the opening of these restaurants was a huge step for vietnamese cuisine in general. there was only one "nice" vietnamese restaurant in la when i was growing up (crustacean in beverly hills but even that isnt traditional every day vietnamese food).
these two restaurants stood out from the rest of the hole-in-the-wall joints in this neighborhood:
great interior design: open space with modern furniture. clean. beautiful.
one signature vietnamese dish
their popularity has spread all throughout the oc and into la. these restaurants are featured on numerous magazines, food reviews, etc. little saigon, in my opinion, has since then come a long way. lots of new, modern restaurants are now opening up with the same business plan… and i love it.
anywho, enough of my personal awe of these two restaurants…onto the food!
quan hy is known for their banh beo (small steamed rice pancake). it is white and usually is topped with shrimp, scallions, crispy fried shallots and served with fish sauce. basically. it's amazeballs.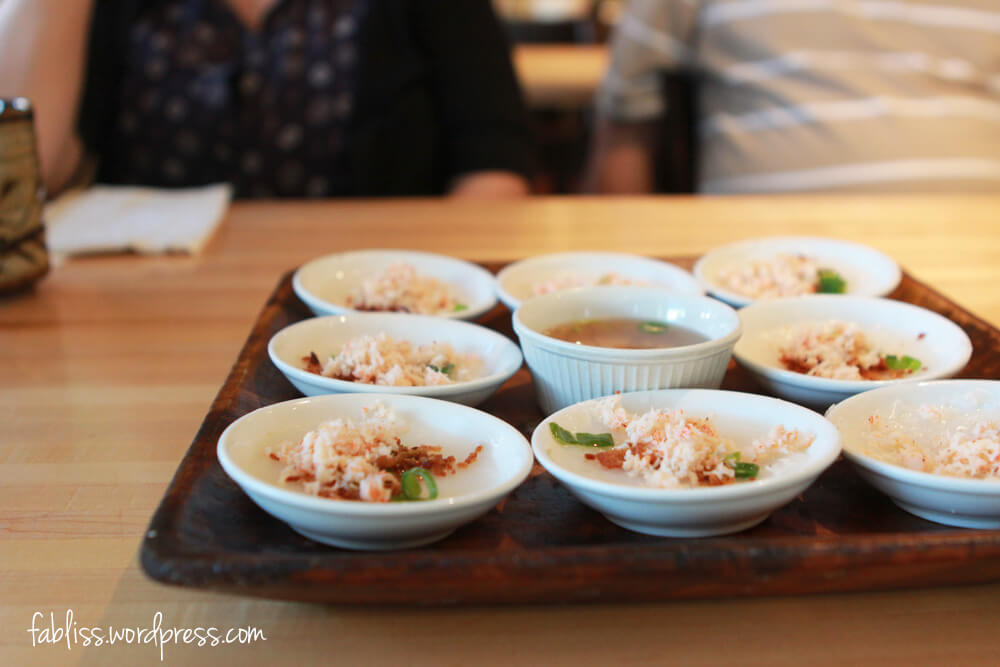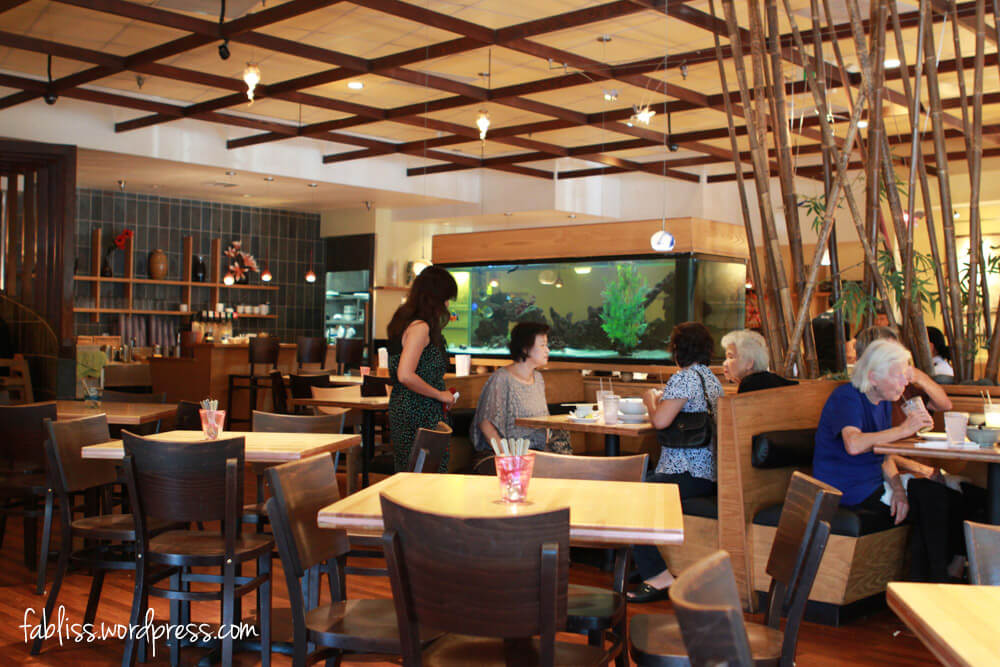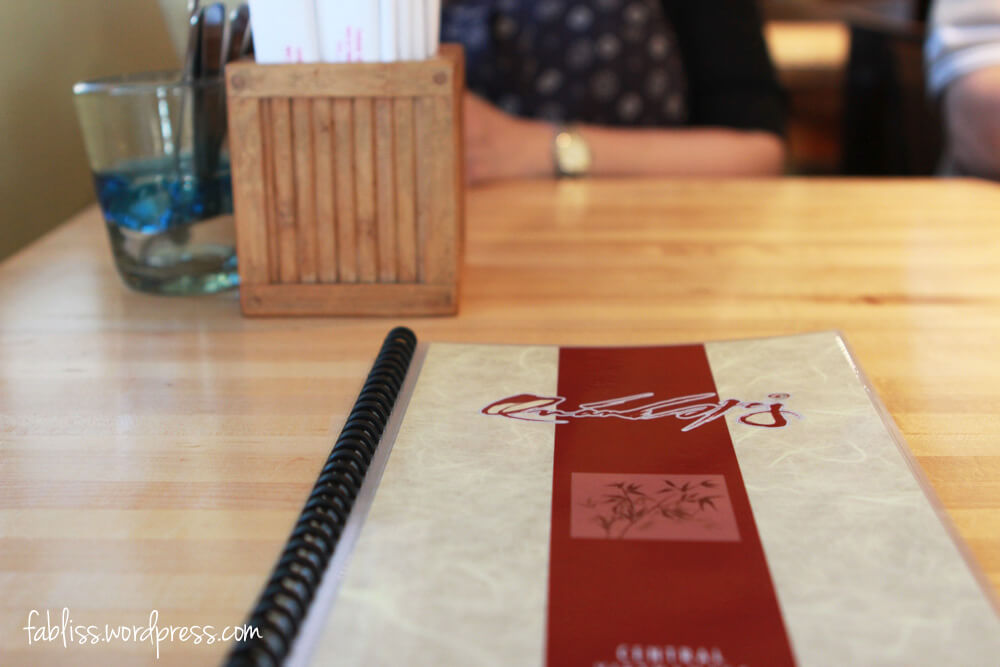 we ordered the banh beo ($6) with shredded shrimp as one of our three appetizers (three people, three appetizers. aggressive). again, this is their signature dish so i would highly recommend it! comes in little dishes so it is great for sharing. make sure you eat it with the fish sauce. dont wimp out and neglect to add the fish sauce. it will be dry and pretty much not good. fish sauce makes it great! (i can drink it. ew, i know)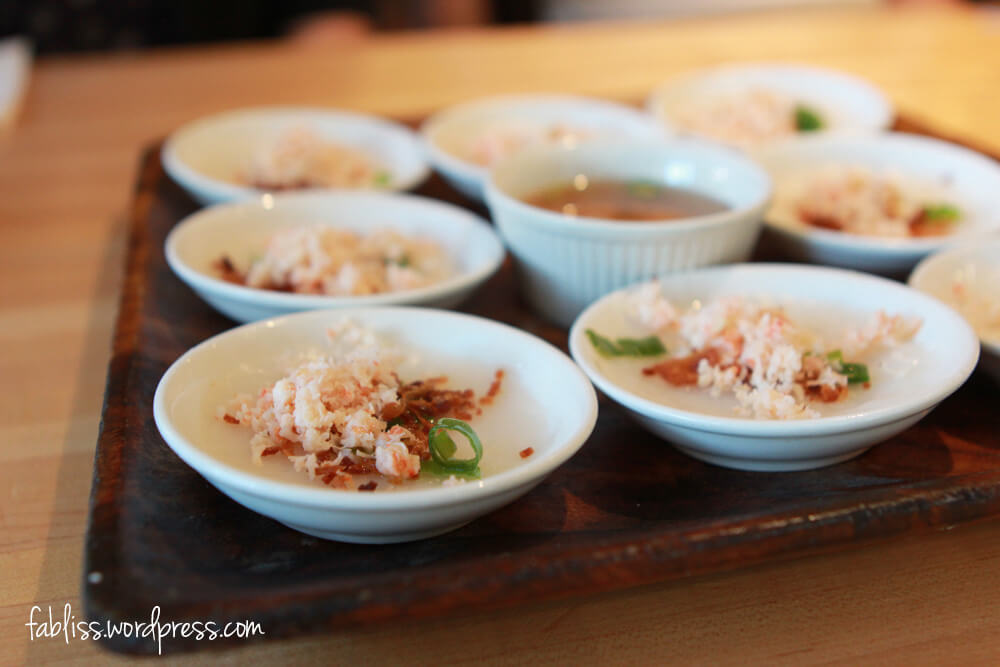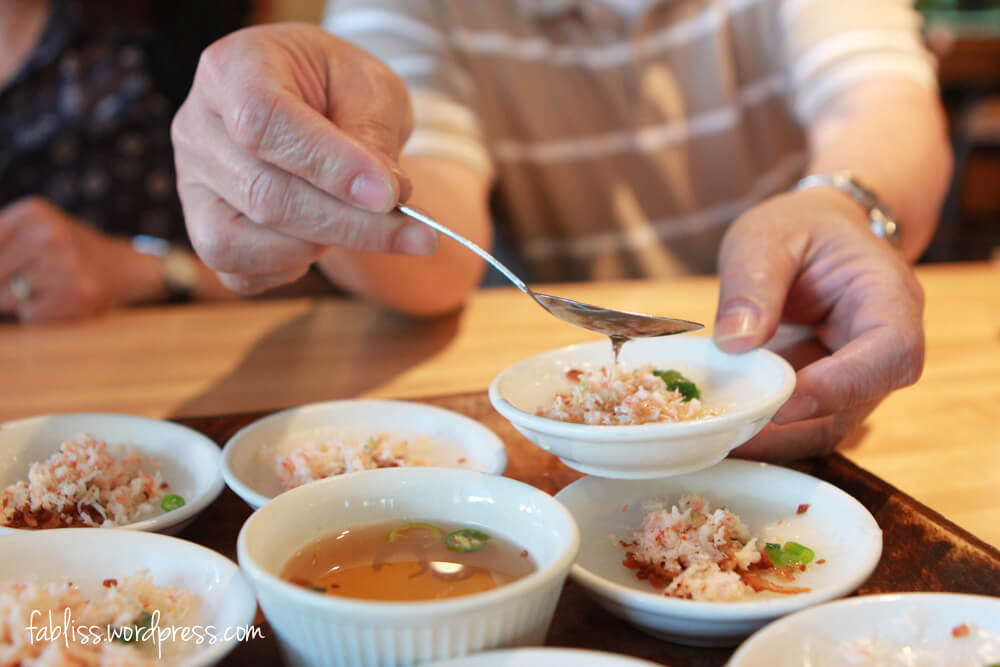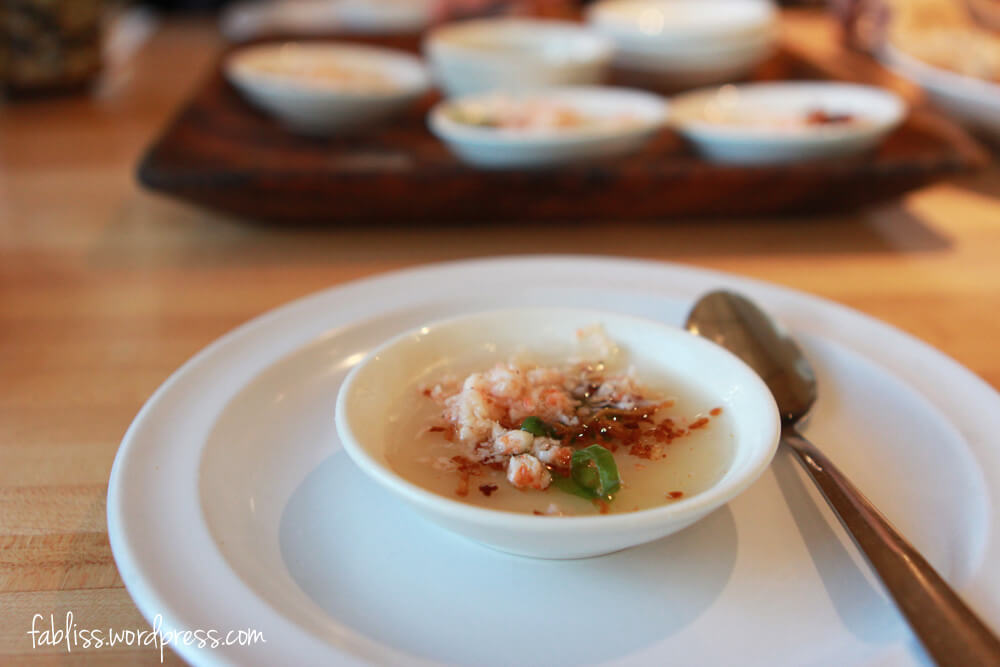 next appetizer: goi mit ($10). jackfruit salad mixed with shrimp and pork and served with chips. goi is another favorite. what is goi? think a hybrid of salad and coleslaw. there are so many kinds of goi. it can be made with cabbage, lotus roots, mango, etc. i actually tried to make a simple one once (just once). anywho. this one is made with jackfruit. i love everything about this salad. so tasty. light. crunchy. great salad for a hot day.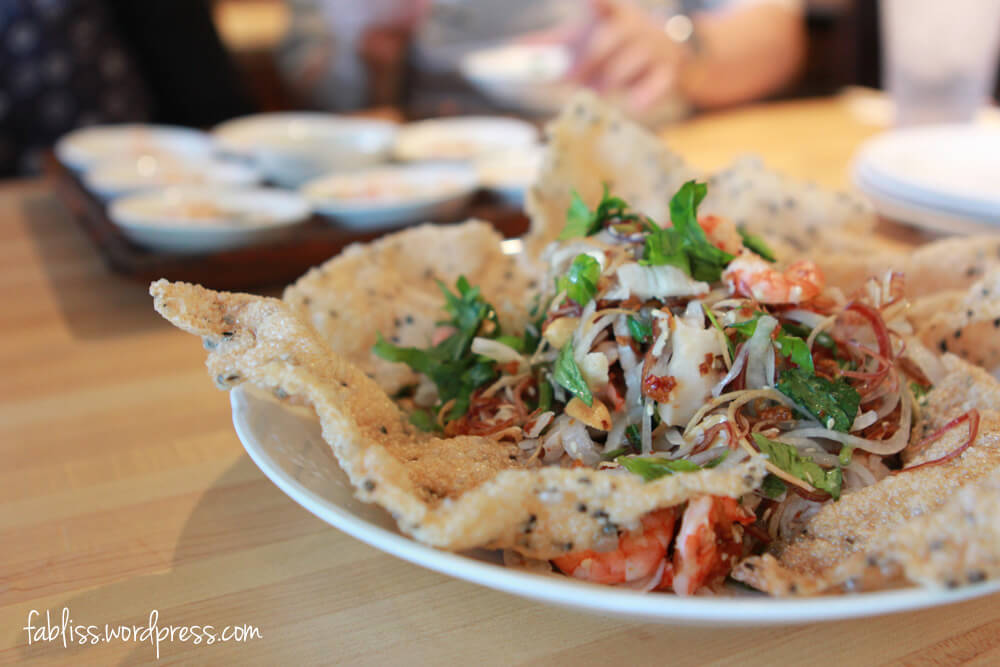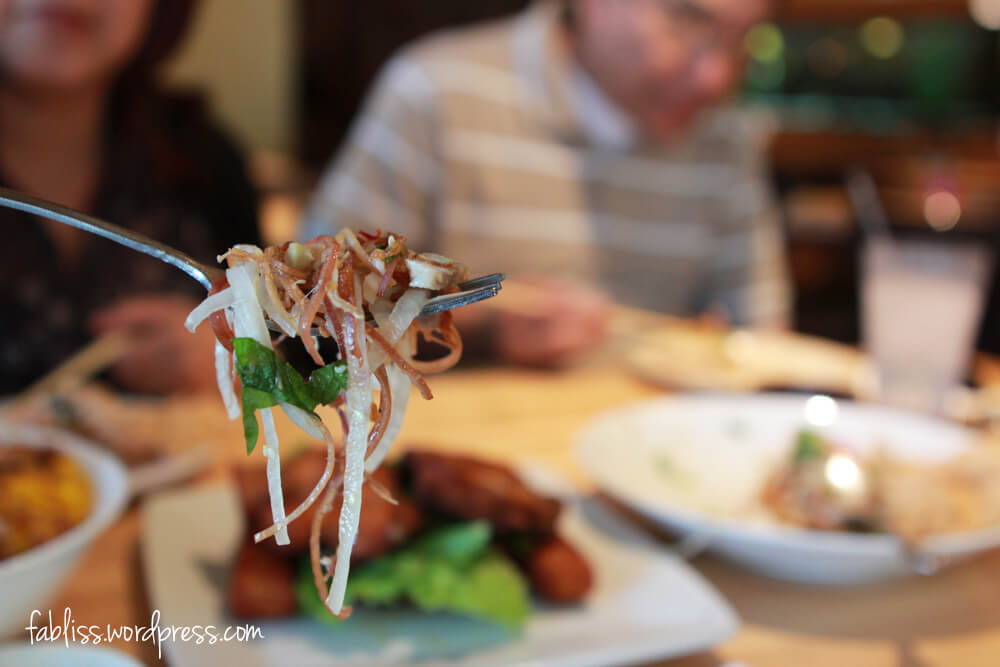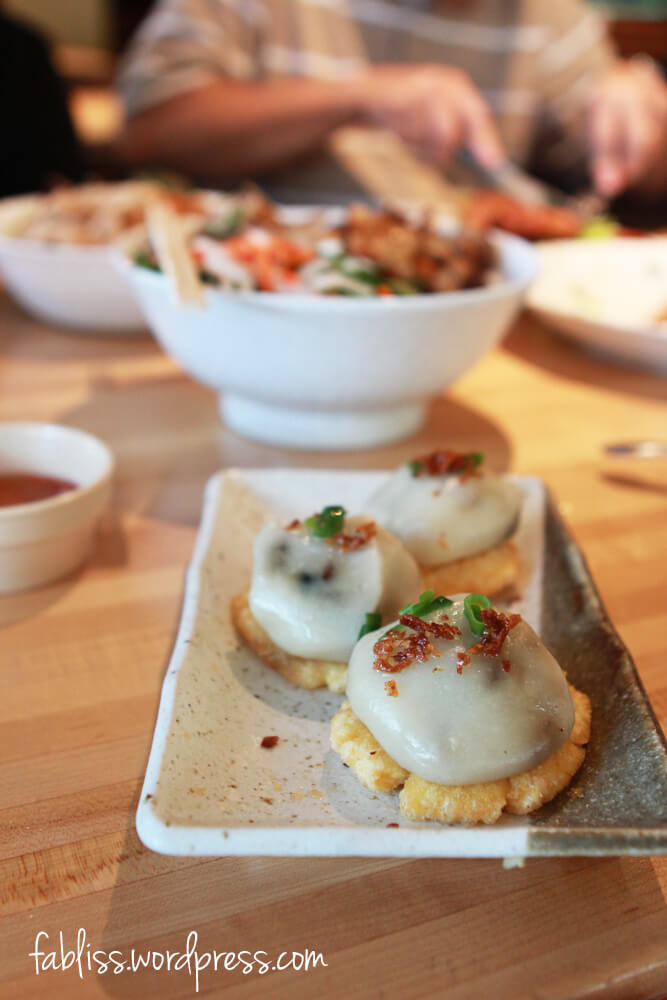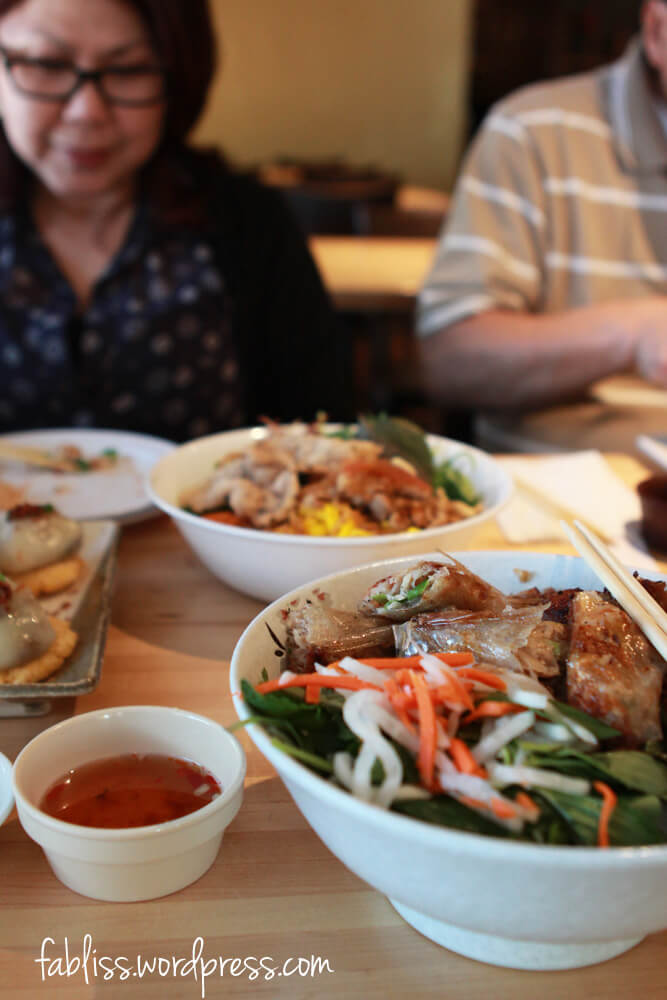 third app: banh it ram ($7). think potsticker stuffed with mushrooms, pork and shrimp…all of which lays on a crunchy rice cake. the potsticker is thick…mochi texture. the crunchy rice cake was a nice touch if you get sick of chewing the mochi blob on top. this my mom's favorite thing to eat btw. oh, and you eat it with fish sauce.
main dishes: my dad got the xoi ga quan hy ($10). translation: sweet sticky rice (in this case fried) with chicken…"quan hy" style. you dip this is a soy sauce-like sauce (yeah, i dont know what's really in it). it is delicious. i like the sweet sticky rice. note that the chicken will have bones. dont expect white meat (this is not the place for that). since this is fried sticky rice and fried chicken…it isnt going to be the lightest thing on the menu. full disclosure: i dont usually order this since i love noodles. good thing my dad is an adventurous man and usually gets different dishes so that i can taste it and photograph it. so supportive.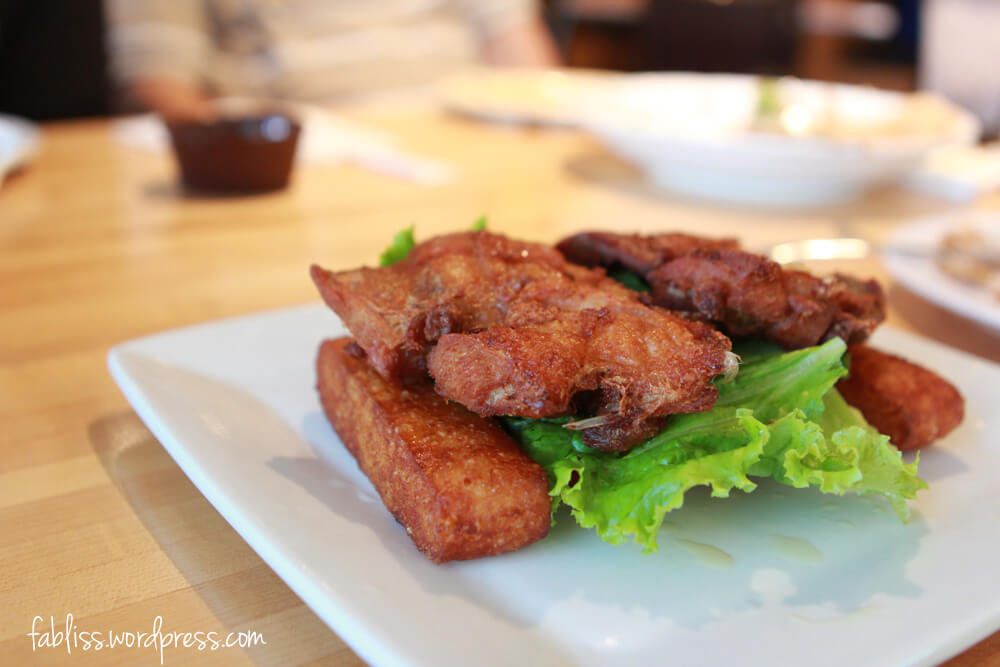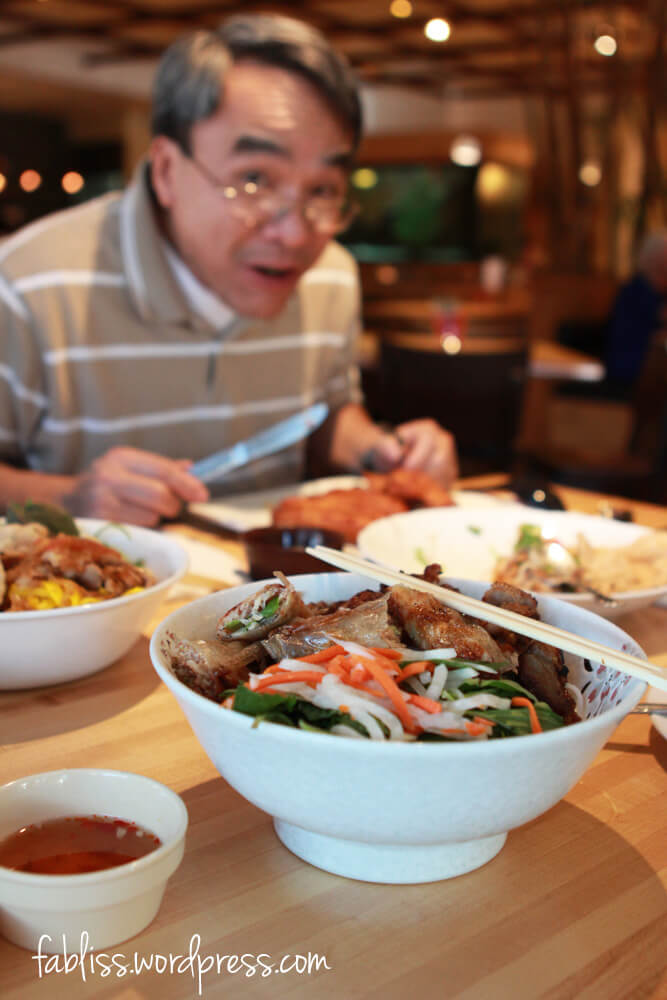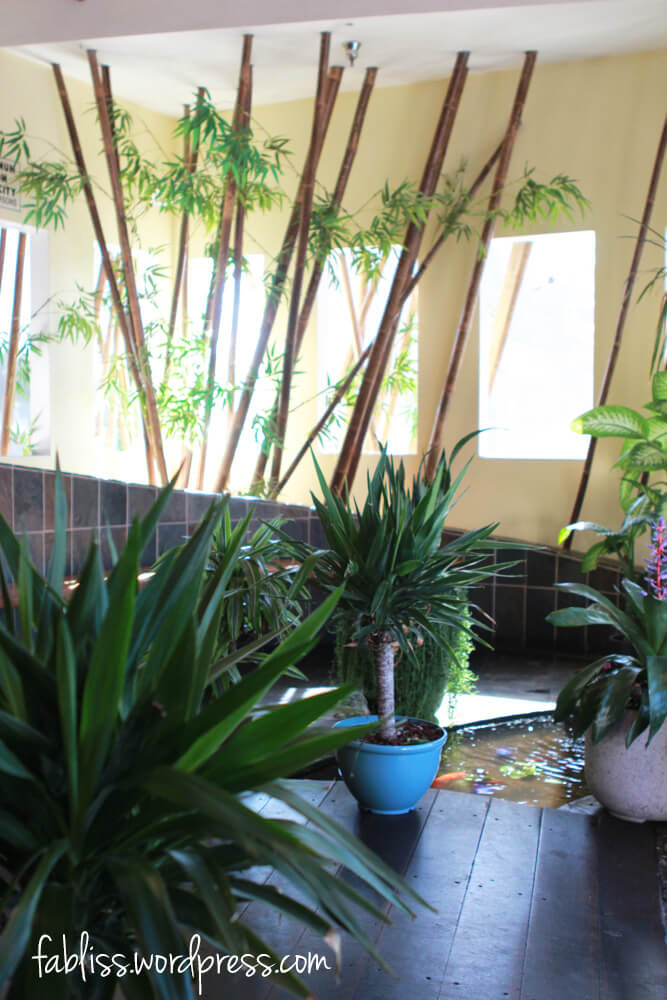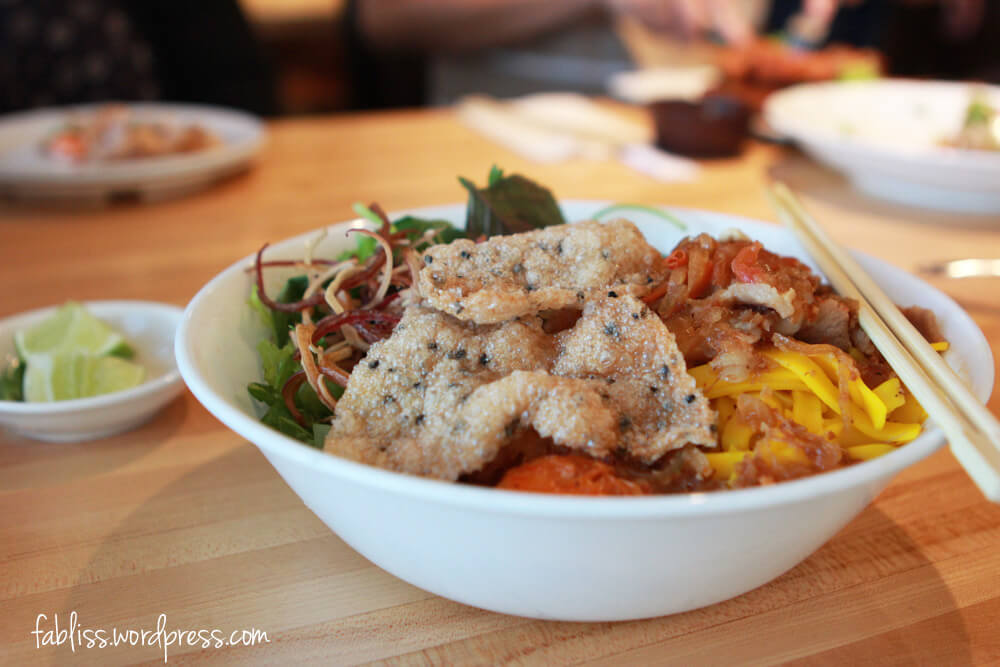 my mom ordered: mi quang ($8.50). yellow noodles with shrimp, pork, veggies, and come chips. surprisingly, this is a very night dish. i love it. noodles are fresh and its delicious! i think this actually has a tomato base. so good.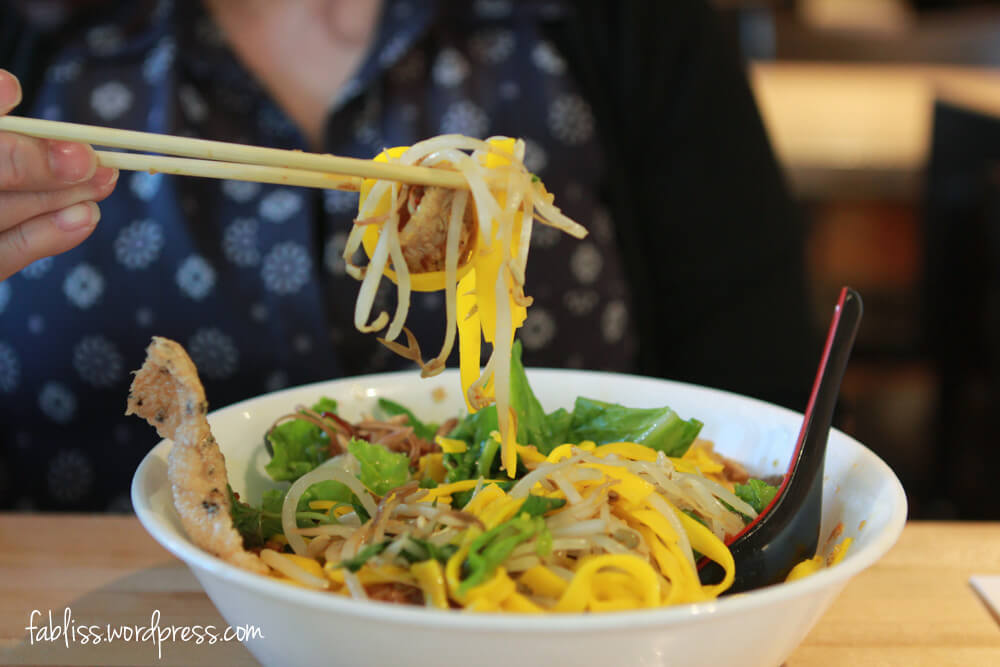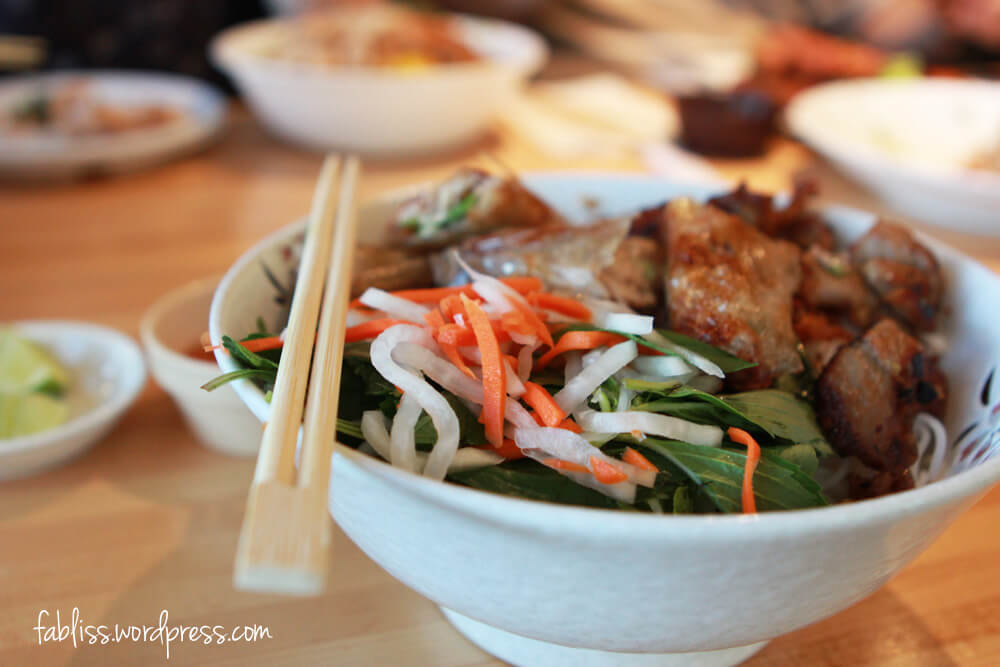 so i get bun cha gio thit nuong ($9). translation: grilled pork and crab shrimp egg rolls served over rice vermicelli noodles and lots of veggies. this is another light dish to order on a hot day.
why do i like it? (i) the grilled pork here is great (marinated with lemongrass). (ii) egg rolls are traditional and uber tasty. but make sure you eat it right away since it will get soggy if it just sits there. (iii) i love the veggies. bean sprouts, cucumbers, daikon and carrots, mint, lettuce, etc.
also, please (i) do not eat this dry and (ii) mix your bowl up. you must add the fish sauce (do you see the trend in vietnamese cuisine? fish sauce is a must). i actually ask for extra fish sauce since i like it to be on the soupy side.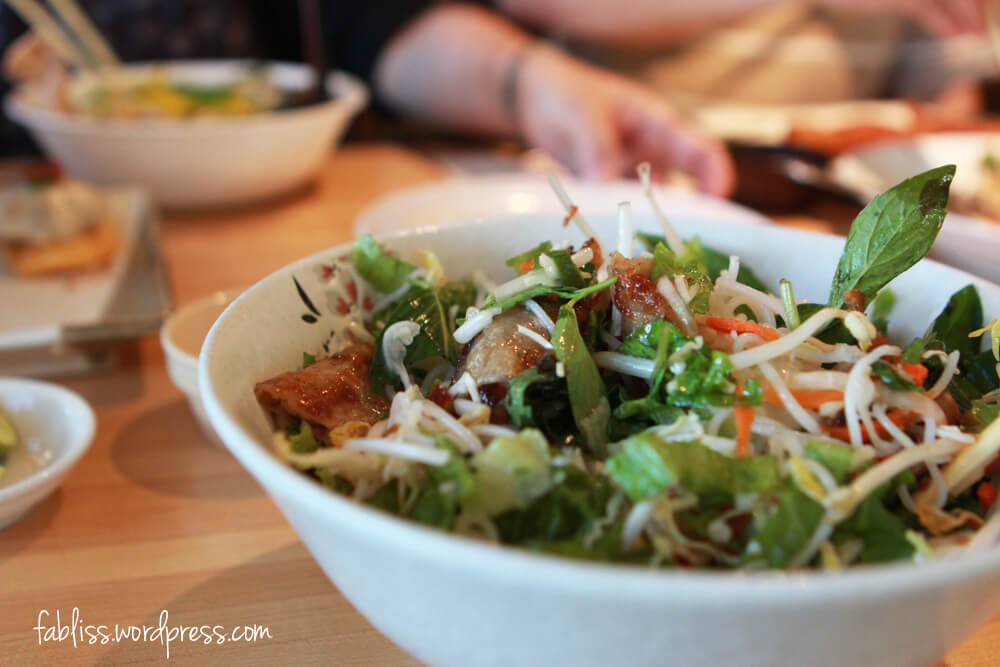 parking: plenty. this is in a plaza so there is ample free parking.
service: quiet but quick. remember that you have to go to the counter in order to pay.
ambience: koi fish, bamboo, deep dark wood accents, and lots of vietnamese touches. i love the decor. the restaurant is clean and well ventilated.
overall: the prices here at quan hy are extremely reasonably for the amount of food you get and the upscale yet casual surrounding you get to enjoy. love the food here. if you are unsure what to get, go for the sig dishes, you cant go wrong.
Quan Hy Restaurant
9727 Bolsa Ave
Westminster, CA 92683
Category: Vietnamese Food