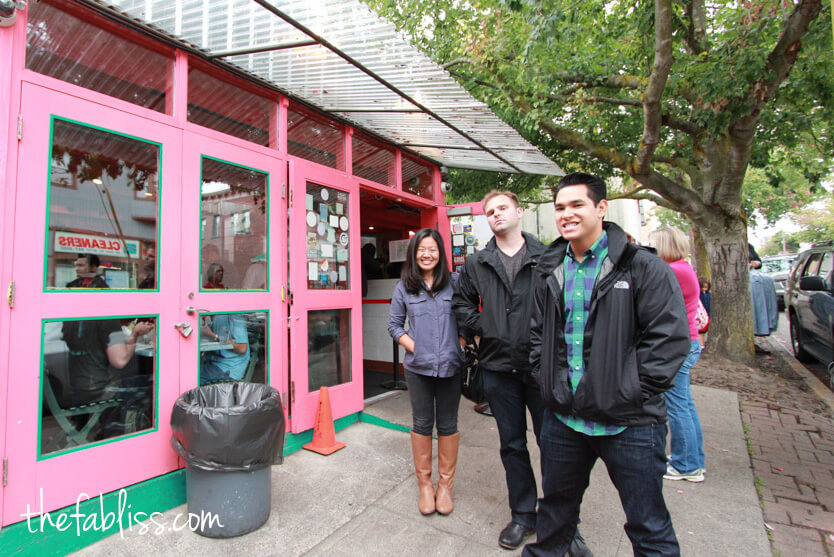 once a year we take a trip to a new football stadium! we are so lucky our friends are freaking awesome and do this with us! (oh, bryan is happy. he is just too hardcore for this picture in front of paseo) anywho, we were really excited to come to paseo since a number of locals highly recommended getting a sandwich here… actually, stella's friend said it was his favorite thing to eat in seattle. we owe you a solid, ezra. we took a $15 uber here from our hotel at around 11:30am on a saturday hoping that we didn't have to wait too long. best plan ever.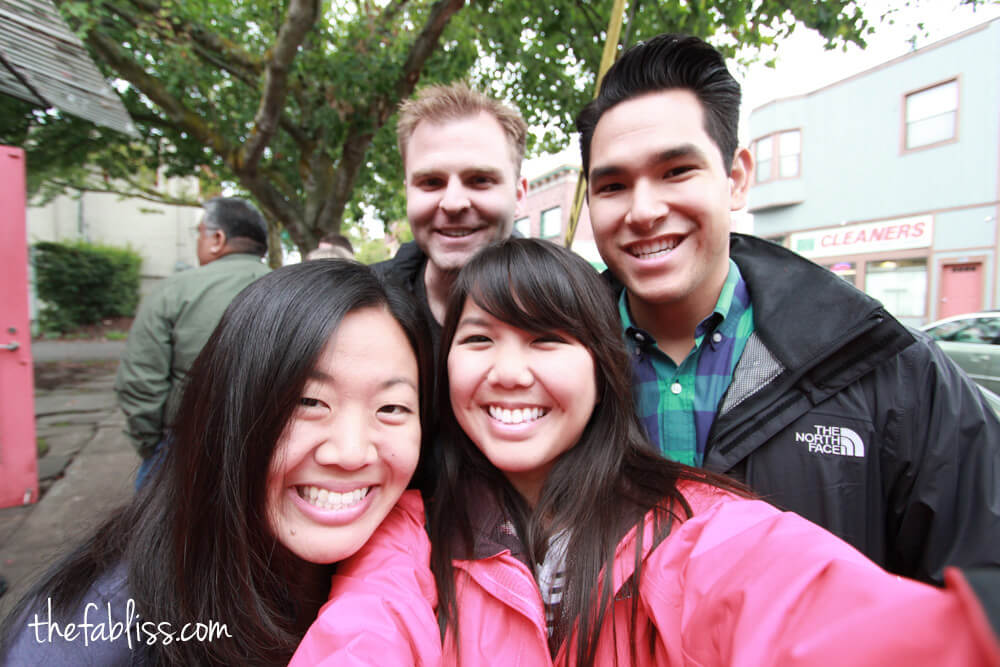 all sandwiches are on a toasted baguette and come with aioli, cilantro, pickled jalapeños, crisp romaine lettuce & caramelized onions. what we got:
grilled pork sandwich ($8.50) – cubed pork loin grilled over lava rocks & basted w/ paseo marinade until golden brown
caribbean roast ($8.50) – pork shoulder coated in paseo marinade & slow roasted
paseo press ($8.95) – roasted pork, sweet banana peppers, smoked ham, swiss cheese, and caramelized onions; all melted together between a hot press. (no lettuce or jalapeños)
smokin' thighs ($8.50) – 2 marinated, skin-on, boneless chicken thighs; flash grilled & oven roasted.
tip: cash only. also, you can call in and order your sandwich ahead of time. note that if there is a huge wait at the location, they may not pick up the phone.
this place is very tiny and there were no available seats. we were warned by our friend and were prepared to eat it offsite. our initial plan was to order a sandwich and take it to gasworks park and enjoy our sandwiches along with the view of the city (per a recommendation). after we started walking, we realized we definitely weren't going to make it there…especially with hot, saucy sandwiches. we ended up parking ourselves in a park nearby that had some benches.
stella got the grilled pork sandwich and kyle got the caribbean roast (most popular)… so. freaking. good. bread is great… crunchy on the outside, soft on the inside. the pork in both sandwiches was extremely soft. pretty much expect to be smacked in the face by flavor. yep, smacked.
i got the paseo press because #1 i love presses. #2 i love onions. #3 pork rocks and so do banana peppers. this sandwich was amazing. pretty much love at first bite. as you can see below, they do not joke around with onions.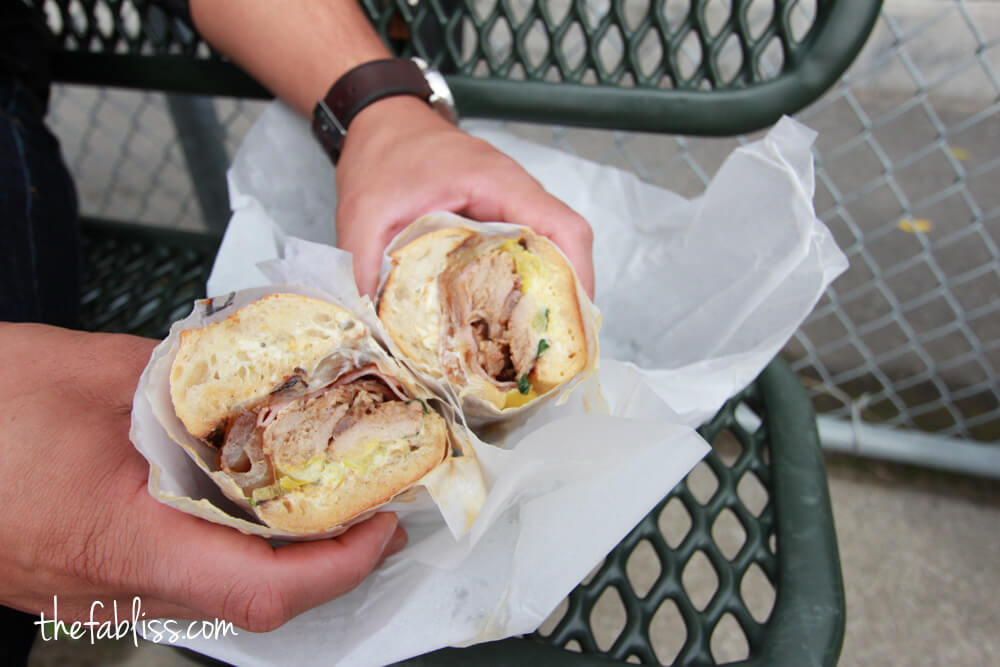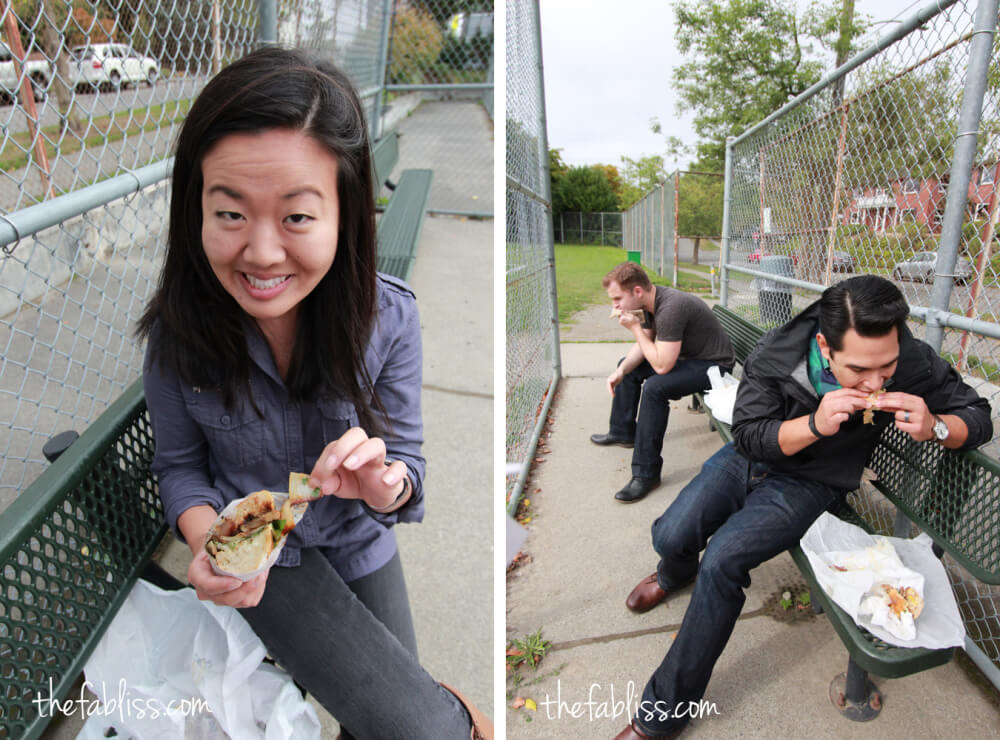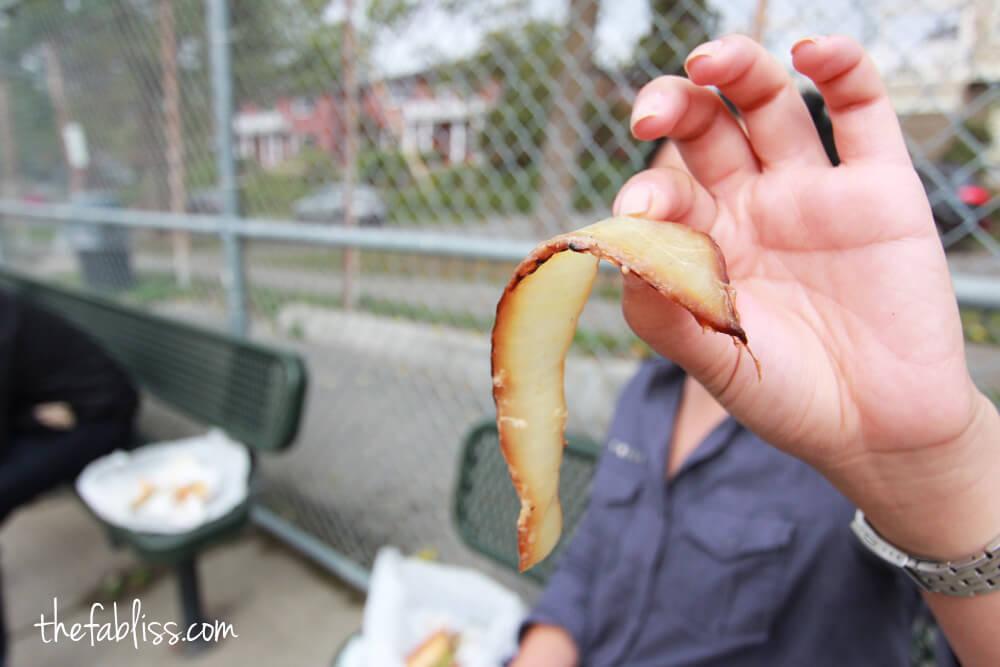 i did not get a picture of bryan's smokin' thighs sandwich because he devoured it before i could get to him… but i can tell you that he loved his sandwich.
ambience: small. packed. nothing too fancy. i recommend eating offsite so that you don't deal with the crowd.
service: quick. order your sandwich. pick up and go.
overall: this was one of my favorite sandwiches. no joke. i still think about it…and would go back to seattle for another bite. this is a must eat in seattle and will be spreading the word, fo sho. one little note: these sandwiches are very saucy (making them awesome) so it is a messy eat. also, remember to bring cash.
we were happy. thanks, ezra.
Paseo
4225 Fremont Ave N
(between 42nd St & Motor Pl)
Seattle, WA 98103
Neighborhood: Fremont