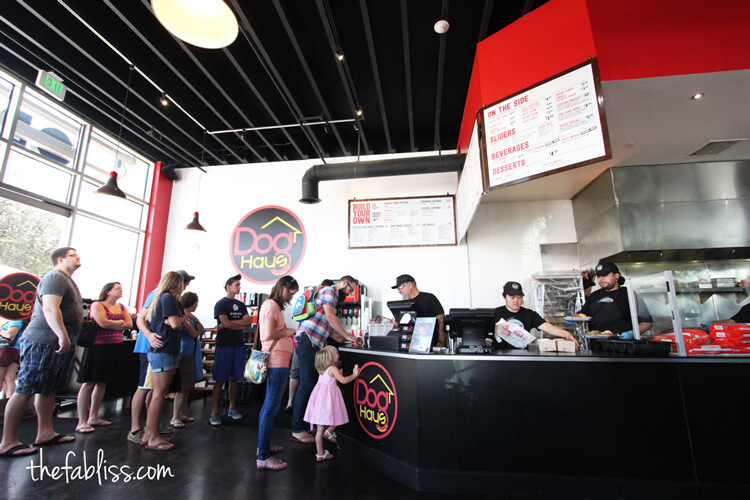 when i heard that dog haus was joe's faaaavorite eatery in all of pasadena… i repeat…out of all the restaurants in pasadena, this is his gem… i moved this one up the "to-try" list. after months of scheduling conflicts, we finally scheduled a short golf outing (on what seemed like the hottest day of the year) followed by a hot dog eating sesh.
here's what we ordered: (my advice for first-timers… umm. order everything! #noregrets)
the little leaguer – think chili dog with fritos
tae kwon dog – bulgogi glaze, cilantro aioli, kimchi, fried egg, and chili powder
sooo cali hot dog – arugula, spicy basil aioli, crispy onions, avocado, tomato
kung pao cajun – cajun andouille, kung pao sauce, bell peppers, green onions, water chestnuts, peanuts
the fonz – hot italian sausage, pastrami, mozzarella
the love boats (tots) – tots with chili and slaw
fresh cut fries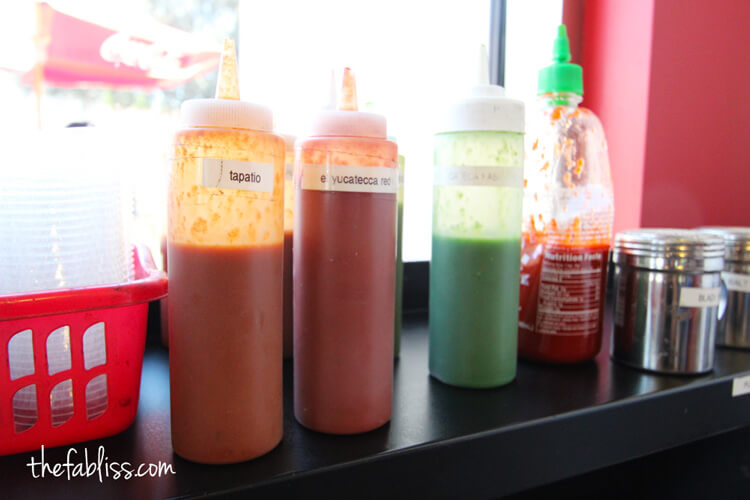 this place offers a ton of sauces. i immediately fell in love. we tried them all. make sure you try the curry ketchup!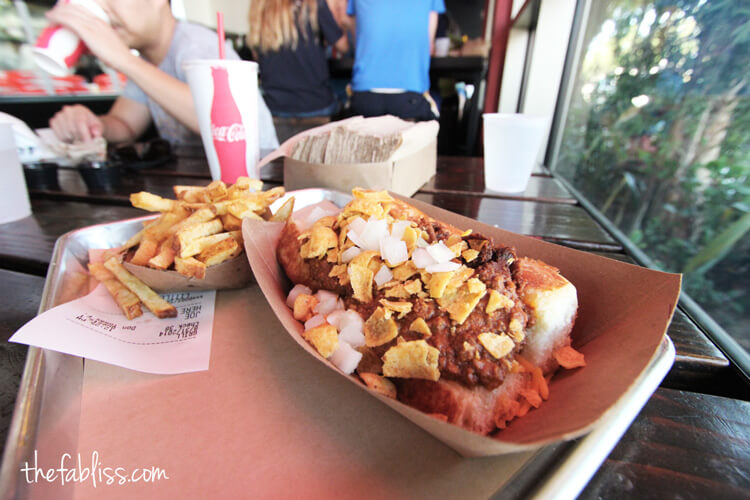 this is the little leaguer. (apologies for the photo quality. we were sitting right under a red neon sign) a chili dog…with fritos on top. how do you not order this?! simple concept but oooh so good. the chili is really good. fritos added great crunch. trust me. you will crave this.
so all dogs, sausages and burgers come on a hawaiian roll. (reason #2 why i love this place) the hawaiian roll is toasted… yep. even better!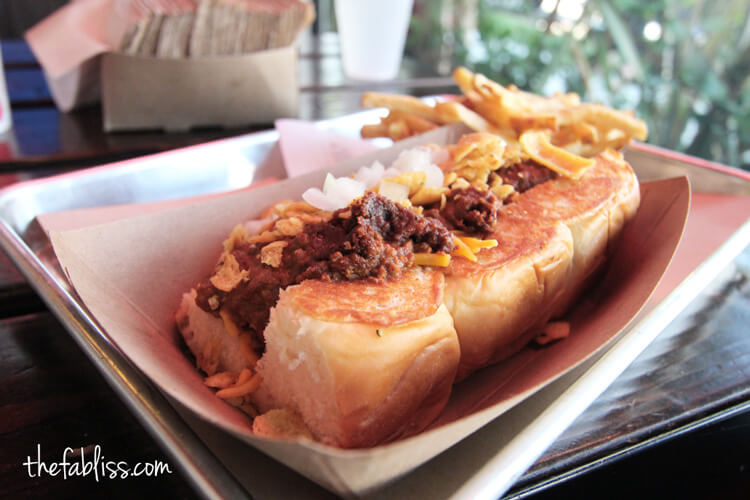 if you were eating with joe (pictured below), he would convince you to order the little leaguer. this is his favorite.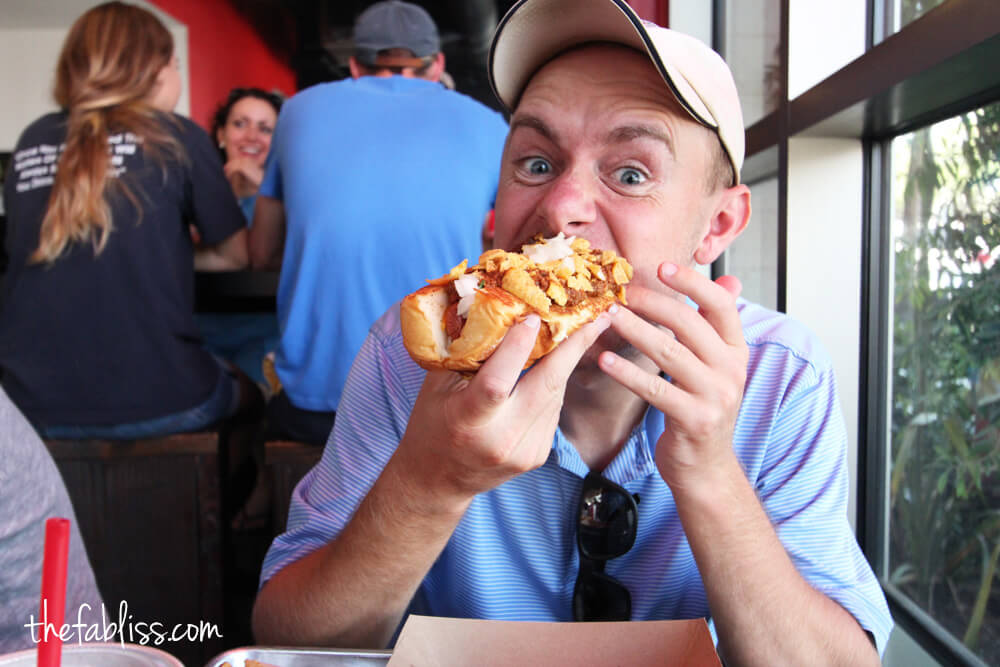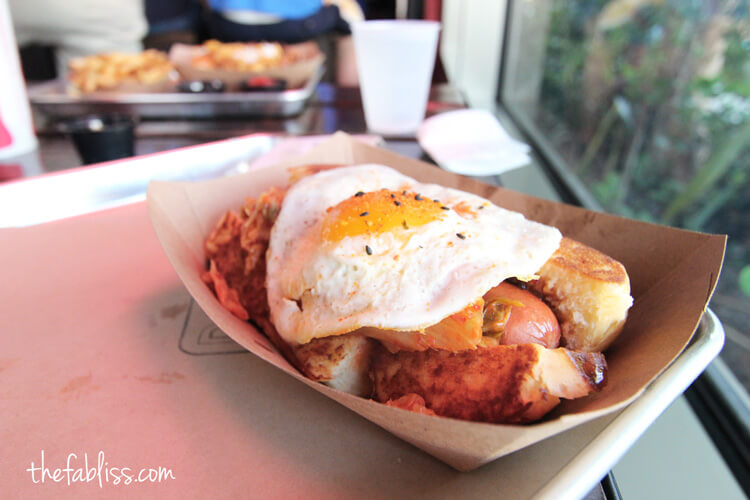 mo ordered the tae kwon dog. don't be freaked out by the kimchi on a hot dog. it's great and more people should be doing it.
yes, we are overly excited. we just finished golf. we were starving… and food just arrived.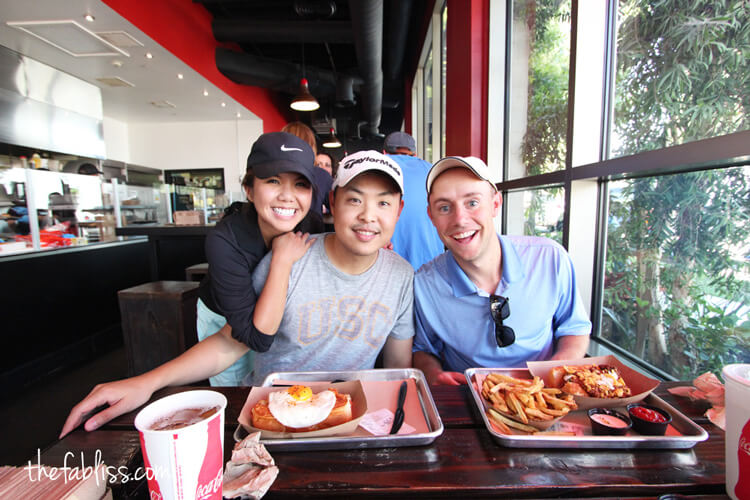 oh love boat, you are amazing and everything i hoped you would be. crispy tots with some nice tasting chili. oh! and some slaw to make you feel somewhat less guilty about your eating option since you're eating veggies.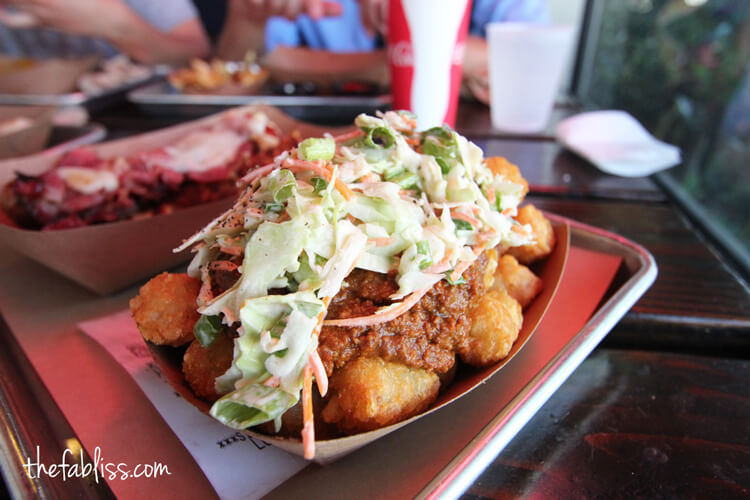 we ordered the sooo cali dog because it was the most popular menu item. however (full disclosure), i was on the fence about this one since i thought it was just a "safe" option and didn't have high expectations. i thought it would be bland. arugula? psh. who wants arugula on their dog?
i was so wrong. this ended up being our favorite! the spicy basil aioli was what we loved the most! ugh, it was so tasty! the fried onions added texture and the avocado was a nice touch. the sooo cali dog was sooo uh-mazing (get it?).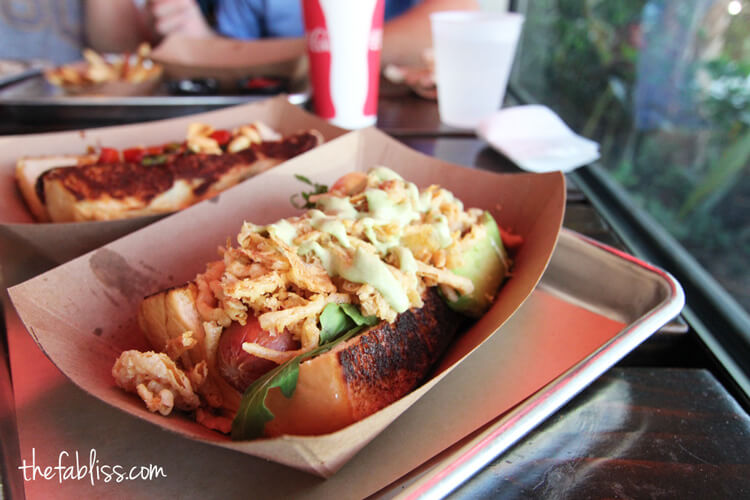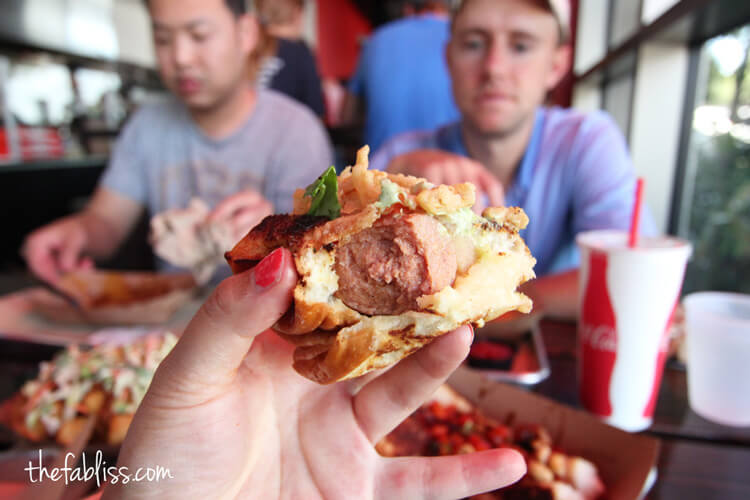 umm, don't mind joe's face (he didn't know he was in the shot). it's his first time eating out with me. that's his "i want some of that" face… because it's that good!
the kung pao dog sounded bomb. (how asian are we?) umm… it was pretty freaking great. mmmm. tip: eat this quickly. the kung pao sauce started making the bun soggy and hard to hold.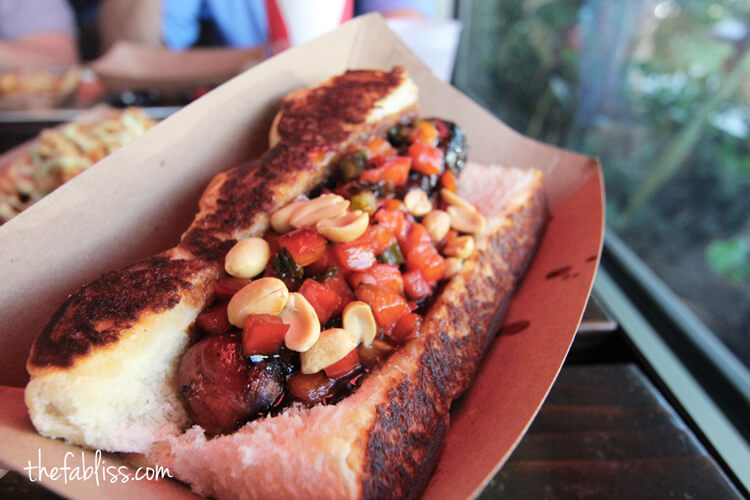 the fonz. of course kyle would get this one. it has pastrami… his favorite. the guys were fans.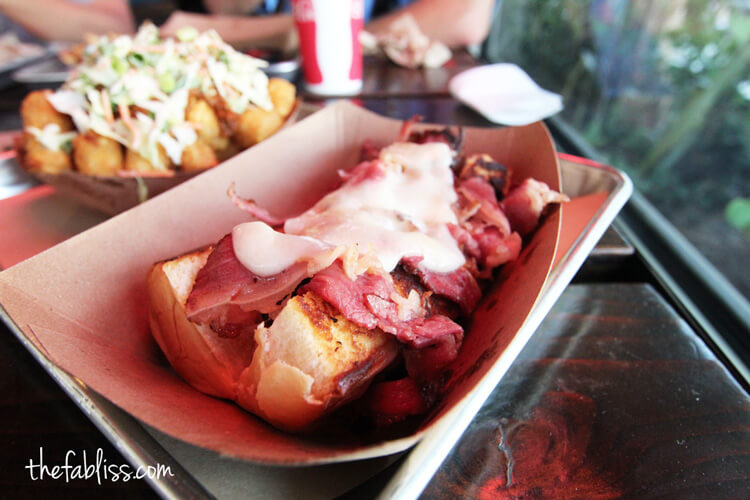 food: amazing hot dogs. i understand why thousands and thousands of people reviewed this place and why it is so packed… all the time. pretty large menu. we sampled 5 items and loved them all. now we want to try everything on the menu! (yep, even the burgers since i heard they were bomb)
service: friendly service. there are a lot of folks working on getting your food ready pronto. we appreciate that.
ambience: casual and clean. i'd say small-to-medium size. a number of high tables can fit parties of 6-8 people. there's also some outdoor seating as well. also! this location is working on a liquor license!
parking: there are multiple locations but this one was chosen because there is ample parking here. no worries if the lot (small) is full, there is a ton of free street parking! you're welcome.
overall: we are huge fans. huge. i'd come back here for the soo cali dog and tots alone. i'd say this goes head to head with vicious dogs in noho as favorite hot dog in la. so if you are craving a hot dog, i'd suggest this place in a heartbeat.
joe, thanks for the introduction. i owe ya one.
Dog Haus
105 N Hill Ave
Pasadena, CA 91106